Slon Family Crest, Coat of Arms and Name History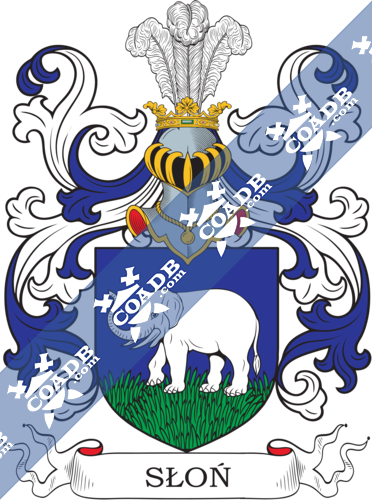 Slon Coat of Arms Gallery
Don't know which Coat of Arms is yours?
We can do a genealogical research. Find out the exact history of your family!
Learn More
Origins of Slon:
In the Scottish/English Borderlands, the Strathclyde Britons were the first to use the name Slon.  It acquired from the Gaelic-specific name SIuaghadha'n.  Slon is a patronymic surname, which relates to the category of hereditary surnames.  The surname Slon acquired from the given name Sluaghadha'n, which acquired from the Gaelic word, sIuaghadh, and meant raid.  In old times, spelling and translation were not nearly so highly promoted as today.  They were generally carried out according to the sound and intuition of the bearer.  For that reason, spelling variations are extremely common among early Scottish names.  Slon has been spelt Sloan, Sloane, Slowan and much more.
Variations:
More common variations are: Sloan, Slone, Slown, Sleon, Sloin, Sloon, Slou, Slaon, Sloni, Slohn.
Scotland:
The surname Slon first appeared in Kirkcudbrightshire (Gaelic: Siorrachd Chille Chuithbheirt), part of the present day Council Area of Dumfries and Galloway, earlier division in Southwestern Scotland, where they held a family seat.  Johnn Slowane of Garoche was a juror on assize at Kirkcudbright in 1508.  Other early recordings include a William Slowane, who held a tenement near Dalkeith, in Midlothian in 1504.  The name also existed in Ireland since at least the 15th Century, when holders of Sloane moved to eastern Ulster, in Armagh and Down. However, there is some discussion that the name also has native Irish roots, and had existed in Ireland before this movement.
United States of America:
In the 20th century, Strathclyde and other Scottish families across North America started to recover their collective right through highland games and Clan societies. Among them is Ann Sloan who settled in Maryland in the year 1722.  James Sloan settled in Charles Town [Charleston], South Carolina in the year 1772.  Mrs Sloan settled in Savannah, Georgia in the year 1823.
Blazons & Genealogy Notes
First notation: 1654 W polu błękitnem na trzech pagórkach zielonych – słoń czarny albo srebrny. Nad hełmem w koronie – trzy pióra strusie. Labry błękitne podbite srebrem.