Southcott Family Crest, Coat of Arms and Name History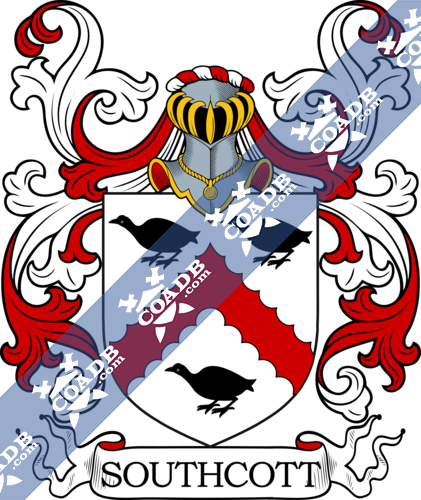 Southcott Coat of Arms Gallery
Don't know which Coat of Arms is yours?
We can do a genealogical research. Find out the exact history of your family!
Learn More
Southcott Origin:
England
Origins of Southcott:
This particular name is of English locational or geographical origin. The source for the new surname, which can appear as "Southcott" or "Sothcott" can be any of the places so called, for example "Southcott and Southcot" in Devonshire and in Cornwall and "Southcot" in Berkshire near Reading. The latter first noted in the Domesday Book of 1086 as "Sudcote". All the place names share a similar origin and meaning which is "the southern cottage", acquired from the Old English pre 7th Century "sudth," which means south and "cot," which means cottage sometimes also "shelter for animals" especially for sheep. As a geographical surname, "Southcott" means "dweller at the southern cottage." One "Richard Southcott" of Devonshire noted on the Record of the University of Oxfordshire in 1586.
Variations:
More common variations are: Southcotte, Sothcott, Southcot, Southcott, Southcote, Southcoat, Southcutt, Southcoate, SOuthqat
England:
The surname Southcott first appeared in Devon where they were Kings of the Palace of Southcote anciently seated in that shire.
The very first recording spelling of the family was shown to be that of Geoffrey de Suthcot , dated about 1229, in the "Kent Curia Rols". It was during the time of King Henry III who was known to be the "The Frenchman", dated 1216 – 1272. The origin of surnames during this period became a necessity with the introduction of personal taxation. It came to be known as Poll Tax in England. Surnames all over the country began to develop, with unique and shocking spelling variations of the original one.
Ireland:
Many of the people with surname Southcott had moved to Ireland during the 17th century.
United States of America:
Individuals with the surname Southcott landed in the United States in 19th century. Some of the people with the name Southcott who arrived in the United States in the 19th century included Frederick Southcott arrived in Philadelphia in 1855. George Southcott arrived in Philadelphia in 1869.
Canada:
People with the surname Southcott settled in Canada in 19th century. Some of the people with the surname Southcott who came to Canada in the 19th century included James Southcott, who was a soldier who settled in St. John's, Newfoundland in 1813.
Here is the population distribution of the last name Southcott: England 742; United States 281; Australia 204; Canada 203; Germany 168; Wales 45; Scotland 33; New Zealand 9; Spain 8; Denmark 2.
Notable People:
Andrew John Southcott was born in October 1967. He is an Australian political leader and medical practitioner. He was the Liberal member for the House of Representatives seat of Boothby from the 1996 election until he stood down at the 2016 election.
The Rev Ernest William Southcott (1915–1976) was an important Anglican bishop and writer in the 20th century. He was born in May 1915 and got an early education at the University of British Columbia. Appointed in 1938, after a time of study at the College of the Restoration, Mirfield, he started his work with curacies at St John's, Shildon and St James's, Gateshead. He was Minister of St Wilfrid's, Halton, Leeds, where he established the House Parish movement, and then Rural administrator of Whitkirk.
Heather Southcott (November 1928–November 2014) was an Australian leader, representing the South Australian House of Assembly seat of Mitcham (now Waite) for the Australian Democrats.
Jerri Southcott is a Canadian actress.
Joanna Southcott (1750–1814), was an English self-proclaimed religious sorceress.
Ronald Vernon Southcott (1918-1998), was an Australian medical biologist.
Blazons & Genealogy Notes
1) (Southcott, co. Devon; Nevill Southcott, Eaq., of Southcott, aged 27, 1620, aon of Philip Southcott, grandson of John Southcott, and great-grandson of John Southcott, all of Southcott. Visit. Devon, 1620). (Bovey, Shillingford, Calverley, Calwoodlcy, Kilmarton, and Mohuns Ottery, co. Devon; all branches of Southcott, of Southcott. Visit. Devon, 1620). Ar. a chev. engr. gu. betw. three coots sa.
2) (Blighborough, co. Lincoln, bart., extinct 1691; Sir George Southcott was so created 1662, his son d. unm.). Ar. a chev. gu. betw. three coots sa. Crest—A star rising from a cloud ppr.