Stallard Family Crest, Coat of Arms and Name History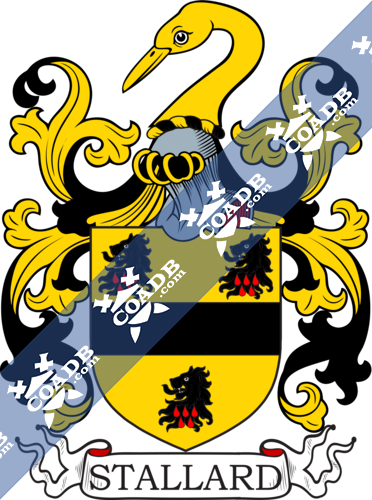 Stallard Coat of Arms Gallery
Don't know which Coat of Arms is yours?
We can do a genealogical research. Find out the exact history of your family!
Learn More
Stallard Origin:
England
Origin of Stallard:
It is a unique and readable surname which is associated with an ancient origin, and it is an instance of the several new names that have their origins in nicknames. In this example, the nickname was for a brave, adamant, "faithful" person, acquired from the word "Staelwierthe" before the 7th century and this word was related to Ancient English. It is the combination of two words "Stael" and "Wierthe," the word "Stael" means an "area" and the word "Wierthe" which means "admirable." The spelling form of this word in Middle English was "Stalward," and "Stalworth." The name advancement has involved Sybyll Stalward or Stallard in the year 1572 in Hereford and Thomas Stollard in 1645 in London. The new spellings form range from Stallard and Stollard to Stallwood, Stallworthy, and Stalley. One Edmund Stallard married Catherine Cox at St. Dionis Backchurch, London in 1740.
Variations:
More common variations of this surname are: Stallardo, Steallard, Stalard, Stollard, Stellard, Stillard, Stullard, Stallerd, Staliard, Stallart.
England:
The surname Stallard was first organized in Norfolk where they held a family seat. The Saxon effect of the English past declined from the campaign of Hastings in 1066. French was the language of courts for next three centuries, and the Norman atmosphere overcame. But Saxon surnames remained, and the family name first introduced in the year 1227 when Reiner Stallwood held a family seat in that shire.
The very first recording spelling of the family was shown to be that of Reiner Stalewurd, which was dated 1227, in the Norfolk Patent Rolls. It was during the time of King Henry III, who was known to be "The Frenchman," 1216 – 1272. The origin of surnames during this period became a necessity with the introduction of personal taxation. It came to be known as Poll Tax in England. Surnames all over the country began to develop, with unique and shocking spelling varieties of the original one.
United States of America:
Some of the people with the name Stallard who settled in the United States in the 20th century included Knd. Stallard at the age of 18 landed in America from Liverpool, in 1903. Edith Mary Stallard, at the age of 35 settled in America from Barnsdale, England, in 1907. Ernest Stallard at the age of 43, who landed in America from London, England in 1907. Edwin Aldred Stallard at the age of 24, who settled in America from Stamford Hill, England, in 1909. Edwin A. Stallard at the age of 25, who traveled to the United States from Stamford, England, in 1910.
New Zealand:
Some of the people with the name Stallard who settled in the New Zealand in the 19th century included William Stallard landed in Nelson, New Zealand in 1842. William Stallard at the age of 25, Harriett Stallard at the age of 21, and William Stallard at the age of 2 all arrived in Nelson aboard the ship "Sir Charles Forbes" in the same year in 1842.
Here is the population distribution of the last name Stallard: United States 4,532; England 2,156; Wales 226; Australia 563; Scotland 138; Canada 226; South Africa 183; Ireland 76; United Arab Emirates 31; New Zealand 149.
Notable People:
Albert William Stallard (November 1921 – March 2008), well-known as Jock Stallard. He was a Labour Party leader in the United Kingdom. He gave services as a counselor in St Pancras and Camden, and then as a representative of Parliament (MP). He resigned from the House of Commons at the 1983 general election and became an overall leader in the Dissolution Honours List.
Charles Stallard (1871–1971), was a South African politician
Fred Stallard (1938/1939 – June 1991) was an old English football player who played as a goalkeeper for Derry City and the Irish Football League in administrative inter-league matches.
Henry Stallard (1901–1973), was a British athlete and eye surgeon
Mark Stallard (born 1974), is a British football player
Mick Stallard (1944–2002), was a British racing cyclist
Percy Stallard (1909–2001), was a British racing cyclist
Peter Stallard (1915–1995), was a British colonial administrator
Tom Stallard (born 1978), is a British rower
Tony Stallard was born in August. He is an English artist, famous for his outstanding art skills in the United Kingdom and other countries, which used bronze, steel and light sculpt for work in the known world.
Evan Tracy Stallard was born in August 1937, in Coeburn, Virginia. He is a retired American professional player in baseball, a famous Baseball pitcher from 1960 to 1966.
Blazons & Genealogy Notes
(granted 1605) Or, a fess between three lions' heads erased sable vulned in the neck gules. Crest— A stork's head or.