Stamps Family Crest, Coat of Arms and Name History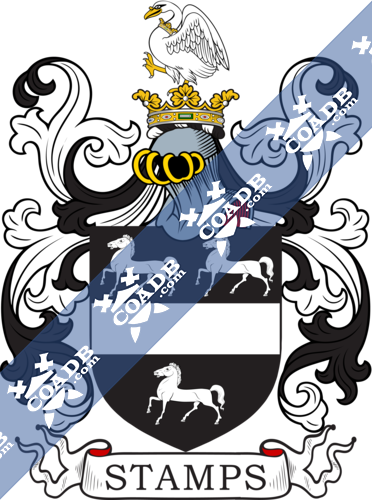 Stamps Coat of Arms Gallery
Don't know which Coat of Arms is yours?
We can do a genealogical research. Find out the exact history of your family!
Learn More
It is a French locational name which started in the hamlet of "Etampes" in the Department of Seine et Oise, Normandy.  The name noted very early in London and may relate to the actual Invasion of 1066.  In the old period, the word "Stamp" also given to a worker at the Mint, one who Struck or Stamped Coins and some name holders will derive from this source. The first recording of the surname was in the late 12th Century.  One Thomas Stampe shows in the Feet of Fines for Essex, 1424. More common variations are: Stampes, Stampas, Stameps, Stomps, Stimps, Stemps, Satmps, Stambs, Stumpus.
The surname Stamps first appeared in Berkshire, but early records also show John de Stampes who recorded in the Pipe Rolls of the City of London (1191) and Sir Thomas Stampe who appeared in the Feet of Pines Rolls for Essex in 1424.
The very first recording spelling of the family was shown to be that of John de Stampes, dated 1191, in the London City Pipe Rolls. It was during the reign of King Richard 1, who was known as "The Lionheart," dated 1189-1199.  Surname all over the country became a necessity with the introduction of personal taxation.  It came to be known as Poll Tax in England.  Surnames all over the country began to develop with unique and shocking spelling varieties of the original one.
Some of the first settlers of this family name or some of its variants were like James Stampe who settled in Virginia in 1663. Thomas Stamp settled in Virginia in 1635.  Samuel and Sophie Stamp settled in New York in 1823 with two children. In Newfoundland, Anty Stamp settled in Trepassey in 1830.
Blazons & Genealogy Notes
(co. Berks). Sable a fess between three horses passant argent. Crest—On a ducal coronet a swan, wings endorsed, ducally gorged all proper.