Stockton Family Crest, Coat of Arms and Name History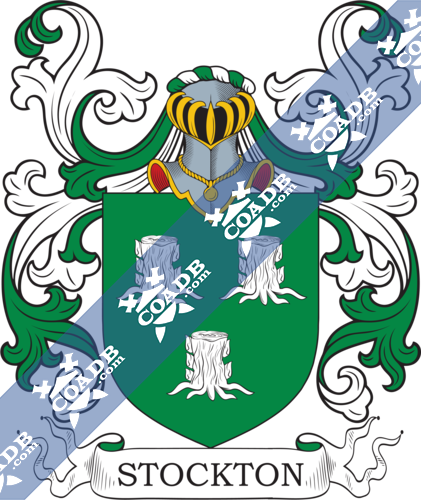 Stockton Coat of Arms Gallery
Don't know which Coat of Arms is yours?
We can do a genealogical research. Find out the exact history of your family!
Learn More
Surname Name Meaning, Origin, and Etymology
This last name is of locational origin meaning "of Stockton-on-Tees", as well as numerous other lesser known locales throughout Britain (ex. Durham, Cheshire, Hertford, Wiltshire, etc.). The town was spelled Stoctune in 957 AD. The surname derives from the Old English word stocc (tree trunk) and tun (settlement, enclosure, or farm), which is surely the impetus for the tree trunk being the main heraldic device in the Stockton coat of arms.  Stocs were logs used in building. It may have referred to a log-fenced enclosure, farm, or small town.
Spelling Variations
Common spelling variants or names with similar etymologies include Stokton, Staughton, Stoughton, Stocton, Stokton, and others. The name is spelled in Stochtun in the Domesday Book of 1086 AD, which was a survey of England and Wales ordered by William the Conqueror.
Interestingly, there was a noble family in Great Britain with the surname Stockenstrom. A one Andries Stockenstrom, by birth with a Swede, descended from a family of ancient and high prominence in Sweden. Sir Anders Johan Booysen Strockenstrom, 4th Baronet, was born in 1908, and succeeded his father in 1922.
Popularity & Geographic Distribution
The last name ranks Rawlings ranks 2,552nd in popularity in terms in the United Status as of the 2000 Census. The name ranks particularly high in the following five states:  Oklahoma, Missouri, New Mexico, Oregon, and Pennsylvania. The surname is also common in England, where it ranks 2,281st. It ranks highest in the following counties: Cheshire, Shropshire, and Staffordshire. The name is common throughout the English speaking world:  Scotland (3,611th), Wales (1,521st), Ireland (14,048th), Canada (8,972nd), New Zealand (7,621st), Australia (5,447th), and South Africa (15,361th).
Early Bearers of the Surname
The Hundred Rolls of 1273 AD, a census of Wales and England, known in Latin as Rotuli Hundredorum lists one bearer of this surname: Geoffrey de Stockton in county Worcestershire. The Freemen of York lists one John de Stokton living during the reign of King Edward I of England (1272-1307). The Poll Tax of Yorkshire in 1379 AD lists one bearer of this last name:  Johannes de Stokton. The Register of the University of Stockton documents one Jonas Stockton of county Warwick in 1605 AD. The Wills at Chester lists two bearers of this last name: Thomas Stockton of Wiglands in 1627 and Margaret Stockton of Durham in 1650.
History, Genealogy, and Ancestry
A one Thomas Stockton was born in Malpas, Cheshire in 1500 AD. He married a woman named Vivian Clayton and had a son with her named John. John was born in 1525 in the same city and he married Eleanor Clayton. They had a son named Owen. Owen was born in 1548 in Baherseam England and he died in 1610 in Maplas Parish.
Another Thomas Stockton was born in 1505 in Edsley, Shropshire, England. He married Joyce Gervis and had a son with her named Thomas. This Thomas was born in 1530 in the same town and he married Joan Richardson, with whom he had a son named John. John was born in 1554 in Whitchurch. He married Susanna Whittingham and had a daughter with her named Prudence. Prudence was born in 1584 and she married Edward Holyoke, and she went to America (she passed away in Lynn, Massachusetts in 1665).
A one Richard Stockton was born in 1635, likely in England. He married a woman named Abigail in 1665 in Long Island, New York and they had several children with her: Elizabeth, Hannah (Phillips), Richard, Abigail (Ridgway), Mary (Crispin), Sarah, John, and Job. His son Richard "The Builder" Stockton was born in the same town in 1644. He married Susanna Witham, daughter of Robert Witham and Ann Hoag, and had issue with her: Richard, Samuel, Joseph, John, and Thomas. His son Joseph was born in 1697 in Piscataway, New Jersey. He married Elizabeth Doughty and had children with her: Daniel, Elizabeth (Nicholson), Mary (Anderson), Joseph, Doughty, Samuel, John, and Sarah Scott. His son Daniel was born in 1727 in Princeton, New Jersey. He married Mary Clayton and had three issue with her: Mary (Lundy), Joseph P., and Clayton Morgan. His son Clayton Morgan Stockton was born in 1768 in New Jersey and he married Nancy Patton in South Carolina. Prior to his 1830 death in Greenfield, Missouri, he had the following issue: Hannah, Daniel Morgan, James, Daniel S., Mary Elizabeth, Jonathan, David D., Jane Clayton, David D., Sarah, Isaac D., John S., and Thomas Patton. His son David D. was born in Wayne, Kentucky in 1807. He had a daughter named Elizabeth Jane, born in 1831 in Tennessee, who married James Henry Hampton, and died in 1903 in Pendleton, Oregon.
Early American and New World Settlers
Thomas Stockton came to New England aboard the Truelove in September 1635. Jonas Stockton was documented as living in Virginia in 1623, in Elizabeth Cittie of City, which was a corporation established in 1619 by the Virginia Company of London, as was one Thimothee Stockton. Jonas came to America aboard the Bona Nova in 1620 when he was 40 years old. A one Timothey Stockton came aboard the same ship, assumedly the son of Jonas. Other early settlers in colonial America include Philip Stockton (Virginia 1703) and William Stockton (1744). A one Edmund Stockton went to Jamaica in 1738.
Richard Stockton was born in Princeton, New Jersey in 1870. He was a Midshipman in the United States Naval Academy in Annapolis, Maryland. He served in Cuba in Teddy Roosevelt's Rough Riders (cavalry) during the Spanish American War during the turn on the nineteenth century. He married Mary Hampton Keen in 1900. He bore the following coat of arms: Gules, a chevron vaire sable and argent between three mullets of the last, with a crest that is a lion rampant supporting an Ionic column. He lived on James Street in Newark and was a member of the Army of Santiago. He was the son of Richard Stockton on Princeton and Susan, daughter of Albert Baldwin. Richard was the son of Robert F., who in the was the son of Richard, a signer of the Declaration of Independence. The families genealogy and history descends from David de Stockton, who lived in Chester in 1250 AD. The first members of this branch that came to American, in 1656, were Richard and Abigail Stockton.
Lieutenant Richard Stockton (1606-1707) was of Flushing, Long Island, and he purchased 6,500 acres of land in the state of New Jersey. He bore a coat of arms blazoned in heraldry as follows: Gules, a chevron caire and argent between three mullets of the last.
Mottoes
The Stockton family motto is Omnia Deo pendent, which means "Everything depends on God".
Grantees
We have 6 coats of arms for the Stockton surname depicted here. These 6 blazons are from Bernard Burke's book The General Armory of England, Ireland, and Scotland, which was published in 1848. The bottom of this page contains the blazons, and in many instances contains some historical, geographical, and genealogical about where coat of arms was found and who bore it.
Notables
Famous people with this last name include: 1) John Houston Stockton (1962) who is an American basketball player in the NBA who played for the Utah Jazz, 2) Richard Stockton (1730-1781) who was an American lawyer from New Jersey who signed the Declaration of Independence, 3) Thomas Stockton (1781-1856) who was an American soldier and politician who served as the 33rd Governor of Delaware, 4) Frank Richard Stockon (1834-1092) who was an American writer and humorist known for fairy tales, 5) Betsey Stockton (1798-1865) who was an African-American educator and missionary from Princeton, New Jersey (owned in childhood by Robert Stockton), 6) John Houston "Hust" Stockton (1901-1967) who was a football player in the early National Football League (and grandfather of the previously mentioned John in the NBA), and 7) Annis Boudinot Stockton (1736-1801) who was an American poet and one of the very first women to be published in the country. She lived in Princeton, New Jersey.
Stockton, California, a city with over 300,000 people, was founded in 1849 by Robert F. Stockton, a United Navy commodore who served in the Mexican-American War.
Blazons & Genealogy Notes
1) (Stockton, co. Cheater). (Kidlington, co. Oxford). (Ipswich, co. Suffolk). Vert three trunks of trees eradicated and ragulée ar.
2) Same Arms. Crest—A lion ramp. supporting an Ionic pillar all ppr.
3) (Lord Mayor of London, 1470). Gu. a chev. vairé sa. and ar. betw. three mnllets of the last.
4) Gu. a chev. vairé ar. and sa. in chief two (another, three) mullets or.
5) or Stockdon – Ar. a saltire gu. betw. four doorstaples sa.
6) (United States of America, formerly of Malpas, co. Chester). Gu. a chev. vair ar. and az. betw. three mullets or. Crest—A lion ramp. supporting an Ionic pillar. Motto—Omnia Deo pendent.