Stoner Family Crest, Coat of Arms and Name History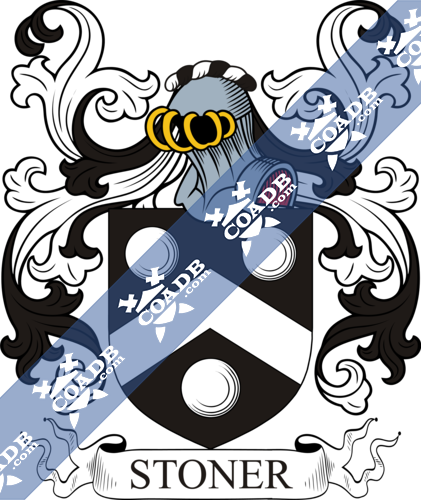 Stoner Coat of Arms Gallery
Don't know which Coat of Arms is yours?
We can do a genealogical research. Find out the exact history of your family!
Learn More
Surname Name Meaning, Origin, and Etymology
This last name is a habitational name meaning "of Stainer" or it is an occupational name for a stainer or stayner, a hewer or stones or a quarryman, a common occupational in medieval times and the Middle Ages, a person who mined stone and minerals from a deep pit. It could also refer to a stone cutter or mason. It derives from the Old English word stán, meaning stone. There was a town in Oxfordshire named Stanora, which was a Saxon village in the late 900s AD. The progenitor of the family was Richard Stoner (1250-1315). Evan Philip Shirley's 1866 book The Noble and Gentle Men of England, states the following in regards to this surname: "Stonor is a 3 miles out of Henley. Ther is a fayre parke and a warren of connies and fayre woods. The mansion place standithe clyminge on a hille, and hathe 2 courtes buyldyd withe tymbar, brike, and flynte; Sir Walter Stoner, now possessor of it, hathe augmentyd and strengthed the howse. The Stoners hathe longe had it in possessyn syns one Fortescue invadyd it by marriage of an heire generall of the Sonors, but after dispocessed". In some instances, it is also an Anglicized version of the German surname Steiner.
The earliest known ancestor in history was Robert or Richard de Stonore, who was born in Stonor, Henley, Oxfordshire, England around 1140 AD. He had a son named Richard de Stanore who was born around 1183 in the same town. He in turn had a son named Richard de Stonore II, who was born around 1220 AD, and is likely the Richard mentioned in the preceding paragraph. He in turn had a son named Richard III who married Margaret De Harnhull, Baroness.
Spelling Variations
Common spelling variants or names with similar etymologies include Stonor, Steiner (German), Stonier, Staynyer, Stainer, Stanore, and Stonore.
Popularity & Geographic Distribution
The last name Stoner ranks 2,136th in popularity in terms in the United Status as of the 2000 Census. The name ranks particularly high in the following six states: Pennsylvania, Indiana, Nebraska, Montana, Wyoming, and Iowa. The surname Stoner frequency/commonness ranks as follows in the British Isles: England (4,098th), Scotland (7,449th), Wales (7,279th), and Ireland (31,207th). The name is also present throughout the remainder English speaking world:  Canada (6,785th), New Zealand (10,776th), Australia (9,789th), and South Africa (25,955th).
Early Bearers of the Surname
The earliest known bearer of this surname was Thomas Stonhewar who was listed in The Hundred Rolls of 1273 AD, a census of Wales and England, known in Latin as Rotuli Hundredorum, in county Oxfordshire. The Poll Tax of Yorkshire in 1379 AD lists one bearer of this last name: Richard Stenere.
History, Genealogy, and Ancestry
A one Robert Stoner was born in 1657 and he married Elizabeth Beedle with whom he had the following issue: Mary, John, William, Elizabeth, Susanna, John, Ann, and Thomas. His son Thomas was born in Woodmancote, Sussex, England in 1700. He married Mary Moory and had the following issue with her: Mary, John, Anne, Thomas, Robert, William, Philip, Henry, and Kezia. His son Henry Stoner was born in Cowford, Sussex in 1751. He married Phoebe Roberts and had the following issue with her: Sarah, Pehobe, Henry, Robert, John, Thomas John, William, Fanny, Edward, and Barbara. His son Robert Stoner was born in the same town in 1779. He married Mary Akehurst and had the following issue with her: John, Thomas, Jacob, Hannah, Edward, Henry, Rebecca, and Edmund. His son Henry was born in Lower Beeding, England in 1815. He married Caroline Dinnage and had the following issue with her: Edward, Jane, James, Jonathan, Mary Ann, Jonathan, and Jonathan. His son Jonathan Stoner was born in the same town in 1858. He married Jane Feist and had the following issue: Jonathon, Jane, Caroline Mary, Nellie May, William Henry, and James.
John H. Stoner was born in New York around 1830. He married Caroline Ann Gilkison and had the following five issue with her: William, Lucia Hellen, Florence, James Clinton, and Mary Elizabeth. His son James Clinton Stoner was born in Indiana in 1858 and he married Sarah Swan in Michigan in 1885.
Early American and New World Settlers
Early settlers in colonial America bearing this name Alex Stoner (Virginia 1638), John Stoner (Virginia 1640), Robert Stoner (Maryland 1658), Peter Stoner (Virginia 1663), Rudolph Stoner (Pennsylvania 1743), Chris Stoner (Philadelphia 1764), and Fredrick Stoner (Philadelipa 1795). In Canada, one of the earliest bearers was Peter Stoner, a United Empire Loyalist (an American who did not support the cause of independence and remained loyal to the British Crown during the American Revolution) who settled in Canada in 1784. In Australia, one of the first beaters was Martha Stoner, who arrived in Holdfast Bay in 1838 aboard the Canton.
Early Americans Bearing the Stoner Family Crest
I researched the following two resources and did not find any coats of arms for Stoner: Bolton's American Armory and Crozier's General Armory.
Matthew's American Armoury and Bluebook contains one entry for this name. Stanley Stoner was born in Illinois in 1865. He graudated from Cornell University and became an Attorney-at-Law. In 1902, he married Evadne Gaty Rumsey. He bore the following arms and motto: Per fesse sable and or, a pale engrailed between three eagles counter-changed. Crest: Out of a ducal coronet sable-demi eagle displayed or. Motto: Robur atque fides. He was the son Eben Rickart Stoner of Ohio and Ann E. Whitaker. He was the descendant of Joseph Stoner (1695-1770) who settled in Pennsylvania.
Mottoes
The Stoner family motto is Robur atque fides, meaning "Strength by faith".
Grantees
We have five coats of arms for the Stoner surname depicted here. These five blazons are from Bernard Burke's book The General Armory of England, Ireland, and Scotland, which was published in 1848. The bottom of this page contains the blazons, and in many instances contains some historical, geographical, and genealogical about where coat of arms was found and who bore it.
Notables
There are hundreds of notable people with the Stoner surname. This page will mention a handful. Famous people with this last name include: 1) Alyson Rae Stoner (1993) who is an American actress, model, singer-songwriter, and choreographer from Toledo, Ohio known for her roles in TV shows and movies on the Disney Channel, 2) Andrew John Stoner (1960) who is an Australian politician who was the 16th Deputy Premier of New South Wales and leader of the New South Wales National Party, 3) Edmund Clifton Stoner (1899-1968) who was a British theoretical physicist from Surrey, England known for his work in iterant ferromagnetism, 4) Jesse Benjamin Stoner (1924-2005) who was an American segregationist from La Fayette, Georgia who was infamous for a 1958 bombing of the Bethel Baptist Church in Birmingham, Alabama, 5) Tobi Neal Stoner (1984) who was a pitcher in the MLB for played for the New York Mets (who was born in Landstuhl, Germany), and 6) Eugene Morrison Stoner who was an American firearms designer from Gosport, Indiana who was associated with developing the AR-15 rifle.
Blazons & Genealogy Notes
1) (Southampton, co. Hants). Per fess sa. and or, a pale engr. counterchanged, three eagles of the second. Crest—Out of a ducal coronet sa. a demi eagle displ. or.
2) (North Stoke, co. Oxford; descended from John Stoner, living temp. Edward II.; John Stoner, Esq., of Northstoke, temp. Henry VIII., had a dau., Elizabeth, who m. Richard Wintershull, Esq., of Little Stoke. Visit. Oxon, 1574). Az. two bars dancettée or, a chief ar., quartering, 1st, Hernshill; 2nd, Kirkby; 3rd, De la Pole; 4th, Brecknocke. Crest—On a rock ppr. semée of torteaux an eagle az. bezantée.
3) Sa. a chev. ar. betw. three plates.
4) (Stonor, co. Oxford; an ancient family deriving their surname from the manor of Stonor, which is stated to have been in the possession of their ancestors prior to the reign of William I.; Sir Richard De Stonor, temp. Henry III., m. the heiress of Sir John Harnhull, Knt., of Harnhull, co. Gloucester, by whom he got large estates; his descendant and representative, Thomas Stonor, Esq., of Stonor, m. 1732, Mary, eldest dau. and eventually co-heir of John Biddulph, Esq., of Biddulph, who was maternally descended, through the families of Goring and Bampfylde, from Margaret Camoys, eldest sister and co-heir of Hugh, second son of Lord Camoys. Mr. Stonor's great-grandson, Thomas Stonor, Esq., of Stonor, had the abeyance of the Barony of Camoys terminated in his favour, and was summoned to Parliament as Lord Camoys, by writ dated 14 Sept. 1839). Az. two bars dancettée or, a chief ar. Crest—On a rock ar. charged with epots gu. and az. a dove ppr. pecking thereat with a stone gu. in its beak.
5) (Baron Camoys). Quarterly, 1st and 4th, az. two bars dancettée or, a chief or., for Stonor; 2nd and 3rd, or, on a chief gu. three bezants (plates), for Camoys. Supporters—Dexter, a lion or; sinister, a lion sa. Crest—On a rock ar. charged with spots gu. and az. a dove ppr. pecking thereat with a stone gu. in its beak.