Swift Family Crest, Coat of Arms and Name History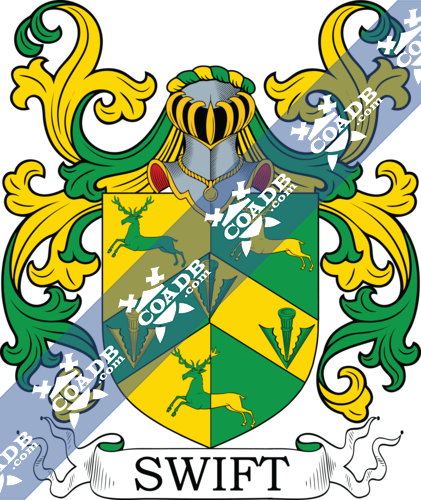 Swift Coat of Arms Gallery
Don't know which Coat of Arms is yours?
We can do a genealogical research. Find out the exact history of your family!
Learn More
This surname derived from a nickname meaning "the swift". It is one of several last names implying speed, the other being: Purchas, Shearwind, Golightly, Bullet, and Lightfoot. One author believes the name might be a local one, deriving from the name of a river in Leicester, England. It comes from the Middle English word swyft and the Old Enlish word swift, meaning fleet. In Ireland, it is the Anglicization of the Gaelic name O'Fuada.
The personal name Suift appears in the Pipe Rolls of Norfolk in 1116 AD. A William Smith was recorded in 1167 AD in the Pipe Rolls of Hampshire.  Other early notables bearing this surname include Matilda Swyft (Cambridge), Roger Swyft (Buckshire), and Arnulph Swyft (Norfolk), who were all recorded in the Hundred Rolls of 1273 AD. A Ralph Swyft, courier to King Edward III, was recorded in the Issues of the Exchequer. Henricus Swyft was recorded in the Poll Tax of Yorkshire in 1379 AD. Early marriages recorded include Godfrey Swift to Christina Williams in St. George's Hanover Square in 1754 AD. Nicholaus filius Swift was recorded in 1222 AD in the Curia Rolls of Suffolk.
The family motto is Cum manus vixisse, meaning "To have lived with the great". One of the most notable Swifts is Jonathan Swift (1667-1745) from, Dublin, Ireland, who was as Anglo-Irish author and political writer well known for his famous book Gulliver's Travels published in 1726.
Burke's Landed Gentry includes a lengthy discussion of one branch of this family: Swifte of Swiftsheath and Lionsden. The most recent notable he listed was Godwin Meade Butler Swifte, of Swiftsheath in county Kilkenny and Lionsden of county Meath, who was born on March 24, 1864. Burke traces the line back to Reverend Thomas Swift,  collated in 1569, who is buried in Canterour Cathedral, and married Margaret Godwin and had one son together: William Swift (born 1566) who succeeded his father and become Rector of Herbaldown, and in turn had three children: Thomas, Katherine, and Margaret. Reverend Thomas Swift, of Goodrich and Bristow in county Hereford, was distinguished for his devotion to the cause and King Charles I, and married Elizabeth Dryden and had four children: Emily, Elizabeth, Sarah, and Katherine. Another notable discussed is Alexander Swift (born 1719) of Lynn who married Elizabeth Pratt and had one son: Meade Swift. Meade married Anne Levinge in 1773.
Author H.B. Gubby states "The name of Swift is also established in . Derbyshire, the West Riding, and Notts. In the 13th century there were Swifts and Swyfts in Derbyshire, Bucks, Cambridgeshire, Norfolk, and Suffolk".
Early American settlers include Joseph, Abram, and William Swifte, who came to Virginia aboard the Primrose in July of 1635. A Thomas Swifte, listed as a freeman in 1662, is listed in The Muster of m' George Sand's Esquire. Other include Thomas Swift (Boston, MA, 1716), John White Swift (New York, 1798), and Seth Swift (Texas, 1835).
Blazons & Genealogy Notes
1) (Rotherham, co. York, and Allergill, co. Durham; Robert Swift, Esq., of Botherham, b. 1478, the Rich Mercer of Rotherham, eldest son of Robert Swift, Esq., of that place and Allergill, was father of Robert Swift, Esq., of Bother- ham, who left three daus. his co-heirs: 1) Frances, m. Sir Francis Leake, Knt., of Sutton, co. Derby, ancestor of the extinct Earls of Scarborough; 2) Mary, m. Francis Worthley, Esq., of Wortley; 3) Anne, m. Richard Jessop, Esq., of Brooomhall). (Viscount Carlingford, extinct 1634; Вarnham Swift, son of Sir Robert Swift, Knt., of Rotherham, and grandson of William Swift, who was brother of Robert Swift, Esq., of Rotherham, b. 1478, was raised to the Peerage of Ireland 1627; he left an only child, Hon. Mary Swift, to. Robert Fielding, known as Beau Fielding). (Castle Rickard, co. Meath; descended ftom Deane Swift, aon of Godwin Swift, Attorney-General to the Duke of Ormonde, by his third wife; of this family descended Edmund Lenthall Swift, Keeper of the Crown Jewels in the Tower of London). (Lynn, co. Westmeath; Meade Swift, Esq., of Lynn, son of Godwin Swift, Attorney-General to the Duke of Ormonde, by his fourth wife, was father of three sons: 1) John, ancestor of Rev. Richard Meade Swift, Incumbent of Mountfield, co. Tyrone; 2) Thomas, m. Frances, dau. of John Dennis, of Kinsale, co. Cork, and sister and heir of James Dennis, Lord Chief Baron of Ireland, created Lord Tracton 1780, and had two sons, Rev. Meade Swift and John Swift, between whom Lord Tracton devised hia estates, and both of whom thereupon called themselves Dennis; 3) Alexander, ancestor of Swift, now of Lynn). Or, a chev. vair betw. three bucks in full course ppr. Crest—A sinister arm embowed vested vert, cuffed ar. holding in the hand a sheaf of five arrows or, feathered ppr. barbed az.
2) (Swiftsheath, co. Kilkenny, and Lionsden, co. Meath; founded In Ireland by Godwin Swift, Attorney-General to the Duke of Ormonde for the Palatinate of Tipperary; he was son of Rev. Thomas Swift, of Goodrich and Bristow, co. Hereford, distinguished for his devotion to and sufferings in the cause of Charles I.). Same Arms. Crest—A demi buck ramp. ppr. in the mouth a honeysuckle also ppr. stalked and leaved vert. Motto—Festina lente. The Fun. Ent. Ulster's Office, 1696, of the above Godwin Swift, the Attorney General to the Duke of Ormonde, gives—Sa. an anchor in pale or, stock az. the stem entwined by a dolphin or swift descending ar., and the Crest of Swift, of Rother. This was an assumption of his as a parody on the name.
3) (borne by Very Rev. Jonathan Swift, Dean of St. Patrick's 1713-45, son of Jonathan Swift, Eeq., who was brother of Godwin Swift, Attorney-General to the Duke of Ormonde). Per pale or and vert, on a chev. bet w. three bucks in full course as many pheons, points down all counterchanged.
4) (Blandford, co. Dorset). Sa. three bucks trippant or. Crest—A demi lion ramp. or, holding betw. the paws a helmet of the last.
5) (London, temp. Queen Elizabeth). Az. a chev. erm. betw. three tigers' beads erased ar. crined and armed or. Crest—A pegasus in full speed vert, wings endorsed or.
6) (granted 10 Aug. 1665). Or, a chev. betw. three fleurs-de-lis purp. Crest—A dexter hand gauntleted throwing a dart all ppr.
7) (Scotland). Gu. three whips of three lashes each ar.