Tobin Family Crest, Coat of Arms and Name History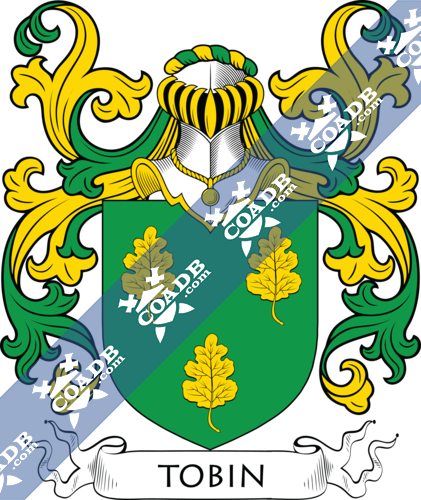 Tobin Coat of Arms Gallery
Don't know which Coat of Arms is yours?
We can do a genealogical research. Find out the exact history of your family!
Learn More
Surname Name Meaning, Origin, and Etymology
This last name has three origin theories. It is a baptismal one meaning "the son of Tobias", from the diminutive form Tobin. Second, it could be a reduced and Anglicized version of the Gaelic surname Toibin, which is in turn a shortened version of a Norman habitational name from Saint-Aubin in Brittany (so named for  its devotion to the Catholic St. Albin, a Scottish ecclesiastical who lived in the 13th Century), and hence, has French roots. Third, it could be a pet form of the personal (first) male given name Toby or Tobias.
One source states the name has been nearly entirely Hibernicized (to make Irish in character) and that a family first called de St. Aubyn came to Ireland during the Norman Invasion of said island in 1169 AD and by the turn of the century were establishes in county Kilkenny and Tipperary, and later Cork and Waterford. The family head became known as the Baron of Coursey. By the 1440s, three well-known clans of the Tobin family were rooted in Tipperary and the senior line in Kilkenny. One author wrote the following interesting words to describe the Tobin's: "a turbulent sept more dreaded by the English than the native Irish".
Spelling Variations
Common spelling variants or names with similar etymologies include Tobyn. It is said the St. Aubyn family became the Tobins and the Dobbins.
Popularity & Geographic Distribution
The last name Tobin ranks 1,816th in popularity in terms in the United Status as of the 2000 Census. The name ranks particularly high in the following seven states: South Dakota, Massachusetts, Vermont, Rhode Island, Delaware, Connecticut, and New York. The surname is even more common in England, where it ranks 1,637th. It ranks highest in the following counties:  Lancashire, Oxfordshire, and Cheshire. The name is common throughout the English speaking world:  Scotland (1,591st), Wales (1,029th), Ireland (165th), Canada (1,308th), New Zealand (1,199th), Australia (891st), and South Africa (5,218th).
Early Bearers of the Surname
A family bearing this surname was documented in the Medieval Records of County Kilkenny in 1350 AD. A one John Tobin was buried at St. Antholin in London in 1737. An early marriage involving this last name was Elizabeth Tobin to John Harriman at St. George's Hanover Square in London in 1794.
History, Genealogy, and Ancestry
A one Walter Tobin, who died in 1719, married a woman named Sarah whose last name is not known and had the following issue with her: Elizabeth (Bridgewater), John, Mary (Symonds), James, Anna, Henrietta Clarke, Lydia Fitzgerald, and Sarah (Berkeley). His born James was born in 1698 and he married twice to women named Henrietta and Sophy whose last names are not known and he had two issue: James and Elizabeth (Cross). His son James was born in 1736 in Stratford, Wiltshire, England. He married Elizabeth Webb and had nine children with her: James Webbe, George Webbe, John, Elizabeth (Cobham), Henry Hope, Charles Meadows, Joseph Webbe, Fanny, and Francis (Bush).
Thomas F. Tobin was born in Massachusetts in 1861. He married Margaret J. White and had the following issue with her: Margaret J. (Heittman), James Francis, John Thomas, Edward, and George. His son John was born in 1882 in the same state. In 1909, he married Lillian May Ross, and they had one son: Quentin James who was born in 1919. Quentin James lived in Idaho and he married Maxine Virginia Bailey.
Early American and New World Settlers
Settlers in colonial America bearing this last name include Richard Tobin (Maryland 1659), Edward Tobin (New England 1695), Morris Tobin (Virginia 1714), Walter Tobin (1760), and David Tobin (Philadelphia 1798). Given the name was popular in Ireland, many bearers came to America during the Great Potato Famine of the 1840s, just prior to the American Civil War.
In Canada, one of the earliest bearers of the name was Nicholas Tobin who came to Nova Scotia in 1804. In Australia, a one Edward Tobin, a convict from London, England came aboard the Ann in 1809 and settled in New South Wales. In 1865, three bearers of this name (Michael, Margaret, and Bridget Tobin) came to Auckland, New Zealand aboard the Eveline.
Mottoes
The Tobin family motto is Noli me tangere, meaning "Don't tread on me". This is a Latinized version of a words Jesus spoke to Mary Magdalene when she saw him after the Resurrection according to John 20:17.
Grantees
We have four coats of arms for the Tobin surname depicted here. These four blazons are from Bernard Burke's book The General Armory of England, Ireland, and Scotland, which was published in 1848. The bottom of this page contains the blazons, and in many instances contains some historical, geographical, and genealogical about where coat of arms was found and who bore it. People with this last name that bore a Tobin Coat of Arms include:
1) Tobin, Captain in Army, (Match), 1810
Notables
There are hundreds of notable people with the Tobin surname. This page will mention a handful. Famous people with this last name include: 1) Steve Tobin (1957) who is an American sculptor from Philadelphia, PA, 2) John Michael Tobin (1841-1898) who was an officer in the Union Army during the American Civil War who received a Medal of Honor for his service/actions at the Battle of Malvern Hill, 3) James Tobin (1918-2002) who was an American economist who taught at Yale and Harvard and was on the Board of Governors of the Federal Reserve System, 4) Sister Mary Luke Tobin (1908-2006) who was an American Roman Catholic Religious Sister that was one of 15 women auditors at the Second Vatican Council, and 5) William John Tobin (1895-1963) who was a hockey player from Ottawa, Canada who was senior executive for the Chicago Black Hawks for nearly four decades and also played in the 1920s for the Edmonton Eskimos.
Blazons & Genealogy Notes
1) Ar. a fess betw. three cinquefoils vert. Crest—Two battle axes in pale, environed with a serpent ppr.
2) (Liverpool; Sir John Tobin, Mayor of that town, 1819). Vert three oak leaves or.
3) (Cumpshinagh, co. Tipperary, and Bally-Tobin, co. Kilkenny; Reg. Ulster's Office). Az. three oakleaves ar. Creat—A demi lion ramp. gu. holding betw. the paws an oak branch ppr.
4) (Ballincollig. co. Cork; granted to Sir Thomas Tobin, of Ballincollig). Vert a knight's helmet ppr. betw. three nettle leaves pointing downwards or. Crest—On a mount vert a falcon rising ppr. belled or, and charged on each wing with a nettle leaf also ppr. Motto—Noli me tangere.