Walters Family Crest, Coat of Arms and Name History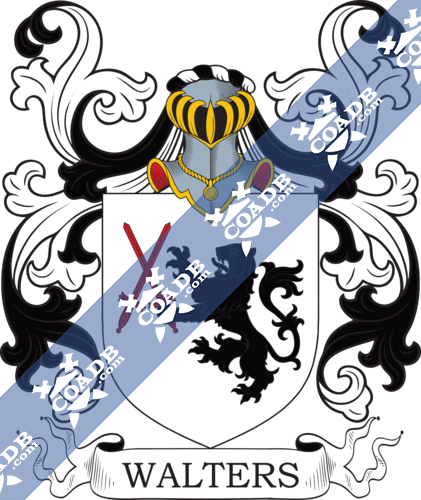 Walters Coat of Arms Gallery
Don't know which Coat of Arms is yours?
We can do a genealogical research. Find out the exact history of your family!
Learn More
Walters Surname Name Meaning, Origin, History, & Etymology
This English/Welsh/German is a patronymic/baptismal last name meaning "the son of Walter", deriving from the medieval personal (first) German/Teutonic masculine given name Walter (or Wolter), deriving from the Old High German Walthari, consisting Old German words wald (rule) and heri (warrior), a name which made its way into France during the reign of Charlemagne in the 800s AD, and then from France into the British Isles at around the time of the Norman Conquest of 1066 AD. The name literally translates to "ruler of the army". One of its earliest documented uses of this as a first name was in the 6th century AD, when a Waltharim, son of Wacho, King of the Lombards from 539-546 AD, was recorded. There was also a legendary Visigothic King known as Walter of Aquataine who lived in medieval times. Another author states it derives from the Dutch name Wolters, which derives from the Flemish personal name Wouters or Wauters.
One source asserts the name was first found in Silesia in medieval times, a region of Europe that lies in modern day Czech Republic, Poland, and Germany and in Utrecht, Holland.  When the name made its way into the British Isles during the Norman Invasion of the eleventh century, it first became established in Cambridgeshire where the family held land and titles as the Lords of the manor of Crowhurst. Samuel Lewis' 1848 book, A Topographical Dictionary of England, states the following in regard to this surname: "The church [of Woolvercroft in Lancashire], situated on the bank of the Isis, has a sepulchral chapel on the north side, containing a stately monument to the family of Walter, of whom David Walter was High Sheriff of the county, and commanded a regiment of horse under Charles I in the parliamentary war".
Spelling Variations
Some spelling variants or names with similar etymologies include Wallters, Waltters, Waulters, Walaters, Walter, Walther, Walterson, and several others. Other old German spellings are Walthari, Waltari, Walthar, Waltar, Waltere, Waldheri, Waldhere, Waltheri, Walthere, Walther, Walter, Waldher, and Valter. The Old English and Old Norse equivalents were Wealdhere and Valðar, Valdarr, respectively. The name entered the French language as Gauthier, Spanish as Gutierre and Italian as Gualtiero. The modern Dutch form of the name is Wouter. The Welsh version is Gwalter or Gwilt. The Latinized version of the name was Walterius. The name may be etymologically related to the surnames Watson, Watt, Water, and Waters.
Popularity & Geographic Distribution
The last name Walters ranks 262nd in popularity in the United Status as of the 2000 Census. The name ranks particularly high in the following four states: Mississippi, Pennsylvania, Ohio, and Wisconsin. The surname Walters frequency/commonness ranks as follows in the British Isles: England (272nd), Scotland (895th), Wales (60th), Ireland (1,960th) and Northern Ireland (1,881th). In England, it ranks highest in counties Derbyshire, Staffordshire, and Worcestershire. In Scotland, the surname ranks highest in Clackmannanshire. In Wales, it ranks highest in Carmarthenshire. In Ireland, it ranks highest in county Louth. In Northern Ireland, it ranks highest in county Armagh. The name is also present throughout the remainder English speaking world:  Canada (622nd), New Zealand (349th), Australia (259th), and South Africa (424th).
Early Bearers of the Surname
Petrus Walterus was recorded in the Rolls of the Abbey of Bury St. Edmunds, Suffolk, England in 1192 AD.  Petrus Walteri was recorded in the Pipe Rolls of Suffolk in 1192 AD. Conrad Walteri was listed in Wurzburg, Germany in 1214 AD. A one Geoffrey Walter was documented in the Subsidy Rolls of Sussex in 1296 AD.  A one Baruntinus Walter was documented in the Close Rolls in 1291 AD. The Hundred Rolls of 1273 AD, a census of Wales and England, known in Latin as Rotuli Hundredorum lists one bearer of this surname: Edmund filius Walter (Cambridgeshrie). Charles Walter was recorded in the Register of the University of Oxford in county Monmouth in 1598. An early marriage involving this surname was John Walters to Grace Plumber at Canterbury in 1663.
Walters Family Tree & Walters Genealogy
Bernhard Walther was born in Hohenstein, Wurttemberg, Germany in 1674. He married Anna Maria Kuriss and had a son with her named Hans. This Hans Conrad Walters was born in Nordheim, Landkreis Heilbronn, Germany in 1714 and he went to colonial America where he married and had five children: Barnabas, Conrad, Elizabeth, Catherine, and Michael, who were all born in the 1750s and 1760s in Pennsylvania. He secondly Nancy Ann (Redman) Martin in Virginia around 1768. They had six issue together: John, Nancy, Sarah, Lydia, Elizabeth, and Andrew. His son Conrad Walter III was born in 1781. He married Margaret Larue and had a daughter with her named Lucretia Helen who was born in Hodgenville, Kentucky in 1811. She married Henry Mather and Later John Winchester, having numerous children including Mary, Margaret, John Addison, Agnes, Ann M., Lydia E. (Hamilton), Squire, George, Scott Taylor, Lafayette, and Eliza Jane.
Another pedigree of this family is as follows:
John Walter (born in Piercefield, Monmouthshire, Wales around 1450 AD)
Nicholas Walter (born in Wales around 1480 AD, married Ms. Cowis, had sons John and Thomas)
John Walter (born in Monmouthshire around 1510, married Margaret Gethic)
John Walter (born in Piercefield around 1540, married Lucy Cooke, had issue named Howell, Walter, Morgan, William, and John)
John Walters (born in Piercefield around 1580, married Bridget Robnet, had issue Susanna, John, Edmond, Susannah, and Henry)
Edmond Walters (born in England around 1600, married Susannah, went to Pennsylvania in colonial America).
Aaron John Walters was born in Croydon, county Surrey, England (modern day United Kingdom, previously called Great Britain). He went to New South Wales, Australia where he married Susannah Lellemont in 1815. He was the father of the following children: Elizabeth, Jane Eliza, Susannah (Ferrancce), Aaron, Moses, Sarah (Thompson), Ann (Thompson), and Harriett. His son Moses was born in St. Albans, Australia in 1828. He married Sarah Jurd and fathered the following children with her: Daniel James, Moses, Aaor, Richard, William, John Joseph, Clara Frances, Sarah Jane, Susannah Elizabeth, Elizabeth, and Mary Ann.
The name is present in South Africa. Samuel Walters (born in Presburg, Bratislawa, Slovakia around 1673). He married Maria Jansz van Westhuijsen in Stellenbosch, South Africa (Dutch Cape Colony) in 1711. They had three children together: Daniel, Nicolaas, and Stephanus Sebastianus. His son Stephanus Sebastinaus Walters for both in de Caep de Goede Hoop, South Africa prior to October 1716. He married Margarteha Lombert and had the following issue with her: Samúel Anthonij, Daniel Nicolaas, Johannes Gerhardus, Maria Margaretha, Stephanus Sebastiaan, Elizabeth Maria, Helena Maria and Sibilla Maria. His son Stephanus was born before 1751. He married Martha Loubser and had the following children with her: Sibilla Maria (Basson), Steganus Sebastianus, Margrietha, Cathrina, Samuel, and Elizabeth Maria. His son Stefanus was born in Malmesbury, Dutch Cape Colony, South Africa in 1782 and he married Catharine Wilhelmina Basson, having the following issue with her: Stephanus Sebastianus, Matthijs Michielse, Martha, Stephanus, Martha Sophia, Coenraad Hendrick, and Samuel Antonie. His son Samuel Antoine Walters was born In Paardeberg, Malesbury in 1820. He married Catharina Louisa Verkuil and had a son with her named Samuel A. who was born in Bakenfontein, Malmesbury in 1848. He married Maria Johanna Elizabeth Redelinghuys and they had a son named Stephanus Sebastiaan Walters who was born in Western Cape, South Africa in 1981. He married Anna Justina De Dock and had a son with her who was born in the 1920s and passed away in the 1990s.
William Walters was born in Scotland around 1706. He married Elizabeth Robertonson and had a son with her named Thomas Sr. This Thomas Sr. was born in South Leith, Midlothian, Scotland around 1733 and he went to colonial America. He married Lucy Walker and had a son with her named Thomas. This son, Thomas T. Walters, was born in Halifax County, Virginia in 1756. He married Mary Elizabeth Sibley and had a son with her named John. This John Sibley Walters was born in Pittsylvania County, Virginia in 1779. He married Rhoda Jane (last name not known) and had a son issue with her named Braxton and Pleasant L. Braxton was born in the same county in 1800 and he married Maldina Keene. He had sons named Anderson and Lewis. Lewis was born in Tennessee in 1826 and he married Frances Usry. They had a son named David Frank Walters who was born in Terra Haute, Indiana in 1859. David F. passed away in Kansas in 1940.
Early American and New World Settlers
William Walters, age 27, came to Virginia aboard the Bona Nova in 1618. Other early settlers in colonial America bearing this surname include Richard Walters (Massachusetts 1630), Joane Walters (Virginia 1637), Nathaniel Walters (Virginia 1637), Humphrey Walters (Maryland 1661), Henry Walters (Virginia 1721), Christopher Walters (Pennsylvania 1754), Abel Walters (America 1766), and Jonah Walters (Mississippi 1799).
The name also made its way into the Caribbean in the 1600s AD. William Walters, age 22, came to the Barbados aboard the Hopewell in February 1634. William Walters, age 32, came to the Barbados aboard the Hopewell in February 1634. William Walters, age 26, came to the Barbados aboard the Expedition in November 1635. John Walters of Tanton was a prisoner sent to the Barbados in the late seventeenth century.
In Canada, one of the first settlers bearing this last name was William Walters, a fisherman by trade, who came to Trinity Newfoundland in 1757.  In Australia, one of the earliest bearers was Richard Walters, a convict from Staffordshire, England who came to New South Wales (then a penal colony) aboard the Almorah in 1817. Around 1830, Samuel Walters, a bricklayer by trade, came to the same province. In 1840, Thomas, William, and George Walters came to the city of Auckland, New Zealand. In the same year, one Edward Walters came to Papatoitoi.
Early Americans Bearing the Walters Family Crest
Charles Bolton's American Armory (1927) contains one entry for this surname: Azure a squirrel sejant [or]. Crest: a squirrel of the field. Motto: Sit dux sapientia. Bookplate Frank Walters. Matthew's American Armoury and Bluebook (1907) and Crozier's General Armory (1904) do not contains any entries for this last name.
Mottoes
I have identified two Walters family mottoes:
1) Fy nuw a chymru (My God and Wales)
2) Sit dux sapientia (Let wisdom be your guide)
Grantees
We have six coats of arms for the Walters surname depicted here. These six blazons are from Bernard Burke's book The General Armory of England, Ireland, and Scotland, which was published in 1848. The bottom of this page contains the blazons, and in many instances contains some historical, geographical, and genealogical about where coat of arms was found and who bore it. People with this last name that bore an Walters Coat of Arms (or mistakenly called the Walters Family Crest)
1)  Walters to Stockdale, Christopher, of county York, England, 1695
2) Sir Hugh Walters, Baronet, of Greenwich, county Kent, England, Quartering, 1796
3) Walters to Palliser, Sir Hugh, of Perry Hill, county Kent, and Castletown, county Wexford, Ireland, 1798
4) Walters, of St Athan, county Glamorgan, Wales, and Guernsey, 1803
5) Walters-Phillipps, of Wales, 1826
Notables
There are hundreds of notable people with the Walters surname. This page will mention a handful. Famous people with this last name include: 1) Sir Alan Arthur Walters (1926-2009) who was a British economist born in Leicester, England from the London School of Economic though who was the Chief Economic Advisor to Margaret Thatcher in the 1980s, 2) Bryan Robert Walters (1987) who was a wide receiver in the NFL, playing for four different teams from 2010-2016, born in Bothwell, Washington, 3) William Henry "Bucky" Walters (1909-1991) who was an all-star baseball pitcher born in Philadelphia, Pennsylvania who played in the MLB for five different teams from 1931-1950, 4) David Lee Walters (1951) who was a the 24th Governor of Oklahoma from 1991-1995, a Democrat, who was born in Canute, Oklahoma, 5) Henry Walters (1848-1931) who was a famous American railroad magnate, art collector, and philanthropist from New York City, 6) Herbert Sanford Walters (1891-1973) who was a US Democrat Senator from Tennessee from 1963-1964, having been born in Jefferson County, Tennessee, 7) Lawrence "Larry" Richard Walters (1949-1993) who was an American hot air balloon aviator born in Los Angeles, known as Lawn Chair Larry or the Lawn Chair Pilot, 8) Richard Marin Lloyd Walters (1965) who was an English-born American rapper in the 1980s and 1990s known as "Slick Rick" whose music has been sampled by numerous famous artists such as Kayne West, Snoop Dogg, Miley Cyrus, and the Beastie Boys, 9) Mary Shirley Walters (nee Harrison, 1925-2017) who was an Australian Senator for Tasmania from 1975-1993, a Liberal Party member, born in Sydney, New South Wales, and 10) Vernon A. Walters (1917-2002) who was a US Army Officer and Diplomat born in New York City who held posts as a Deputy Director of the CIA (from 1985-1989) and US Ambassador to the United Nations (from 1989-1991), a former Lieutenant General.
Blazons & Genealogy Notes
1) (Cundall, co. York; Robert Walters, Esq., of Cundall, grandson of William Walters, of same place. Visit. Middlesex, 1663). Ar. a chev. engr. betw. three chessrooks sa. Crest—A hand erect couped at the wriflt ppr. grasping a chessrook sa.
2) (Edmonton, co. Middlesex; William Walters, younger brother of Robert Walters, Esq., of Cundall. Visit. Middlesex, 1663). Same Arms and Crest, a crescent for diff.
3) Az. a fess dancettée ar. betw. three eagles displ. or. Crest—A lion's head erased ar.
4) Or, a lion ramp. sa. thrust through with two swords in saltire ppr. Crest—A dove holding in the heak an olive branch all ppr.
5) or Watter (Reg. Ulster's Office). Az. a chev. engr. or, betw. three bezants, each charged with a trefoil slipped vert. Crest—A demi heraldic tiger ramp. per pale indented ar. and az. maned and tufted or, holding betw. the paws a rose branch with two roses ppr.
6) (Reg. Ulster's Office). Ar. a lion ramp. sa. holding in the sinister paw a sword gu. aurmounted of anothor of the last, both in saltire