Wardall Family Crest, Coat of Arms and Name History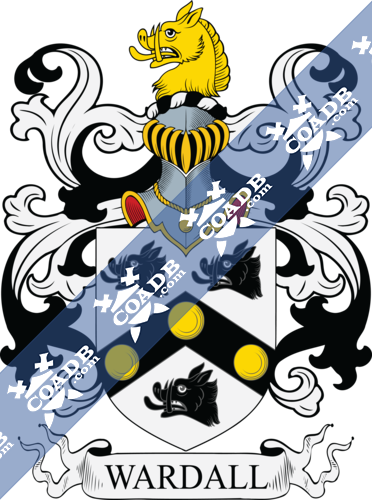 Wardall Coat of Arms Gallery
Don't know which Coat of Arms is yours?
We can do a genealogical research. Find out the exact history of your family!
Learn More
Surname, meaning, origin and etymology
The surname "Wardall" is a popular toponymic surname which is thought to be of Anglo-Saxon origin. The name is deemed to have been derived from the name of any of the following four places: Wardle in Cheshire in the vicinity of Nantwich, Wardle in Lancashire in the vicinity of Rochdale and Weardale town in the county Durham and Wedale in Stow (a small community) near Edinburgh. The toponymic surname has been derived from the Olde pre 7th century English words "weard" and "hyll". The word weard refers watch and "hyll" refers to hill meaning "the watch hill".
Early Bearers of the surname
The name was first found in Midlothian where the Wardall families held family seats in the parish of Stow from ancient times. There are several spelling variations associated with the surname. Some of these spelling variations include: Waddel, Waddell, Waddle, Weddel, Weddell, Weddle among numerous others.  In the modern times, its spelling variants include Wardle, Wardel, Wardil, Wardall and Wardale. The first instance of the family name being recorded can be traced to 1086 in the Domesday book in the form of "Warhelle" and "Wardhaul" in 1278.  Inspection of church records reveals the marriage of a certain John Wardell to Margaret Stockton on 5th of May, 1580 in Durham County and christening of  Henry Wardell, a son of Thomas Wardell, on 15th of June, 1584 at St. Olave's York. The coat of arms associated with the surname is characterized by three bezants on a red bend between six marlets on a silver shield. Some of the notables who shared the surname Wardall include  Ronald G. Wardall who was an American poet during the 20th century and a Thomas Wardall who was an English professional cricketer.
Early American and New World Settlers
Some of the early migrants of the Wardall family in the United States of America include James Waddel who arrived in Maine in 1745, a William Waddell who settled in San Francisco in 1852, a Ralph Waddel who inhabited New York in 1811 and a Samuel Wadle who settled down in New York in 1823.
Blazons & Genealogy Notes
Ar. on a chev. betw. three boars' heads sa. as many bezants. Crest—A boar's head and neck or.