Wiltshire Family Crest, Coat of Arms and Name History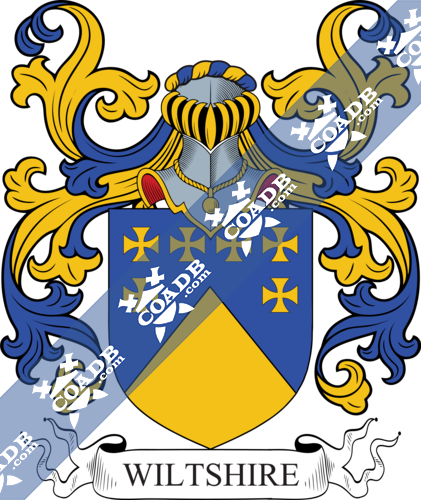 Wiltshire Coat of Arms Gallery
Don't know which Coat of Arms is yours?
We can do a genealogical research. Find out the exact history of your family!
Learn More
This is an English place name meaning of Wiltshire. It derives from the Welsh word gwyllt, meaning a wild forest and shire, meaning a division or county. Another source claims it derives from the Anglo-Saxon word Wiltùn scír. Spelling variations include Wiltsheare, Wiltsher, Wiltshier, and Wiltshear, Willsher, and Wilshire. The surname Wilkshire is also a corruption of Wiltshire. Early notables recorded are Hunfrides de Wilechier, Michael de Wyltesire of county Cambridge, William de Wyltesyre of Somerset, Roger de Wilteschire of county Salop, Almaric de Wilteshire, Richard Wilteshire, and John Wiltesheere (1680, London). Marriages include William Wiltshire to Ann Hazel in 1794 and Isaac Wiltshear to Sarah Dalloway in 1798 in London. There was a famous Regiment of the British Army between 1881 and 1959 called the "Wiltshire Regiment" that fought in the Boer War and both World Wars. Also, Anne Boleyn's father was created Earl of Wiltshire. Jonathan Wiltshire served in the American Revolution and was from Maryland.
Blazons & Genealogy Notes
1) (co. Bedford). Per chev. az. and or, in chief six crosses formee, four and two, of the second.
2) (Stone, co. Kent). Per chev. az. and ar. in chief six crosses formee, four and two or
3) (St. Johns, co. Middlesex, and the city of Gloucester; Gregory Wiltshire, of St. John's, temp. Charles II., grandson of Lawrence Wiltshire, Esq., of Gloucester; descended from co. Bedford. Visit. Middlesex 1663). Per chev. ar. and az. in chief six crosses pattee, four and two or. Crest—A cross pattee or.
4) Ar. on a chief indented az. five crosses formee or. Crest—A horse's head erased and bridled ppr.
5) Ar. a chev. betw. three crosses botonnee fitchee sa.
6) (or Wiltechire)Ar. a chev. betw. three crosslets fitchee sa. a bend gu