Woods Family Crest, Coat of Arms and Name History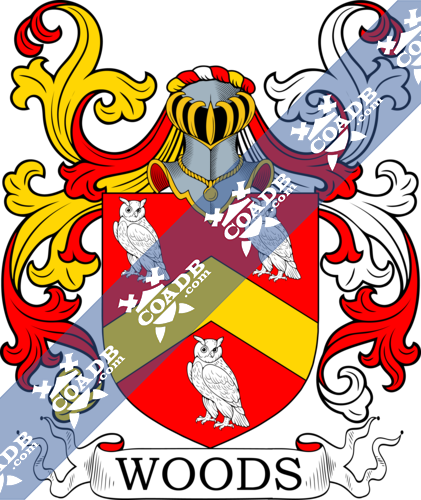 Woods Coat of Arms Gallery
Don't know which Coat of Arms is yours?
We can do a genealogical research. Find out the exact history of your family!
Learn More
Woods Origin:
England
Origins of Name:
The surname of Woods hails from the country of England. This surname of Woods is believed to be a patronymic surname, with the suffix "s" denoting the meaning of "son of." This surname is believed to be a topographical surname, which means that the original bearers of the surname lived on or near a distinguishable landmark within their city or town. In the case of topographical surnames, they can be used to describe someone who lived in a wood. It is also possible that the surname of Woods also hails from an occupation, meaning to describe the son of a wood cutter, or a forester. An occupational surname was given to the original bearer, meaning that he actually carried out this job. Occupational surnames were not originally hereditary surnames. They only became hereditary if the son followed in his father's footsteps for a career; then the surname became hereditary and was used by the children and spouse of the son. In the case of the surname of Woods, it is believed to have hailed from the Old English, Pre 7th Century word of "wudu" which can be translated to mean "wood."
Variations:
More common variations are: Wood, Woode, Atwood, Bywood, Attwood, Wode, Woodes, Woodus, Woodis, Wooods, Woodas, Woodys, Woodss, Woodsa, Woodso, Woodse, Wodeson, Woodison, Woodson, Woodeson,
History:
England:
The surname of Woods was first recorded as being spells Wode, and was recorded in the country of England. One person who was named as Walter de la Wode was mentioned and named in the Book of Fees for the county of Herefordshire in the year of 1242. This document was ordered, decreed, and written under the reign of King Henry III of England, who was commonly known as and referred to throughout the ages as one "Henry of Winchester." King Henry III ruled from the year 1216 to the year 1272. Other mentions of the surname of Woods in the country of England included one John de Wode, who was recorded as living in the county of Yorkshire in the year of 1274, one John Atewode who was recorded as living in the county of Essex in the year of 1274, one Elias in le Wode who hailed from Cambridgeshire in the year of 1279, and one William Bythewode who came from Sussex in the year of 1296. Because this surname of Wood is so common within the country of England, there are many early recordings of this surname, especially within the church records of this country. Those who bear the surname of Woods in the country of England can be found in large concentrations in the areas of Lancashire, Norfolk, Suffolk, and the areas in and around the city of London.
Scotland:
The country of Scotland has a high population of people who bear the surname of Woods. Many people who bear this surname of Woods can be found within the southwestern region of Scotland, and in the counties of Lanarkshire and Dumfries-shire.
Here is the population distribution of the last name Woods: United States 189, 865; England 31,018; Australia 16,886; Canada 12,597; Liberia 6,197; South Africa 5,242; Nigeria 4,738; Ireland 3,925; Scotland 3,144; New Zealand 2,883
Notable People:
Philip Wells Woods (1931-2015) who was a jazz bebop and alto saxophonist from America, who aslo was a clarinetist, bandleader and composer, and who is most notably recognized for his rendition of the Billy Joel song "Just the Way You Are"
Sylvia Woods (1926-2012) who was a restaurateur from America who is known for co-founding the landmark restaurant Sylvia's in Harlem which is located on Lenox Avenue, New York City
Don Woods (1927-2012) who was a meteorologist and cartoonist from America
Eldrick Tont "Tiger" Woods (born in 1975) who is a professional golfer from America, who, as of now, with all of his lifetime achievements into consideration is considered as one of the most successful golfers of all time
James Woods (born in 1947) who is an actor from America
Christopher "Chris" Charles Eric Woods (born in 1959) who was a former football player from England
Margaret Louisa Woods (1856-1945) who was a writer from England
Sir Albert William Woods GVCO, KCB, KCMG, KGstJ, FSA (1816-1904) who was an officer of arms from England
Charles Arthur Woods (1929-2015) who was a rugby union player from New Zealand, was a player for Southland from the year 1951 to the year 1956, and who played for the New Zealand National Team from the year 1953 to the year 1954
To receive a complete surname meaning report by PDF you can order our SURNAME MEANING PACKAGE for $129.   This report is great to share with family and friends.  It includes everything you see above plus any other information we can find on the specified surname.  It does take approximately 10 to 15 days for us to complete this custom report.
To receive a direct lineage & coat of arms search for your specific line(s) you can order one of our GENEALOGY PACKAGES ranging in price from $249 to $999.   All research is completed by a professional genealogist with over 30 years' experience.  All reports and coat of arms files are sent by email in PDF and JPG format.
Blazons & Genealogy Notes
"1) (London, 1812). Motto—Robur. Az. a woodman ppr. wreathed about the temples and waist with laurel vert, holding in his dexter hand a club head downwards in pale or, his sinister arm extended and pointing upwards, and his dexter foot resting on a bezant, on a chief of the last a lion pass. guard. gu. Crests—Dexter: Out of a ducal coronet or, a demi woodman ppr. supporting over his shoulder a club of the first; sinister: Issuing out of a ducal coronet or, a mount vert, thereon a lion statant guard. of the first in front of an
oak tree ppr. fructed or."
2) (Norwich, co Norfolk; granted by Bysshe, Clarenceux, 2 July, 1664). Ar. on a chev. betw. three martlets sa. five gouttes of the first. Crest—A martlet sa. wings endorsed guttée d'ar.
3) (co. Sussex). Ar. on a fess ragulée az. three fleurs-de-lis or, in cnief a trefoil slipped vert. Crest—A gauntlet ppr. betw. two ostrich feathers erect ar.
4) (Llanwyfhan and Rhosinor, Wales). Gu. a chev. or, betw. three owls ar.
5) (Sir William Woods, Garter King of Arms). Az. a wild man ppr. wreathed about the loins, holding a club all ppr. the right foot resting on a globe or, on a chief of the last a lion pass. guard. gu.
6) (Wigan, co. Lancaster). Motto—Labor et perseverentiâ. Ar. a chev. nebulée gu. guttée d'eau betw. three martlets sa. Crest—A staff ragulee fesswise sa. thereon a martlet, wings elevated also sa. guttée d'eau.