Abbey Family Crest, Coat of Arms and Name History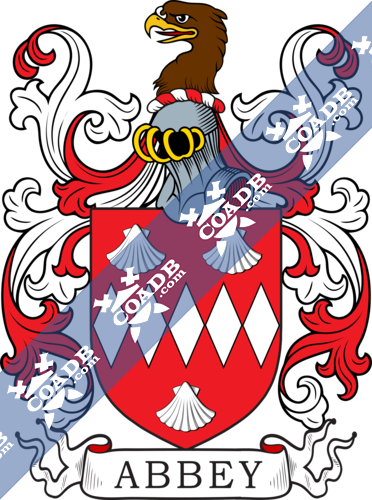 Abbey Coat of Arms Gallery
Don't know which Coat of Arms is yours?
We can do a genealogical research. Find out the exact history of your family!
Learn More
Abbey Origin:
France, Scotland, England
Origin of Abbey:
The spellings of Abbey are listed several different ways like the French and English Abba, Abbay, Abbe, Abbey, Abbate, Abbatt, Labbe, Labbey, Labey, Abade, the Scottish Abbie and Abbe, and the Italian Abbattini, Dell'Abate or Degli Abbati. It is one of the most fascinating and unique surnames of Olde French and has pre 10th-century origins. It heralds from the word "abet" which means a father, but can also, specifically in Italy, have indicated a current chief or an official expert. This concludes that many origins are possible, one of which containing a name for one who was realized to be rather "Holy" in his attribute, or a professional or a conditional name for a local chief or official. It can be melodramatic and a "projecting" name for an actor, one who performed the role of a priest in the popular traveling theaters of the old period. Against the first listing, the name is incredible, as a genetic surname, to have commenced from a real father or priest. This representation of the clergy since the 11th century, has been expected to be a bachelor and virginal as well. This surname is listed as a medieval one, meaning the "son of the Abbe".
Variations:
Some common variations are: Abbeye, Yabbey, Abbeey, Abey, Abby, Abbe, Abbeiya, Abbeyea, Abbeiye, Abbie.
England:
The surname originated in the division of Angus, in the Church of Abbey, and Brechin. The first documentation was of Donald Abbe of Brechin in 1178, who supported a contract with Turpin, priest of Brechin, and after he was awarded the lands of Balegillegrand to the Abbey of Arbroath, which a donation was confirmed by King William the Lion.
The very first recorded spelling of the family was shown to be that of Ralph Le Abbe, dated 1177 in the charter of London. It was during the time of King Henry II who was known to be the "Builder of Churches" (1154 – 1189). The origin of surnames during this period became a necessity with the introduction of personal taxation. It came to be known as the Poll Tax in England. Surnames all over the country began to develop, with unique and shocking spelling varieties of the original one.
United States of America:
Individuals with the surname Abbey settled in the United States in three different centuries respectively in 17th, 19th, and 20th. Some of the people with the name Abbey who settled in the United States in the 17th century included Thomas Abbey, who arrived in Virginia in 1608. John Abbey, who landed in Salem, Massachusetts in 1634 and Sarah Abbey who arrived in Barbados in the year 1679.
The following century also saw many more people with surname Abbey arrive. Some of the people with the name Abbey who settled in the United States in the 19th century included William D Abbey, who landed in Arkansas in the year 1880 during the 19th century.
People with the name Abbey who settled in the United States in the 20th century included Albert Abbey who at the age of 4, who emigrated to the United States from London, in 1906. Constantine Abbey at the age of 35 moved to America from Leeds, England, 1914. Allan Abbey at the age of 36 landed in America, in 1918. Ann Abbey at the age of 26 settled in America from Essex, England in 1919 and Alban Abbey at the age of 37 landed in America in the year 1919.
Here is the population distribution of the last name Abbey: United States 6,318; England 2,371; Ghana 30,034; Australia 3,511; Nigeria 18,952; Canada 606; South Africa 511; Togo 3,885; Benin 2,578, Uganda 1,307.
Notable People:
Bert Abbey (1869–1962), was an American baseball player.
David Abbey (born 1941), was an English cricket player.
Edward Abbey (1927–1989), was an American writer.
Edwin Austin Abbey (1852–1911), was an actor and cartoonist.
George Abbey (born 1932), was an American National air transportation and Space Administration (NASA) official.
George Abbey (born 1978), was a Nigerian football player.
Graham Abbey (born 1971), was a Canadian artist.
Henry Abbey (1842–1911), was an American poet.
Henry Eugene Abbey (1846–1896), was a famous theater director and producer.
Joe Abbey (1925–2014), was an American football player.
John Abbey (1785–1859), was an English body builder.
Lynn Abbey (born 1948), was an American writer.
Nathan Abbey (born 1978), was an English soccer player.
Ross Abbey (born 1953), was an Australian rules football player.
Blazons & Genealogy Notes
Gu. five fusils conjoined in fesse, betw. three escallops ar. Crest—An eagle's head erased ppr.