Abbott Family Crest, Coat of Arms and Name History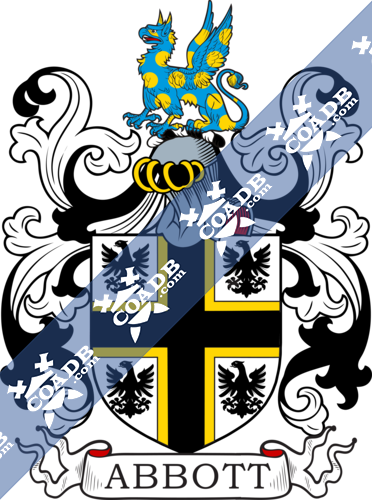 Abbott Coat of Arms Gallery
Don't know which Coat of Arms is yours?
We can do a genealogical research. Find out the exact history of your family!
Learn More
Abbott Origin:
England
Origins of Name:
The surname of Abbott comes from the Anglo-Saxons and the Normans, and derives from an occupational name for a person employed by an abbot. This surname could also be a nickname for someone who was thought to conduct themselves like an abbot, and it is possible that this surname may refer to the offspring of an abbot, but because the clergy is supposed to be celibate, this is a widely debated fact. In Scotland, this surname can be both an English translation, or perhaps a translation of McNab, which also can be translated to mean "son of the abbot." Originally, this surname was spelled "abbod." In Italian, this surname is spelled as a variation of Abbott, and is translated to be "Abate." In Germany it is pronounced as "Abt." In Spanish, the surname of Abbott is Abad,
Variations:
More common variations are:
Abbotts, Abbot, Abbett, Abbitt, Abbet, Abbotson, Abbotte, Abbotto, Aabbott, Abboott, Abboett, Abbottu, Abbottu, Abboitt, Abboutt, Abbottw
History:
England:
The first recorded spelling of the surname of Abbott was in the year 1190. Walter Abbot was recorded in the Danelaw Records of Lincolnshire, under the reign of King Richard I, who was also referred to as "Richard the Lionheart" and ruled from the year 1189 to the year 1199. In the year 1272, Richard Abbod was recorded in Somerset, while George Abbot, who lived from the year 1562 to the year 1633, was appointed as the Archbishop of Canterbury in the year 1611, and Elizabeth Abbot was recorded as living "over the river" in the United States, specifically in the state of Virginia, at that time which was spelled Virginea, in the year 1623, which classified her as one of the first colonists to emigrate to the United States of America. In England, the surname is mostly in Yorkshire and Lancashire, and is also found in smaller concentrations in the southeast coastal colonies.
United States of America:
During the European Migration, which is when English settlers were fed up with their homeland and its poor living conditions, and emigrated out of their home country, many settlers sought out the United States of America, which at that time was referred to as the Colonies, or the New World. The first of these settlers who was recorded to bear the surname of Abbott was George Abbott, who emigrated with his three sons and settled in the town of Rowley, Massachusetts in the year 1630. In that same year, Daniel Abbott landed in the city of Providence, Rhode Island. Arthur Abbott, Christopher Abbott, and George Abbott were soon to follow, settling in the states of Massachusetts, and Virginia between the year 1634 and the year 1637. The surname of Abbott is spread all over the United States of America. However, this surname can be found in high concentrations in the states of New York, Massachusetts, Ohio, Illinois, Michigan, California, Pennsylvania, Washington, and the state of New Jersey.
Scotland:
In the country of Scotland, the surname of Abbott is found in the counties of Angus and Lanarkshire. In 1654 William Abbat was born in Dundee. A couple of generations later, the surname was changed to Abbott.
Ireland
The Abbott surname in Ireland is found mainly in Dublin. John Abbot was granted land in Cork in the 1650s and was also known as "God Be With Us" Abbott.
Australia:
In the 19th Century, it became common for settlers to once again seek out new land and a better life. Australia was one of these areas. James Abbott, who was an English convict from Kent, settled in New South Wales in 1820.
Abbott Today:
United States 62,479
England 18,294
Australia 7,570
Canada 7,441
South Africa 4,584
New Zealand 1,297
Scotland 978
Dominican Republic 937
Wales 926
Brazil 874
Notable People:
Margaret Ives Abbott (1878-1955) who was an Olympic gold medalist who placed in golfing in the 1900 Olympic games
Mr. Eugene Joesph Abbott (died in 1912) who was a 14-year-old Third Class Passenger from Rhode Island who died in the sinking of the RMS Titanic
Mr. Rossmore Edward Abott died in 1912) who was a 16-year-old Third Class Passenger from Rhode Island who died in the sinking of the RMS Titanic
Mrs. Rhonda Mary Abbott (ne'e Hunt) who was a thirty-nine-year-old Third Class Passenger from Rhode Island who survived the sinking of the RMS Titanic by boarding collapsible A
Shirley "S.L." Abbott (1924-2013) who was a businessman, rancher, politician and US Ambassador to Lesotho
Othman Ali Abbott (1824-1935) who was a politician, a Member of the Nebraska State Senate in 1872, and a Delegate to the Nebraska State Constitutional Convention in 1875, and the Lieutenant Governor of Nebraska from 1877 to 1879
Othman Ali Abbott Jr. (1874-1954) who was a politician, and the Mayor of Grand Island, Nebraska in 1932, and again from 1939 to 1940
Blazons & Genealogy Notes
Ar. a cross sa. fimbriated or, betw. four eagles displ. of the second. Crest—A griffin sejant az. bezantee.