Abbs Family Crest, Coat of Arms and Name History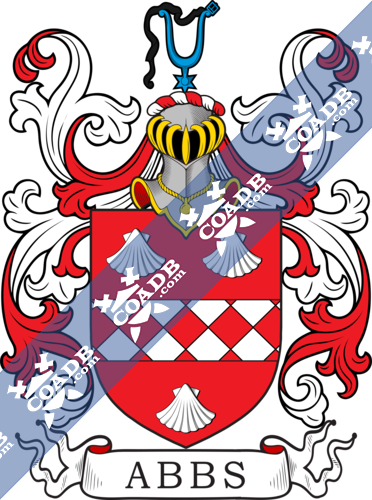 Abbs Coat of Arms Gallery
Don't know which Coat of Arms is yours?
We can do a genealogical research. Find out the exact history of your family!
Learn More
Abbs Origin:
England
Origins of Abbs:
This interesting and unique English surname is an alternative of the famous 'Abel' brought by returning 13th-century Reformers and pilgrims from the Holy Land. 'Abel' itself acquires from the Hebrew given name 'Hevel' which means 'breath or vigor.' The particular name 'Abel' (Hevel) was had by the son of Adam, who killed his brother Cain. It was very famous as a given name in Christendom during the Middle Ages, when there was a devotion of 'suffering ignorance' which Abel described. For reasons unclear the early surname was spread widely in Yorkshire and East Anglia, and well described in its different forms in the records of the area. The surname now appears as Abbs, Abbis, Abbiss, Abbys, Abbes, Abson, Abbison, etc., and all mean Son of Abb. Early examples of the surname records contain a Willelmus filius Abbs, in the 1273 Hundred rolls of Buckingham, Jane Abs, who named at All Hallows Parish, Honey Lane, London, in October 1582, and Margery Abbs, who married James Young, at the famous parish of St Dunstans in the East, Stepney, in May 1620. In August 1684, William Abbes married Sarah Page, at Great Yarmouth. A notable name ancestor was William Abbs, who was the administrator of the town of Bedford in 1534.
Variations:
More common variations are: Abbis, Abbas, Abbes, Abbsi , Abbus, Abbsa, Abbos, Aabbs, Abbhs, Abbss.
England:
The surname Abbs first appeared in the division of Middlesex in southern England where they held a family seat from old times. During the Norman Invasion of England in 1066, unlike many Saxon families, ancestors of this name operated to hold onto much of their holdings and these were noted in the Domesday Book, a poll derived in 1086 by King William.
The very first recorded spelling of the family was shown to be that of John Abbys, dated about 1379, in the "Poll Tax Rolls of Yorkshire." It was during the time of King Richard II who was known to be the "Richard of Bordeaux," dated 1377 – 1399. The origin of surnames during this period became a necessity with the introduction of personal taxation. It came to be known as Poll Tax in England. Surnames all over the country began to develop, with unique and shocking spelling variations of the original one.
Ireland:
Many of the people with surname Abbs had moved to Ireland during the 17th century.
United States of America:
Some of the people with the name Abbs who arrived in the United States in the 17th century included Edward Abbs, who settled in Virginia in 1635. Edward Abbs at the age of 37, arrived in Virginia in 1635. Henry Abbs, who landed in Virginia in the year 1649. Thomas Abbs, who also came to Virginia in the same year 1649.
Here is the population distribution of the last name Abbs: Pakistan 754; United States 701; England 683; Saudi Arabia 154; Canada 146; Australia 95; France 61; Northern Ireland 48; India 23; Scotland 20.
Notable People:
Rev. John Abbs (1810–1888) was an English minister. Sent out by the London Missionary Society, he was employed twenty-two years in Travancore, Southern India, a period passed by European missionaries at that time. He was the husband of Louisa Sewell Abbs and the writer of Twenty-two years' Missionary Experience in Travancore.
Louisa Sewell Abbs (née Skipper) (1811–1872) was the wife of English minister Rev. John Abbs who helped organize the lace and needlework industry in Travancore, Southern India. She also organized and taught at girls boarding schools during her time in India.
Tom Abbs was born in the year 1972. He is an American multi-instrumentalist and film producer. He works primarily in the fields of jazz, free jazz, and free improvisation, and plays double bass, tuba, cello, violin, didgeridoo, and wooden flute, often playing many of these instruments together.
Blazons & Genealogy Notes
1) (Norfolk). Gu. a fesse lozengy betw. three escallops ar. Crest—A spur az. leather sa. buckle of the first.
2) (Cleadon, co. Durham). Motto—Noli irritare leonem. Gu. a bend engr. or, betw. six lions ramp. ar. Crest—The sun in splendour.
3) (The Hall, Barrow Point Hill, Pinner, co. Middlesex). Motto—In te Domine speravi. Gu. on a fesse betw. three escallops ar. five fusils in fesse sa. Crest—Out of a ducal coronet or, an eagle's head with wings displ. ar. collared gold.