Aberdeen Family Crest, Coat of Arms and Name History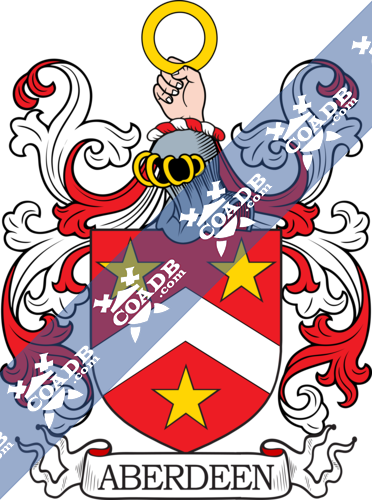 Aberdeen Coat of Arms Gallery
Don't know which Coat of Arms is yours?
We can do a genealogical research. Find out the exact history of your family!
Learn More
Aberdeen Origin:
England, Scotland
Origins of Aberdeen:
According to early recordings of the name, this interesting and unique name is listed with two spellings Aberdeen and Aberdein. This is a Scottish locational surname which does acquire from the city of Aberdeen. Locational surnames by their very nature were given to people after they departed from their original homes and shifted to any other place, although curiously this may not be the case here. One of the easiest forms of surname classification, was and is, to call a person by the name of the place, region, or country from which they originated. In this example, the first name holder, see below, was a merchant who moved between Scotland and France, and while on his way to St Omer in France, was caught by criminals in the north sea, and stripped of his cloth. Other early records include those of Michael de Abirden, a land owner in Berwick in the year 1290, and John de Abirdene was the vicar of Pentland, Scotland, in 1399. Alexander Aberdein was a businessman of Aberdeen in the early part of the 18th century, and after that Jenny Aberdeen was a 20th-century writer who wrote the life of John Galt. The place name is perhaps Olde Gaelic pre 10th century. The origin is from "aber" a river mouth, and denu, a dale or in this example, possibly an inlet. The first known surname record is that of John de Aberdene, trader of Aberdeen, in the year 1272.
Variations:
More common variations are: Aberden, Aberdein, Aberdien, Oberdeen, Aberdean, Aberdene, Eberdeen, Auberteen, Aberdin, Aberdon
Scotland:
The surname Aberdeen first appeared in the division of Aberdeenshire (Gaelic: Siorrachd Obar Dheathain), a historical division, and present day Cabinet Area of Aberdeen, located in the Grampian region of northeastern Scotland. One of the first recordings of the name was John of Aberdene, a dealer of Aberdeen, who was robbed of wool at sea while on a journey from Aberdeen to St. Omer in 1272. A few years later in 1290, Michael de Abirden given land in Berwick.
There has been a human residence in the area of Aberdeen since the Stone Age. Aberdeen as a city grew up as two separate burghs as Old Aberdeen, the University, and Cathedral settlement, at the mouth of the River Don and New Aberdeen, a fishing and trading village where the Denburn entered the Dee water.
Ireland:
Many of the people with surname Aberdeen had moved to Ireland during the 17th century.
New-Zealand:
Some of the population with the surname Aberdeen who arrived in New Zealand in the 19th century included John Aberdeen landed in Auckland, New Zealand in 1843.
Here is the population distribution of the last name Aberdeen: Trinidad and Tobago 400; England 280; United States 279; Scotland 223; Canada 181; Australia 117; South Africa 110; Grenada 95; New Zealand 33; Guyana 8.
Blazons & Genealogy Notes
(Cairnbulg). Motto—Intemerata Fides. Gu. a chev. ar. betw. three mullets or. Crest— A dexter hand holding up an annulet ppr.