Abraham Family Crest, Coat of Arms and Name History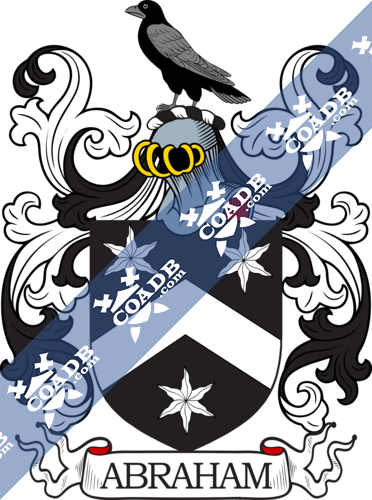 Abraham Coat of Arms Gallery
Don't know which Coat of Arms is yours?
We can do a genealogical research. Find out the exact history of your family!
Learn More
Abraham Origin:
Hebrew
Origins of Name:
The Abraham surname derives from the biblical personal name Avraham, the founding father of the Jews and the believed to be the founder of all Semitic people by Muslims. The name is derived from the Hebrew words "av hamon goyim" meaning father of multitude of nations. Throught the middle ages it was a popular personal name used by Jews and Christians. After the Crusades, armies returning to Europe would gift the name to their sons as recognizing their visit to the Holy Land. The personal names would eventually turn into a descriptive surname for descendants, i.e. "the son of Abraham". The surname is ubiquitous thoughtout all of Europe.
Variations:
More common variations are: Abrahams, Abram, Abrahamson, Abrams, Abram, Abrahamer, Abramsky, Brahms, Abrahamsson, Avraham, Abramovitz, D'Abramo,
History:
England:
The first known instance of the name is in 1086 of a priest referred to as Abraham in the Domesday Book for London.
Abraham de Stradtuna was recorded in Lincolnshire in the Danelaw Rolls in 1170.
The first known recorded instance of the surname is John Abraham in 1197 in Northamptonshire in the Pipe Rolls. Another John Abraham was recorded in 1273 in Bedford. Magota Abraham was recorded in 1379 in Yorkshire in the Poll Tax Rolls.
In Abram, Lancashire lived another Abraham line. The original name was Adburgham then later Abraham. Gilbert de Abram and John Abraham lived in the township in the 14th and 15th century respectively.
The surname Abraham is the 1023rd most common name in Great Britain. The highest concentrations are in County Armagh, Brighton and Hove, Northumberland, and Lancashire.
Ireland:
The Gaelic form of Abraham is Mac an Bhreitheamhan meaning "son of the judge". The surname is common in many parts of Ireland, especially in Connact and West Ulster.
Scotland:
The first known instance of the surname Abraham was in Balfeth. Adam Abraham was a Bishop of Dunblain and owned land there.
Ethiopia
Ethiopian names are largely Biblical and Islamic in origin. Ethiopians do not have surnames. Rather, they use the fathers first name as their last name. Hence, someone named Abraham Alemayahu Zerihun, would consist of the boy's name (Abraham), his father's name (Alemayahu) and his grandfather's name (Zerihun).
United States:
Many settlers would migrate to the New World, also referred to as the Colonies due to harsh conditions in Europe. Known as the great European Migration many family lines with the surname of Abraham would arrive. The first settler believed to arrive in the United States is John Abraham in 1636 who landed in Virginia. One year later, Geo Abraham would arrive in Virginia as well. 2 years later George Abraham settled in Virginia. During the 18th century two Abrahams would come to settle in the Americas. Sarah Abraham arrived in 1730 in Pennsylvania. And an unknown Abraham arrived in 1783 in America. His or her first name was not known, and it is not known wherein they settled. In the 19th century a larger influx of Abrahams would arrive in the United States. A total of five would arrive and settle in various parts of the country.
India:
The surname Abraham in India normally denotes that the person are descendants of Christians from Kerala. Similar to Ethiopia naming conventions are used by passing down the father's first name causing a continuous recycling of names. Modern naming conventions in India are changing to keep one surname for the entire family.
Here is the population distribution of the last name Abraham:
95,000 in Ethiopia, 82,000 in Nigeria, 53,000 in India, 34,000 in Eritrea, 33,000 in the United States
Notable People:
Abraham Abraham (1843-1911) American entrepreneur. Jewish American businessman who founded Abraham & Straus in 1865. The department store is currently a part of Macy's.
Abu Abraham (1924-2002) Indian cartoonist, journalist and author. His career was over 40 years long and he worked in various international newspapers.
Karl Abraham (1877-1925), German psychoanalyst. He collaborated with the famous psychoanalyst Sigmund Freud. Freud called him his "best pupil".
John Abraham (1672), British governor of what is now the abandonded Hudson's Bay Company on Hudson Bay in the province of Manitoba, Canada.
Max Abraham (1875), German physicist. Born into a family of Jewish merchants, he became a famous physicist graduating from the University of Berlin.
Nahim Abraham (1885), American businessman. Born in Lebanon, he lead the development of a city named Canadian, Texas.
William Abraham (1842), Welsh politician. Also known as Mabon. He was a Welsh unionist and member of parliament for almost 40 years.
Fred Abraham (1859 – 1901) Britich cricketer who played for the Guyanese national side.
Blazons & Genealogy Notes
1) (Swarthmoorhall, co. Lane.). Sa. a chev. betw. three estoiles ar. Crest – A raven ppr.
2) Az. a sun or. Crest—A sun or.