Abrey Family Crest, Coat of Arms and Name History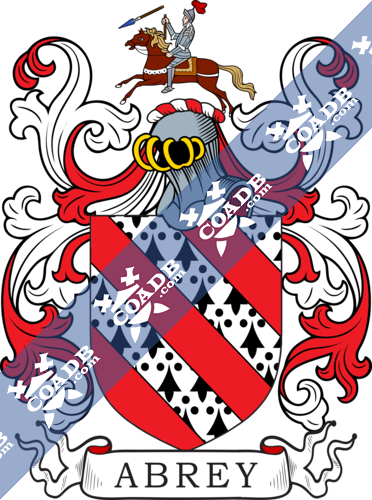 Abrey Coat of Arms Gallery
Don't know which Coat of Arms is yours?
We can do a genealogical research. Find out the exact history of your family!
Learn More
This interesting and long-established surname has two distinct possible origins, each with its own history and derivation.  Firstly, Abrey may be of Old French origin, and a variant of the more familiar Aubrey, itself acquiring from either of two Old French personal names.  The first, "Aubri, Auberi", acquires from the Old German "Alberic", a combination of the components "alb", elf, and "ric", power, and the second, "Albree, Aubree", derives ultimately from the Old Germanic female given name "Albrada", elf-counsel. More common variations are: Aubrey, Awbrey, Abbrey, Abraey, Aybrey, Abreay, Abreyo, Aburey, Aibrey, Aborey.
The surname Abrey first appeared in Lincolnshire, where they held a family seat from old times. The very first recording spelling of the family was shown to be that of Robert Aubrey,  dated 1273,  in the "Hundred Rolls of Berkshire". It was during the reign of King Edward I, who was known as "The Hammer of the Scots", dated 1272-1307.  Surname all over the country became a necessity with the introduction of personal taxation.  It came to be known as Poll Tax in England.
Early North American records indicate many people bearing the name Abrey were among those contributors like John Abry, who sailed to Virginia in 1650.  Henry Abery sailed to Virginia in 1671 and William Abery to New York in the year 1839.
Blazons & Genealogy Notes
Bendy of six erm. and gu. Crest—A chevalier on horseback, at full speed, holding a broken spear all ppr.