Abrell Family Crest, Coat of Arms and Name History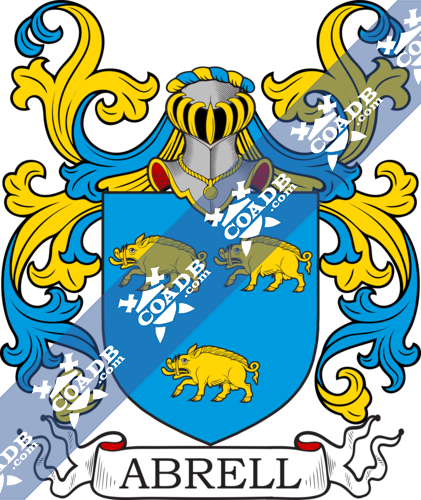 Abrell Coat of Arms Gallery
Don't know which Coat of Arms is yours?
We can do a genealogical research. Find out the exact history of your family!
Learn More
It is only in the last few hundred years that the English language has been regulated.  For that reason, early Anglo-Saxon surnames like Abrell are characterized by many spelling variations.  As the English language changed and incorporated components of other European languages, even educate people changed the spelling of their names. Scribes and priests in the Middle Ages spelled names they sounded, so it is common to find many variations that refer to a single person.  More common variations are: Aberell, Abrel, Aubarell, Abarelli, Abarelle, Ebrell, Abrall, Abrill, Abriel, Aburel.
The surname Abrell first appeared in Herefordshire where they held a family seat as Lords of the Manor.  The Saxon impact of English history declined after the Battle of Hastings in 1066.  The language of the courts was French for the next three centuries, and the Norman atmosphere prevailed.  But Saxon surnames remained, and the family name first introduced in the 13th century when they held lands in that shire.
Many English families tired of political and religious strife left Britain for the new colonies in North America.  Although the trip itself offered no relief – conditions on the ships were extremely cramped, and many travelers arrived diseased, starving, and destitute – these immigrants believed the opportunities that awaited them were worth the risks. Once in the colonies, many of the families did indeed prosper and, in turn, made significant donations to the culture and economies of the growing colonies. An inquiry into the early roots of North American families has revealed some immigrants bearing the name Abrell or a variant listed above as Richard Abrahall, who arrived in Maryland between 1655-1658.  Robert Abrahall in Virginia between 1659 and 1660.  Robert Abrahall noted in Virginia in 1681.
Blazons & Genealogy Notes
Az. three boars pass. or.