Aikman Family Crest, Coat of Arms and Name History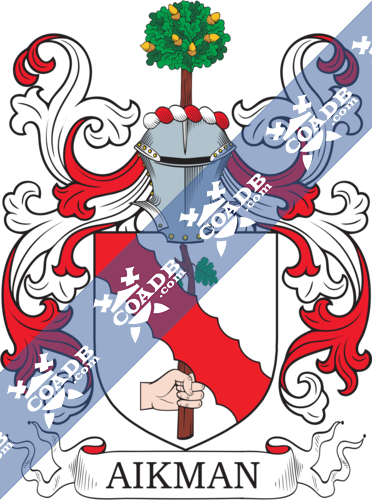 Aikman Coat of Arms Gallery
Don't know which Coat of Arms is yours?
We can do a genealogical research. Find out the exact history of your family!
Learn More
Aikman Origin:
Scotland
Origins of Aikman:
This very interesting and unique name is of Scottish origin from any of three possible origins. The first origin may acquire from the old English pre 7th Century particular name "Agemund" of unknown etymology. Alternatively, it may have been a name provided to "a weak person" from the old English "ace manne." Finally, the name may have started with the old English particular name "Aecemann," which means Oak man, from the components "oke" (AEC) oak, and "name," which means man. There is a story told by an officer who had command of the bands attacking Macbeth in Dunsinane Castle who ordered his men to charge the castle with sections of oak from Birnam Wood, and from this account gained the name, Aikman. One John Hekman was bailie of Montrose in 1400 (according to Scottish Arms (1370 – 1678). The graves of ten John Aikmans are said to be in Arbroath, and the name also appeared in Orkney in 1575. William Aikman (1682 – 1731) was a famous portrait painter.
Variations:
More common variations are: Aickman, Aikeman, Aikaman, Aikoman, Akman, Ikman, Aikamani, Oakman, Ackman, Ickman.
Scotland:
The surname Aikman first appeared in the provinces of Fifeshire and Forfarshire, in Scotland. It said that Akeman charged MacBeth's troops in the siege of Dunsinane Castle and organized the attack in 1057. One of the original records for the name was Alisaundre Akeman who declared an oath of loyalty to King Edward I in 1296. "The tombs of ten John Aikmans are said to be in Arbroath Abbey."
The very first recording spelling of the family was shown to be that of Alisaundre Akeman, of Lancashire, dated about 1296, in the "Calendar of Documents relating to Scotland." It was during the time of Interregnum dated 1290-1292.
Ireland:
Many of the people with surname Aikman had moved to Ireland during the 17th century.
United States of America:
Individuals with the surname Aikman landed in the United States in two different centuries respectively in the 17th, and 18th. Some of the people with the name Aikman who arrived in the United States in the 17th century included Francis Aikman, who came to Virginia in 1669.
The following century saw much more Aikman surnames arrive. Some of the people with the name Aikman who arrived in the United States in the 18th century included Patrick Aikman, who came to Boston in 1715. William Aikman, who came to Boston in 1718. Joseph Aikman, who was on record in Mobile, Alabama in 1767. Alexander Aikman, who arrived in New York sometime between 1755 and 1776. George Aikman, who came to Florida in 1781.
New-Zealand:
Some of the population with the surname Aikman who arrived in New Zealand in the 19th century included Jessie Aikman arrived in Wellington, New Zealand aboard the ship "Asterope" in 1865.
Here is the population distribution of the last name Aikman: United States 1,525; England 500; Canada 380; South Africa 329; Australia 290; Scotland 289; Jamaica 286; Suriname 133; Belize 112; New Zealand 104.
Notable People:
Christopher Aikman is an astrophysicist who spent most of his job (from 1968 to 1997) at the Dominion Astrophysical Observatory (DAO) in Saanich, British Columbia, Canada.
David Aikman was born in 1944, Surrey, England. He is a best-selling writer, reporter, and foreign policy adviser. He graduated from Oxford University's Worcester College in 1965 and obtained a Ph.D. from the University of Washington in Russian and Chinese history in 1979.
Laura Holly Aikman was born in December in the year 1985. She is an English actress and daughter of stunt coordinator and film producer Stuart St. Paul.
Troy Kenneth Aikman was born in November 1966. He is an NFL quarterback who played for the Dallas Cowboys in the National Football League (NFL).
Blazons & Genealogy Notes
(Lodurn, afterwards Cairnie, co. Forfar; William Aikman, the Painter, was representative of this family). Motto—Sub robore virtus. Ar. a sinister hand holding an oaken batton paleways ppr. surmounted of a bend engr. gu. Crest—An oak tree ppr.