Aitcheson Family Crest, Coat of Arms and Name History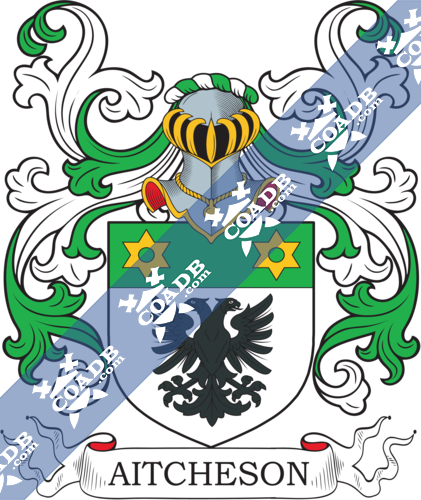 Aitcheson Coat of Arms Gallery
Don't know which Coat of Arms is yours?
We can do a genealogical research. Find out the exact history of your family!
Learn More
Aitcheson Origin:
Scotland
Origins of Aitcheson:
This famous surname was noted as being of Anglo-Scottish origins, although with Norman predecessors. Found with the spellings of Atkinson, Aitchison, Acheson, Aicheson, and Aitcheson, it is a patronymic form of the old male given name Atkin or Adkin, itself a double shortened form of the Hebrew name 'Adam,' which means 'red earth.' Adam (as a baptismal name) was first noted in the English Domesday Book of 1086, suggested that it was an introduction after the 1066 Conquest. Certainly, after that, it became slightly more famous creating more diminutives like Adcock and Atcock, with similar meaning. Early examples contain as Adekin filius Turst (Adekin the son of Turst) in the 1191 Pipe Rolls of Norfolk, and John Adekyn in the 1296 Records of Crowland Abbey, Cambridgeshire. William Atkyns noted in the Premium Rolls of Worcestershire, dated 1327, and John Atkinson noted in the Taxes relating to the feudal records of the division of Westmorland in 1402. More examples are those of James Aitchesoun, master of the Scottish Mint in 1553, and Marc Aichesone or Acheson of Achesounes hevin (now Morrisons Haven), in 1609.
Variations:
More common variations are: Aitchieson, Atcheson, Aitchson, Itcheson, Aitchison, Autcheson, Atchesson, Aitchesen Atchson, Atchison
Scotland:
The surname Aitcheson first appeared in Berwickshire, an old division of Scotland, presently part of the Scottish Borders Council Area, located in the eastern part of the Borders Region of Scotland, where one of the first recordings of the name was Johannes Filius Ade was a "custurnar" of North Berwick in 1384 and after that shows as John Atkynsoun in 1387.
The very first recording spelling of the family was shown to be that of John Atkynsoum, dated about 1387, in the "Records of North Berwick," Scotland. It was during the time of King Robert II of Scotland, dated 1371 – 1390.
Ireland:
Many of the people with surname Aitcheson had moved to Ireland during the 17th century.
United States of America:
Individuals with the surname Aitcheson landed in the United States in 19th century. Some of the people with the name Aitcheson who arrived in the United States in the 19th century included Robert Aitcheson who landed in Philadelphia, Pennsylvania in 1866.
Australia:
Some of the individuals with the surname Aitcheson who landed in Australia in the 19th century included Aitcheson arrived in Van Diemen's Land (now Tasmania) sometime between 1825 and 1832. Robert Aitcheson arrived in South Australia in 1850 aboard the ship "Agincourt." Jane Aitcheson and Jane Aitcheson, both arrived in Adelaide, Australia aboard the ship "Agincourt" in the year 1850.
New-Zealand:
Some of the population with the surname Aitcheson who arrived in New Zealand in the 19th century included James Aitcheson, Sarah Aitcheson, Jane Aitcheson and John Aitcheson, all arrived in Auckland, New Zealand aboard the ship "Resolute" in the same year 1865.
Here is the population distribution of the last name Aitcheson: United States 415; Jamaica 250; New Zealand 208; England 183; Canada 162; Australia 156; Fiji 146; South Africa 110; Scotland 66; Northern Ireland 60.
Notable People:
Joseph Leiter Aitcheson Jr. was born in July 1928 in Olney, Maryland. He is an American steeplechase jockey who was drafted into the National Museum of Racing Hall of Fame in 1978.
Blazons & Genealogy Notes
1) (Gosford, co. Edinburgh). Ar. a two-headed eagle displ. sa. on a chief vert two spur rowels or.
2) (Sydserff, Scotland). The same within a bordure invecked of the second. Motto—Ane chast arbor.
3) (Pittenweem Scotland, 1672). Motto—Observe. Or, a double­headed eagle displ. sa. on a chief vert a cross staff between two spur rowels gold. Crest—An astrolob ppr.
4) (Roehsolloch, co. Lanark). Motto—Vigilantibus. Ar. a double-headed eagle displ. sa. on a chief vert a crescent of the field betw. two spur rowels or. Crest—A cock ppr.
5) (Gen. Sir John Aitcheson, K.C.B., 1867). Motto—Vigilantibus. Ar. a double-headed eagle displ. sa. charged on the breast with a garland of laurel or, a bordure embattled of the third, on a chief also of the third a mural crown between two mullets of the fourth. Crest—A cock standing on a trumpet or.