Akers Family Crest, Coat of Arms and Name History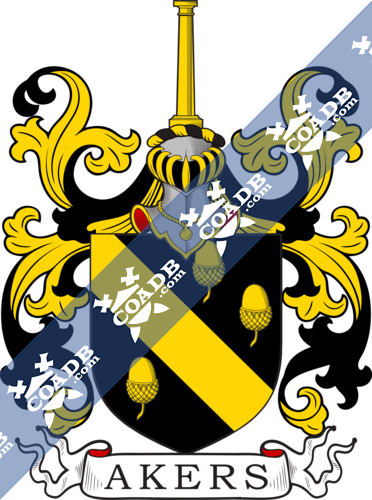 Akers Coat of Arms Gallery
Don't know which Coat of Arms is yours?
We can do a genealogical research. Find out the exact history of your family!
Learn More
Surname Meaning, Origin, and Etymology
Many of the best-known surnames of today, were born in the old country of England. This territory was the home for several recognized large families, some of them are original from there, and others arrived in British lands, thanks to the Norman Conquest of 1066, in which William the Conqueror became the first Norman King of England. The Normans already had their own surnames that mixed with the last names from England. One of this surnames was Aker which bearers held their oldest seat in the county of Cumberland, after the invasion. There were two big families that were the possible ancestors of the old bearers of Aker of Cumberland. The first of this two families were the Lords D'Acre who were referred as the D'Acres of the North, and the second family was the Lord D'Acre of Herstmonceux, who were referred as the D'Acres of the South. The common oldest seat of this tow lines of D'Acre was the region of Dacre in Cumberland.
Etymologically, Aker belongs to the category of the local surnames, because it makes reference to the unit of land, acre. The meaning behind this last name is "the dweller at the acre" or "the dweller at the plot of arable land" in other words, it is also associated with land labors. The oldest bearer of the surname Aker ever recorded was Herman Jordaan van den Aker, who was born in 1300 in Oisterwirjk, Noord-Brabant, Netherlands and died in 1307 in that same place.
Spelling Variations
The surnames that are original from Europe during the middle age have several spelling variations for typical reasons of that period of history. In the medieval era, many cultures from different countries were mixing because of all the wars, conflicts and invasions that occurred in that time and many families were also connecting or separating from each other. Their languages didn't have the same grammatical rules that they have today, so there wasn't a good guide to tell how to write words correctly. There was also the case of wrong translations of surnames and the proper evolution of languages that caused changes in many words, last name among them. Finally, the scribes of that time used to write words according to their sound, so if each one of them heard a certain word differently, then they were going to write it in a unique way. For all of these reasons, surnames like Aker had many spelling variations such as Acre, Acres, Aker, Eaker, Aiker, Aikers, Aikerson, Aker, Akers, Acker, Ackers, Ackhurst, Aucher and many others.
Popularity & Geographic Distribution
According to the census of 2014, the surname Aker is very rare these days. It holds the 27,091st position in the ranking of popularity of surnames in the entire world and it only counts on approximately 18,742 bearers. The country with the biggest amount of bearers of Aker is Turkey, followed by the United States in second place and Norway in third. Turkey is also the country with the highest density of bearers of Aker.
Early Bearers of the Surname
Unfortunately, there are almost no records of the oldest bearers of this surname. We were able to find only one, Sir Anthony Aucher, 1st Baronet (1614-1692) who was an English politician from Bishopsbourne, Kent, who was Member of Parliament for Canterbury from 1660 until 1661.
History, Genealogy, and Ancestry
Thanks to the low popularity of Aker, there are very few good records that provide good details about the genealogy of this surnames. However, there are two records that offer a light over the family history of this last name. One of the branches of Aker were the Ackers of Moreton Hall represented by George-Holland Ackers, Esquire of Moreton Hall, Chester. George-Holland was part of the Royal Horse Guards Blue and also High Sheriff of Cheshire in 1852 as well as other important charges. He got married to Harriott-Susan, now of Moreton Hall, on January 23, 1838, she was the second daughter of William Hutton, Esquire of Beverly, County of York. The children of this marriage were Georgina-Harriott, who got married on July 14, 1858, to Sir Charles Watkin Sharkely, Baronet of Somerford Park and Constance-Marianne who got married on January 17, 1872, to Fitzroy-Donald Maclean Lieutenant-Colonel of the 13th Hussars. This last marriage only had one son, Sir Charles-Fitzroy Maclean, who became the 9th Baronet of Morvaren. The lineage of this family started with George Ackers, Esquire of Moreton Hall, who was born on August 19, 1788. On November 8, 1811, he got married to Harriott-Dell, daughter of Henry Huston, Esquire of Lincoln. They only had one child, George-Holland Ackers, now Esquire of Moreton Hall. George Ackers died on November 22, 1836.
Another branch of the surname Aker was the Ackers of Prinknash Park which was represented by Benjamin-Saint John Ackers, Esquire of Prinknash Park, County of Gloucester, and Barrister-at-Law. He was born on November 6, 1839, and on October 24, 1861, got married to Louisa-Maria-Jane Hunt, daughter of Brooke Hunt, Esquire of Bowden Hall, County of Gloucester. The children of this marriage were James-Arthur, who was born in 1873, Edith-Jane, Mary, and Louisa. The lineage of this family began with James Ackers, who was born on August 4, 1811, who bought the property of Prinknash. He got married to Mary Williams, daughter of Benjamin Williams, Esquire of Bowden Lodge, on January 9. 1833. They only had one son Benjamin-Saint John Ackers, now Esquire of Prinknash Park. James Ackers died on September 27, 1868.
Early American and New World Settlers
There are not many records that show the first bearers of Aker in arriving in America. Some of them were David Aker, who arrived in Pennsylvania, United States in 1840 and Lambert Aker who arrived in Canada in 1783.
Mottoes
Mottoes were phrases used by families to express an aspect of themselves, such as their religion, their code of conduct or to whom they were loyal. In some cases, this phrases could be part of the coat of arms of the family. Records show two mottoes for the surname Aker, the first is "E vive en esperance" which means "And live in hope" and the second one is "Je vive en esperance" which can be translated into English as "I live in hope".
Grantees
We were unable to locate any documented grantees for the Aker family.
Notables
Some of the bearers of Aker who have played an important role in different fields are Brian Aker (b. 1972) an open hacker from the United States, Jack Aker (b. 1940) a professional baseball player from the US, Mustafa Aker (1892-1961) a Turkish soldier, Tim Aker (b. 1985) a British politician and Raymond Aker (1920-2003) a British navigator and historian.
Blazons & Genealogy Notes
Sa. a bend betw. three acorns or. Crest—A doric column or.