Aldworth Family Crest, Coat of Arms and Name History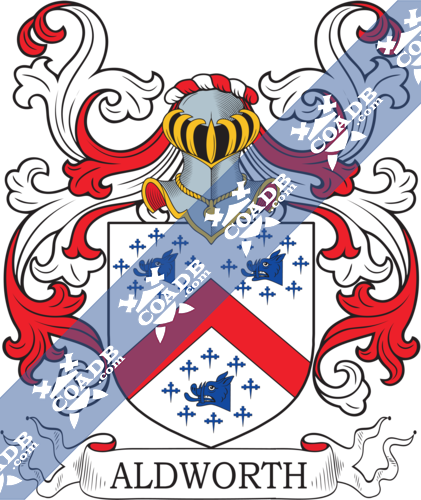 Aldworth Coat of Arms Gallery
Don't know which Coat of Arms is yours?
We can do a genealogical research. Find out the exact history of your family!
Learn More
Aldworth Origin:
England
Origins of Aldworth:
The Anglo-Saxon name Aldworth acquires from when the family lived in the church of Aldworth, in the division of Berkshire. The name of that place acquires from Old English words meaning 0ld land or farm. The name itself was derived from a geographical location known as "of Aldworth" which was a parish in Berkshire, near the place known as Wantage.
Variations:
More common variations are: Oldworth, Altworth, oldewoth, Aldrith, Alderath, Aldurthi, Alderthay, Alderthey, Aladurthi, Ealdurthi.
England:
The surname Aldworth first appeared in Berkshire, Where this Saxon family of great oldness held the lands and church of Aldworth despite the Norman Invasion and Conquest of 1066 by Duke William of Normandy.
Ireland:
Many of the people with surname Aldworth had moved to Ireland during the 17th century.
United States of America:
Individuals with the surname Aldworth landed in the United States in two different centuries respectively in the 17th and 18th. Some of the people with the name Aldworth who arrived in the United States in the 17th century included Edward Aldworth at the age of 13, landed in Bermuda in 1635. Dix Aldworth at the age of 15, arrived in Barbados in 1635. Eliz Aldworth at the age of 15, landed in Bermuda in 1635. Elizabeth Aldworth who landed in Bermuda with her brother Edward in 1635 Where they started their plantations. They later moved to the mainland. Matthew Aldworth, who landed in New Hampshire in 1649.
The following century saw many more Aldworth surnames arrive. Some of the people with the surname Aldworth who arrived in the United States in the 19th century included Joseph Aldworth arrived in Philadelphia in 1848. Richard Aldworth landed in Philadelphia in 1856.
Here is the population distribution of the last name Aldworth: South Africa 402; England 398; United States 302; Brazil 127; Canada 92; New Zealand 73; Australia 35; Scotland 26; Northern Ireland 2; Taiwan 1.
Notable People:
The Honourable Elizabeth Aldworth, born the Hon. Elizabeth St. Leger, was known in her time as "The Lady Freemason", and was the first noted woman to be admitted into Regular Freemasonry. She was the daughter of Arthur St Leger, 1st Viscount Doneraile, of Doneraile Court, County Cork, Ireland. She married in 1713 to Richard Aldworth, Esq. Nothing else of her life is known between her initiation into Freemasonry as a young girl and her death almost sixty years later.
Richard Aldworth (MP for Bristol), was an English leader who sat in the House of Commons from 1646 to 1653.
Richard Aldworth (MP for Reading) (c. 1614–1680), was an English leader and founder of the Blue Coat Schools in Reading and Basingstoke.
Robert Aldworth (died 1634) was a Bristol-born English trader and contributor. Much of his wealth, although used often for generous purposes, was acquired through the trade and exploitation of slaves. He became Mayor of Bristol in 1609. He was involved in the first sugar processing business in Bristol, England, where sugar was prepared in 'sugar houses'. Aldworth's sugar house refined sugar produced by slaves from Spanish and Portuguese plantations in Madeira, Brazil and the Azores. His tomb is in St Peters Parish in the centre of Bristol and had sugar loaves formed on it. He and his relative Thomas Aldworth were members of the Society of Merchant Venturers, a group dating back to the 16th century to support and protect Bristol merchants and trade. It included the occupation in the transatlantic slave trade.
Charles Aldworth (1677 -September 1714) was an English leader, MP for New Windsor from 1712 to 1714. He was the son of the King's Auditor, William Aldworth of Frogmore House at Windsor in Berkshire, and his wife, Anne. He was the cousin of Richard Aldworth of Stanlake Park, paternal grandfather of Richard Aldworth, 2nd Baron Braybrooke. He was educated at King's College, Cambridge, matriculating there in 1693. Recommended by the Duke of Northumberland, he returned as MP for New Windsor in 1712. He sat as MP until his 1714 death in a duel by Colonel Chudleigh, a Whig army officer, involved Aldworth of Jacobitism and profited from Aldworth's physical disability by shooting him dead in the duel which followed.
Blazons & Genealogy Notes
1) (Bristol and Wiltshire). Ar. a chev. gu. betw. three boars' heads couped within an orle of eight crosses crosslet fitchee az.
2) (Newmarket, co. Cork, originally Stanlake, Berks: Fun. Ent. of Sir Richard Aldworth, of that place, Provost Marshal of Munster, who d. 21 June, 1629.) Motto—Nec temere nec timide. Ar. a fesse engr. betw. six billets gu. Crest—A dexter arm embowed in armour the hand grasping a straight sword, all ppr.
3) Ar. crusilly fitchee az. a chev. gu. betw. three boars' heads couped of the second. Crest—A torteau.