Aleman Family Crest, Coat of Arms and Name History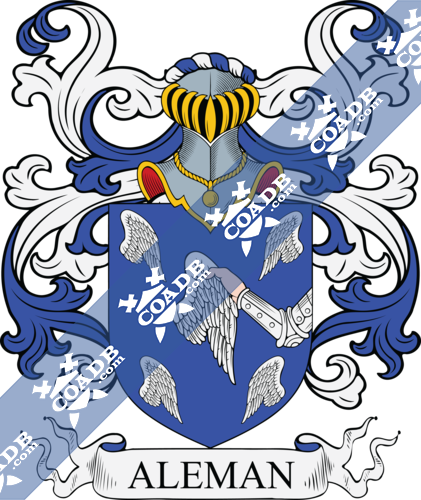 Aleman Coat of Arms Gallery
Don't know which Coat of Arms is yours?
We can do a genealogical research. Find out the exact history of your family!
Learn More
Surname Meaning, Origin, and Etymology
Aleman is a surname that comes from Germany, it is derived from the word "Alemanni", which means "all the men" and it was the name of the tribe that inhabited the region of Rhineland. Local surnames were one of the first class of hereditary last names used in Germany and it was the most popular class. From Rhineland, this surname then extended to more territories, like the south side of France, close to the border of Germany.
After William the Conqueror took England in 1066, the surname Aleman was introduced to this country and there it became a way of referring all the people that were from Germany. This is because the Anglo-Norman-French word "Aleman" means "German" and later was a way to call everyone with German ascendancy. Another possible origin of the last name is that it was a local surname used by the inhabitants of the Norman region of Allemagne at the south of Cae, and actually, this is one of the oldest seats of the surname Aleman.
As it can be seen, the common elements in all the possible origins of the last name Aleman are its character of being a local surname, because it was used as a way of calling the people that came from a certain place, and that place was always a region of Germany. The first recorded bearer of this surname is John Aleman in 1199 who appears in the "Memoranda Roll of Northumberland" in England, during the reign of King Richard I, better known as "Richard the Lionheart", who was King from 1189 until 1199.
Spelling Variations
Surnames with spelling variations were a very common thing during the Middle Age. They occurred because, in that time, most of the languages haven't been standardized yet, so they didn't count on the same grammatical rules that we have today and actually, some of them didn't even have a written format. Thanks to this, the people who kept the records, the scribes, didn't have a guide that judge what was the right way of writing words, so they have to do it according to the sounds of words. Then, if every scribe heard words differently, they would write the words in a different way.
Another major factor was the mix of languages that caused much confusion, like in this case an Anglo-Norman-French mix. Some families did little changes to their surnames to be distinguished from other branches of the same family, so they added a suffix or prefix to the last name, this could also be done to express a political position. Wrong translations and the natural evolution of languages were other factors that contributed to the creation of spelling variations. All of these factors caused spelling variations in surnames like Aleman, and the most common variations in England for this last name were Almayne, Allman, Almand, Hallman, Allamaine, Almon, Almand, Altman, Allman, Ellman and Dalman. Thanks to the Germanic origin of this surname, it also have German spelling variations like Alemann, Allemann, Aleman, Alemand, Allemand, Alemanns and Allemang.
Popularity & Geographic Distribution
According to the census of 2014, Aleman is the 3,080 most common surname in the world and it counts on approximately 177,707 bearers. The country where Aleman is most prevalent is Mexico followed by Nicaragua, which has the second biggest amount of bearers of this surname, and the United States in third place. The nation with the highest density of bearers of Aleman is also Nicaragua.
Early Bearers of the Surname
Some of the old bearers of the surname Aleman who appeared in different records are Walter le Aleman in Yorkshire in 1200, Robert Alman in Cambridge in 1327, Thomas de Alemayne in London in 1320, Inglebright de Alman in Yorkshire in 1332, John Allman, a child that was made Christian at Saint Margaret's in London on August 14, 1541, George James Allman (1812-1898) a professor of botany in Dublin during 1844 and then in the University of Edinburgh from 1855 until 1870, Willelmus Alman appears in the Yorkshire Poll Tax rolls of 1379 and John le Alemaund who was in London in 1284. Other important bearers of this last name or a spelling variation of it that can be found in the Hundredorum Rolls of 1273 were Terric le Alemaund in Buckinghamshire, Henry de Alemania in Nottinghamshire, Bertram de Almannia in Lincolnshire and Robert Almene in Cambridgeshire.
History, Genealogy, and Ancestry
Thanks to some good records, it is possible to know very well, the genealogical tree of some of the branches of the surname Aleman. One of them began with Juan de Aleman, who was born in 1680 in Aguimes, Canary Islands, Spain. He got married to Maria de la Trinidad de Zurita, daughter of Matias de Leon and Maria Zurita, on August 10, 1711, in Aguimes, Canary Islands. Together, Juan and Maria had a son Baltazar de Aleman, who was born on March 30, 1714, in the same city that his father. Baltazar grew up and got married to Antonia Gonzalez Romero, daughter of Louis Sanchez Romero and Dominana Gonzales. From this marriage a child was born, Juan de Aleman Jr. on September 30, 1739.
Juan de Aleman Jr. was the husband of Maria Juana Ramirez Morales, daughter of Sebastian de Morales and Maria Ramirez Hernandez. Juan and Maria got married on June 25, 1760, and together they had five children, Maria Antonia Aleman, Pedro Rene Aleman, Antonio Jose del Posario Aleman who was born on October 5, 1764, Maria Josepha Aleman who was born in 1769 and Maria Sebastiana Aleman who was born on December 16, 1769. Then, Juan de Aleman died on April 21, 1819.
Among all of them, only two had offspring. The first one was Pedro Rene Aleman who got married to Maria Theresa Hernandez, daughter of Estevan Hernandez and Isabel Rodriguez. They had three children Theresa Alleman who was born on April 1, 1804, in Donaldsonville, LA, Balthazar Andre Alleman who was born on January 24, 1806, and Jean Antoine Alleman, who was born on January 8, 1818, in Plattenville, LA. Pedro Rene Aleman died on March 5, 1836, in Plattenville, La.
From these three siblings only Jean Antoine Alleman had children. He got married to Edessie Desiree Daigle, daughter of Joseph Michel Daigre and Madeleine Marie LeBlanc on May 16, 1836 and Lousiana, United States. They also had three children, Alfred Joseph Allemand who was born on February 3, 1839, Josephine Coralie Allemand who was born on May 7, 1843 and Marie Clementine Allemand who was born on August 21, 1845.
The other child of Juan de Aleman and Maria Juana de Ramirez Morales in having children was Antonio Jose del Posario Aleman who got married to Marie Bernade Paisance on May 10, 1784, in Saint Martinville, Lousiana. Antonio and Marie had only one child, Miguel Appolinor Allemand who was born on April 9, 1801, who then got married to Catherine Fernandez. Their son was Antoine Joseph Fernandez who was born on August 9, 1825, and got married to Melasie Savoie on June 7, 1863, together they had a son named Pierre Miguel Allemond who was born on October 9, 1868, and got married to Estelle McEvers on December 28, 1891. The children of Pierre and Estelle were Joseph Adam Allemond and Albert Joseph Allemond.
Another branch of the surname Aleman, was the one of José Andrés Alemán who was the son of José Leandro Alemán and María Manuela Hernández. He got married to Josefa Rosalía de Torres, daughter of José Manuel de Torres and María de la Trinidad Salas, on May 15, 1768, on Aguascalientes, Mexico and their son was Manuel Antonio Alemán. José Andrés Alemán died on October 9, 1786.
Manuel Antonio Alemán got married to María Rosalia deSosa, but after she died in 1794, he would get married again to Juana María Cardona on February 25, 1800 in Jalisco, Mexico. Manuel Antonio had three children María Isidora Alemán, Apolonio Alemán and Luis Alemán.
María Isidora Alemán was born in 1801 and got married to Candelario Aranda, son of Nicolás de Aranda and María Agustina Moreno. María Isidora and Candelario had two children, José Salomé Aranda who was born on October 21, 1817 and Juliana Aranda who was born in 1832.
Apolonio Alemán was born in 1803 and got married to María Longina Martínez, daughter of José Dionisio de Jesús Martínez and María Leocadia Muñiz, on February 28, 1828. Apolonio and María Longina had two children, José Felipe Alemán who was born on May of 1835 and got married to Juliana Sandoval, daughter of Gumecindo Sandoval and Francisca Aguilar on December 17, 1854 and had a daughter named, María Ignacia Alemán. María Ignacia was born on August of 1867 and got married to Epitacio Briones on September 7, 1883.
The second child of Apolonio Alemán and María Longina Martínez was José Leandro Alemán who was born on March 12, 1837. José Leandro got married to Marcelina López and together they had a son, José Gabino Alemán who was born on February 17, 1881 and got married to María Guadalupe Muñoz.
A third branch of the family began with Rudolph Siegfried Alleman who was born on September 17, 1693, in Bergholzhausen, Westfale and got married to Alebarta Mijboom, daughter of Claas Meijboom and Geertrujid Specking, on January 15, 1730. Together Rudolph and Alebarta got eight children, Nicolaas Anthon Alleman who was born on November 5, 1730, Geertrúit Christina Alleman who was born on August 3, 1732, Christina Elizabeth Alleman, who was born on February 14, 1734, Johanna Ernestina Alleman who was born on July 24, 1735, Rudolph Siegfried Alleman who was born on December 29, 1737, Josina Alberta Alleman who was born on October 25, 1739, Frederik Willem Alleman who was born on July 2, 1741 and Gústaaff Willem Alleman who was born on February 3, 1743. Rudolph Siegfried Allemand died on July 22, 1762, in South Africa.
Among all of these siblings, only one had children, that was Frederik Willem Alleman who got married to Johanna Jacoba Coetser on December 5, 1762. They had three children, Súsanna Allerman who was born in 1763, Albertha Elizabeth Allerman in 1764 and Johanna Alida Allerman who was born in 1769.
Early American and New World Settlers
Many Europeans decided to travel to America, once it was found by Christopher Columbus on his journeys. They wanted to start a new life in this unexplored land and see all the new possibilities the new continent had to offer. However, at the moment of having their offspring here, they passed their surnames, and it was like the last names from the old continent started to be used in America.
This migration didn't occur in one year, but across the centuries instead. Some of the bearers of the surname Aleman who arrived in the United States through the centuries were Johan Christian Aleman who landed in Philadelphia in 1753, Juan Aleman who arrived in 1809, Roberto Aleman who did it in 1827, that same year Enrique Aleman arrived in America, Francisco Aleman who landed in Río de la Plata, Argentina in 1835 and Alonso Aleman who arrived in Spanish Main in 1838.
Notables
There have been bearers of the surname Aleman who have been remarkable characters in different fields such as Allan Aleman (b. 1983) a football player from Costa Rica, Eduardo Aleman an ex-Grand Prix motorcycle road racer from Venezuela, Ricardo Aleman (b. 1977) a Mexican-American author and comedian, Armando Alemán (1904-1995) a fencer from Spain, Nauzet Alemán (b. 1985) a Spanish football player, Consuelo Villalón Aleman (1907-1998) a Mexican pianist, Julio Alemán (b. 1933) a Mexican actor, Louis Aleman (1340-1450) a French cardinal, Eulalio Ríos Alemán (1930- 1980) a Mexican Olympic swimmer, Oscar Alemán (1909-1980) an Argentine jazz guitarist, Mateo Alemán (1547-1610) a novelist from Spain, José Braulio Alemán (b. 1956) a Cuban Brigadier General, Miguel Alemán Valdés (1902-1983) a Mexican politician who was President of Mexico from 1946 until 1952 and Arnoldo Alemán (b. 1946) a politician from Nicaragua who was President of that country from 1997 until 2002.
Blazons & Genealogy Notes
1) Royaume de Murcie – D'azur au senestrochère armé d'argent mouv du flanc la main de carnation empoignant un demi-vol du second en abîme et acc de quatre autres demi-vols d'argent posés dans les cantons de l'écu adossés. English: Azure a left arm armed argent coming from the flank, the hand carnation holding in its fist a single wing of the second in pale, and accompanied by four other single wings also argent, placed in the quarters of the shield, addorsed [back to back].
2) Arles, Bugey – D' au lion rampant couronné Chapeau ecclésiastique à quatre rangs de houppes. English: A lion rampant; The shield topped by an ecclesiastical hat with four rows.(no original tinctures present)
3) Flandre – Coupé au 1 d'azur au lion léopardé d'or au 2 de sinople au dragon couché d'or ailé du même Cimier un lion issant d'or. English: Per fess: 1st azure a lion passant or; 2nd vert a wyvern laying on the ground or, winged of the same; Crest: a lion issuant or.
4) de Molprey – Franche-Comté – Écartelé aux 1 et 4 de gueules à trois aigles d'or (Aleman) aux 2 et 3 d'or à trois bandes de gueules (Molprey). English: Quarterly: 1st and 4th gules three eagles or ( for Aleman ); 2nd and 3rd or three bends gules (for Molprey).
5) Milan – Parti au 1 d'or à la demi-aigle de sable mouv du parti au 2 fascé d'argent et de gueules la première fasce de gueules ch d'une étoile d'or Casque couronné Cimier une étoile d'or. English: Per pale: 1st or with a demi eagle sable coming from the partition [pale]; 2nd barry argent and gules, the first bar gules charged with an etoile or; Crowned with a helmet – Crest: an estoile or.