Almand Family Crest, Coat of Arms and Name History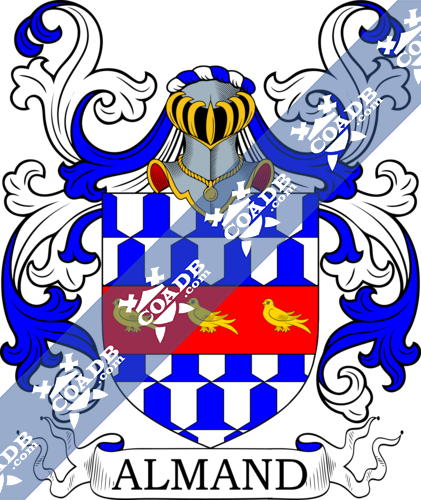 Almand Coat of Arms Gallery
Don't know which Coat of Arms is yours?
We can do a genealogical research. Find out the exact history of your family!
Learn More
Origins of Almand:
Following the Norman Invasion of England in 1066, the name Almand first found in Britain.  It was a name for a person or family of German heritage.  More research showed the name acquired from the Anglo-Norman-French word aleman, which means German.  It is only in the last few hundred years that the English language has regulated.  For that reason, Anglo-Norman surnames like Almand are characterized by many spelling variations.  Authors and priests in the Middle Ages spelled names they sounded, so it is common to find many variations that refer to a single person.  As the English language changed and incorporated components of other European languages such as Norman French and Latin, even educated people regularly changed the spelling of their names.  The variations of the name Almand include Almayne, Alman, Allman, Almand, Hallman, Allmaine, Almon, Almand, Altman, Allman, Ellman, Dalman and much more
Variations:
More common variations are: Allmand, Almanda, Almando, Almandi, Alamand, Alemand, Almandu, Almanund, Almandy, Aulmand.
France:
The surname Almand first appeared in Allemagne, now known as Fleury-sur-Orne, near Caen in Normandy.  There is no clear record of the family arriving in Britain but their journey is no doubt.  Some of the first recordings of the name include listings in the Hundredorum Rolls of 1273.  Terric Le Alemaund in Buckinghamshire, Henry de Alemania in Nottinghamshire, Bertram de Almannia in Lincolnshire and Robert Almene in Cambridgeshire.  John le Alemaund noted in London in 1284.  The Yorkshire Poll Tax Rolls of 1379 list Willelmus Alman.
United States of America:
Individuals with the surname Almand landed in the United States in three different centuries respectively in the 17th, 18th, and 19th.  Some of the people with the name Almand who arrived in the United States in the 17th century included Stephen Almand came to Philadelphia in 1749.  Jacob Almand, who arrived in Pennsylvania in the year 1765.  Nichs Almand, who came to Pennsylvania in the same year 1765. The following century saw more Almand surnames arrive.  Some of the people with the surname Almand who arrived in the United States in the 19th century included H. Alrnand in Norfolk, Virginia, in the year 1820.
Canada:
People with the surname Almand who settled in Canada in the 18th century included John Almand, who landed in Nova Scotia in the year 1760.
Blazons & Genealogy Notes
Vair, on a fesse gu. three martlets or.