Armes Family Crest, Coat of Arms and Name History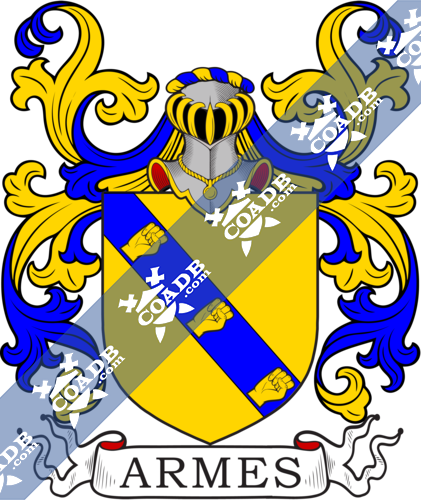 Armes Coat of Arms Gallery
Don't know which Coat of Arms is yours?
We can do a genealogical research. Find out the exact history of your family!
Learn More
Armes Origin:
England, Germany
Origins of Armes:
This interesting and unique surname is a nickname of a son of Armin, from the Middle English, Old French mentioned name "Armin, Ermin," acquired from the Germanic component Ermin. It seems to have been the name (of unknown etymology) of an old Germanic God or Lord, but after sometime it was also introduced in different compounded names with the meaning being complete, whole. The surname was introduced in regular Middle English, Old French conversion of "er" to "ar." One Ermyn Donetoun was listed in the 1327 premium Rolls of Cambridgeshire, and a Thomas Armyn in the 1481 Record of the Freemen of the City of York. The name was well listed in Norfolk from the end of 16th Century as Elizabeth, daughter of Henry Armes, named in August 1584, at St. James', Pockthorpe, Norwich, and Thomas Armes named in October 1588, in a similar place. A Royal symbol given to the family is a gold shield on a bend blue three hands clamped and coupled at the wrist of the first.
Variations:
More common variations are: Arames, Arimes, Armesy, Armesa, Armoes, Armese, Armesi, Earmesi, Aarmes, Armees.
England:
The surname Armes first appeared in the division of Northumberland, where King William gave them estates after the Norman invasion in 1066. They derived from Exmes, a town in the section of Orne, in Normandy.
The very first recording spelling of the family was shown to be that of Katherine Armes, dated about 1580, in the "marriage to Thomas Stratton, at Great Massingham, Norwich, Norfolk," It was during the time of Queen Elizabeth 1, who was known to be the "Good Queen Bess," dated 1558-1603. The origin of surnames during this period became a necessity with the introduction of personal taxation. It came to be known as Poll Tax in England.
Ireland:
Many of the people with surname Armes had moved to Ireland during the 17th century.
United States of America:
Some of the people with the name Armes who landed in the United States in the 17th century included Henry Armes, who came to Maryland in 1646. Fra Armes, who arrived in Virginia in 1651. Roger Armes, who landed in Virginia in 1661. Michael Armes, who landed in Virginia in 1663. Susan Armes, who arrived in Virginia in 1665
Australia:
Some of the people with the surname Armes who settled in Australia in the 19th century included John Armes at the age of 39, a Miller, arrived in South Australia in 1855 aboard the ship "Caroline." John Dodd Armes at the age of 18, who was a worker arrived in South Australia in 1855 aboard the ship "Caroline."
New-Zealand:
People with the surname Armes who landed in New Zealand in the 19th century included Edward Armes arrived in Wellington, New Zealand aboard the ship "New Era" in 1855.
Here is the population distribution of the last name Armes: United States 3,134; England 1,092; Canada 249; Germany 202; Turkey 140; Australia 100; Scotland 66; Portugal 65; United Arab Emirates 46; New Zealand 12.
Notable People:
Don Armes was born in July 1961. He is an American Republican leader from the U.S. state of Oklahoma. He recently gave services in the Oklahoma House of Representatives, donating state House District 63. He first selected to the seat in 2002.
Ethel Armes (1876–1945), was an American scholar and professor.
Ivan William Armes was born in April 1924 in Lowestoft. He is an old football player who played professionally for Norwich City and Exeter City as a left half. After departing from Exeter City, he was player-coach at Lowestoft Town.
Jay J. Armes (born 1932), is an American amputee and artist.
John Armes (born 1955), is a Scottish priest.
Ray Armes (born 1951), is a British racecar driver.
Samuel "Sammy" Armes (March 1908 — 1958) was a British soccer player.
Steven Armes was a British professor.
Sybil Leonard Armes (1914–2007), was a Baptist writer and singer.
Blazons & Genealogy Notes
Notes: None. Blazon: Or, on a bend az. three hands clenched and couped at the wrist of the first.