Arpin Family Crest, Coat of Arms and Name History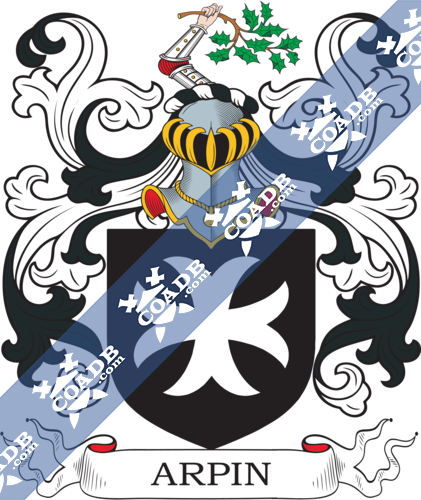 Arpin Coat of Arms Gallery
Don't know which Coat of Arms is yours?
We can do a genealogical research. Find out the exact history of your family!
Learn More
Arpin Origin:
England, France
Origins of Arpin:
According to the early recordings of the spellings of this surname, this interesting and unique name was listed as Arp, Arpe (English and German), Arpur German), Earp, Earpe, Harp, Harper, Harpur, Harpin (all English), Arpin (German), and Arpino (Italian), this old surname is a professional one. It acquires from the pre 7th-century words harp, hearp, or harfe, which means a musical device, the harp, and appeared in England and Germany. In old times, the harper was one of the most significant characters at baronial halls, celebrations, and festivals, and the Brehon laws of Scotland and Ireland ranked the playing of the harp as "the one art of music which justifies royalty." Early examples of the surname from England and Scotland contain Henry le Harpur of Cambridgeshire, in the year 1273, and William le Harpur of La Lawe, in the province of Edinburgh, who presented a tribute to King Edward 1st. of England in 1296. Other examples contain Guilelmi Earpe, an observer at the famous parish of St Martins in the Field, Westminster, in September 1561, Peter Arpe, the son of John Arpe, named at the similar parish in September 1608, and Anna Arp, who married Paul Paustian, at Probsteirhagen, Schleswig-Holstein, Germany, in February 1662.
Variations:
More common variations are: Aripin, Arpino, Arpini, Arpian, Arpina, Arapin, Arupin, Arpine, Arepin, Aropin.
England:
The surname Arpin first appeared in Norfolk, where they held a family seat from very early times.
The very first recorded spelling of the family was shown to be that of Robert le Harpur, dated about 1186, in the "Pipe Rolls of Hampshire." It was during the time of King Henry II who was known to be the "The Builder of Churches," dated 1154 – 1189. The origin of surnames during this period became a necessity with the introduction of personal taxation. It came to be known as Poll Tax in England.
Ireland:
Many of the people with surname Arpin had moved to Ireland during the 17th century.
United States of America:
Some of the individuals with the name Arpin who arrived in the United States in the 19th century included William Arpin at the age of 25 arrived in New York in the year 1812.
Here is the population distribution of the last name Arpin: Canada 1,514 ; United States 1,243 ; France 394 ; South Africa 420 ; Indonesia 290 ; Argentina 75 ; Switzerland 54 ; England 22 ; Australia 20 ; India 8
Notable People:
Marie-Luc Arpin was born in July in the year 1978. She is a Canadian water polo player born in Saint-Hyacinthe, Quebec. She is a graduate of McGill University. She was part of the 5th place women's water polo team at the 2000 Summer Olympics and was part of the bronze-medal winning women's water polo team at the 2001 world tournament in Fukuoka, Japan.
Odo Arpin of Bourges (also Arpinus, Harpinus, or Harpin) (c. 1060 – c. 1130) was an old commander, champion, and priest. He received the lordship of Dun and became commander of Bourges between the year 1092 and 1095 after marrying Matilda of Sully, whose sister Alice was the daughter-in-law of Stephen, Count of Blois. He may have shared the viscountcy with Matilda's father, Gilo. At some point between the year 1097 and 1101, Odo sold his ownership in Bourges and Dun to King Philip I of France for sixty thousand shillings. It may or may not have been done to finance his campaign. He trained in the Campaign of 1101, perhaps with Stephen of Blois, and moved to Constantinople, where he declared a faithfulness oath to Byzantine ruler Alexios I Komnenos. He was in Jaffa in 1101, Jerusalem in 1102, and competed in the Second Battle of Ramla, where he arrested.
Paul Arpin was born in February in the year 1960 in Bourg-Saint-Maurice. He is a retired long-distance racer from France, who represented his country in the men's 10,000 meters at the 1988 Summer Olympics, finishing in seventh place.
Blazons & Genealogy Notes
Sa. a cross ancred ar. Crest—An arm in armour holding a holly branch, all ppr.