Arras Family Crest, Coat of Arms and Name History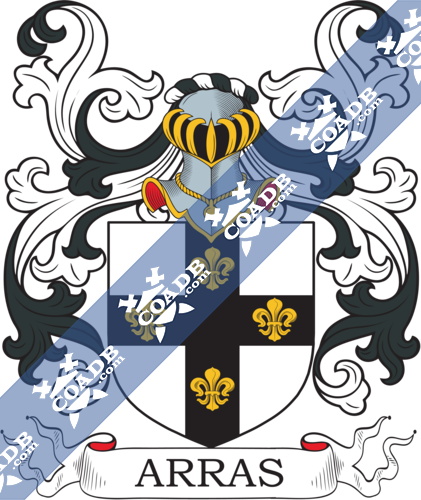 Arras Coat of Arms Gallery
Don't know which Coat of Arms is yours?
We can do a genealogical research. Find out the exact history of your family!
Learn More
Origins of Arras:
The family name Arras considered being descended originally from the Norman race.  The Normans were commonly considered to be of French origin but were, more accurately, of Viking origin.  The Vikings landed in the Orkneys and Northern Scotland about 870 AD, under their King, Stirgud the Stout. Later, under their Jarl, Thorfinn Rollo, they invaded France about 911 AD.  The French King, Charles the Simple, after Rollo laid siege to Paris, finally admitted defeat and granted northern France to Rollo.  Rollo became the first Duke of Normandy.  Duke William, who attacked and defeated England in 1066, settled from the first Duke Rollo of Normandy.  The Arras name is a reference to Artois, France, where the family lived before migrating to Scotland. Spelling variations of this family name include as Arris, Aris, Ariss, Arras, Arres, Arros, Arrows, Arowes, Arwys, Arrarous, Arrous and much more.
Variations:
More common variations are: Arraes, Arrias, Aarras, Arrass, Arrasy, Arrasi, Arrasa, Arreas, Arrs, Aras.
England:
The surname Arras first appeared in Staffordshire, where they were Lords of the estate of Arras from early times.  They descended from Bagod of Arras who descended from the Carloviginian, Count of Artois.  Sir Robert Arras held the hamlet of Bromley in that shire from Robert De Toeni; he was Lord of the estate of Arras in Buckinghamshire.  But the main branch of the family moved north into Scotland in the train of King David I of Scotland about 1130, who given them lands in Dumfries.
United States of America:
Individuals with the surname Arras landed in the United States in two different centuries respectively in 17th and 19th.  Some of the people with the name Arras who arrived in the United States in the 17th century included Nicholas Arras, who settled in Virginia in the year 1623. The following century saw much more Arras surnames arrive.  Some of the people with the surname Arras who arrived in the United States in the 19th century included Konr Arras, who landed in America in the year 1853.  William Arras, who arrived in St Clair County, III in 1857.  Charles Arras landed in Philadelphia, Pennsylvania in the year 1860.
Blazons & Genealogy Notes
1) (Buckinghamshire). Ar. on a cross sa. four fleurs-de-lis or.
2) Ar. on a cross az. five fleurs-de-lis or.
3) Ar. on a cross az. five fleurs-de-lis or, a bordure engr. of the second. Crest—On a tower gu. embattled or, a lion a head of the last.
4) Erm. a chev. sa. (another, gu.).