Arteaga Family Crest, Coat of Arms and Name History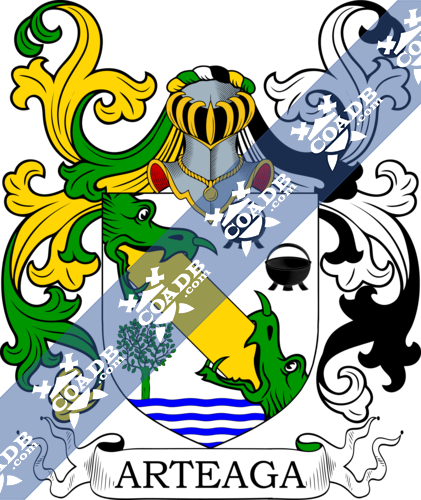 Arteaga Coat of Arms Gallery
Don't know which Coat of Arms is yours?
We can do a genealogical research. Find out the exact history of your family!
Learn More
was known as the European Migration, and was sometimes also referred to as The Great Migration. The first person to migrate to the United States of America who bore the surname of Arteaga was one Urtuno de Arteaga, who arrived in the United States in 1810. Closely following him was the Arteaga family, who included Martin de Arteaga, Pascual de Arteaga, and Pedro de Arteaga, who all landed in the United States of America in the year of 1812. In 1813, one Cristobal de Arteaga arrived within the country. It is possible that before the year of 1810, someone who bore the surname of Arteaga attempted to migrate to the United States and passed away en route. The living conditions on the transportation ships were poor, often causing the passengers to arrive with disease and starvation, if they arrived at all.
Here is the population distribution of the last name Arteaga: Mexico 67, 605; Venezuela 31,810; Colombia 29,732; Ecuador 21,249; Peru 21,133; Bolivia 18,975; United States 12,521; Spain 8,798; Chile 5,909; El Salvador 5,254
Notable People:
Martin Arteaga, who served as a Delegate to the Democratic National Convention from the state of Illinois in the year of 2008
Don Carlos de Arteaga, who assumed the title of Conde de Serallo in the year of 1966
Daniel Castellanoa Artegaa, who was a diplomat and writer hailing from the country of Uruguay
Rosalia Arteaga (born in 1956) who served as the Vice President of the country of Ecuador in 1966, and who is a politician from Ecuador
Jose' Maria Arteaga, who served as the Govenor of the state of Queretaro de Arteaga, and who was a 19th century national hero from Mexico
Blazons & Genealogy Notes
Guipuzcoa D'argent à la bande d'or engoulée de deux têtes de dragon de sinople acc en chef de deux chaudières accostées de sable et en pointe d'un arbre de sinople issant d'une mer d'azur agitée d'argent. English: Argent a bend or engoule [being swallowed at each end] by the head of a dragon vert accompanied by in chief two cauldrons accosted [either side of the bend] sable and in base by a tree vert issuant from a sea azure with waves of argent [bars wavy azure and argent in base].