Ash Family Crest, Coat of Arms and Name History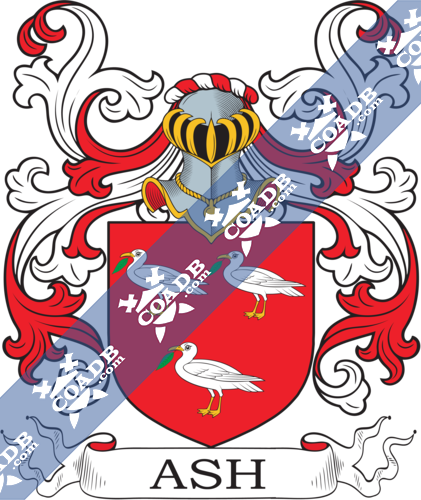 Don't know which Coat of Arms is yours?
We can do a genealogical research. Find out the exact history of your family!
Learn More
ASH
The name Ash is of Anglo-Saxon/English origin. The surname is thought to possibly be topographical, originating from the Anglo-Saxon "aesc," which means "ash" in modern English, which in this context is referring to the type of tree. Some surnames actually acted as an indicator or representation of the birthplace of the individual by identifying easily recognizable landmarks. This worked well for the small settlements which existed at this time because people rarely traveled far from their homes and were familiar with the surrounding landscape.
There are multiple variations of the spelling of the surname including but not limited to; Ash, Ashe, Aysh, Asch, Asche, Aish, Esh, Aschey, and Esse among others. The variation in spelling of both given and surnames during this time period can be attributed to a lack of continuity regarding guidelines for spelling which was compounded by the diversity of languages in use in European countries at this time.
The earliest record of any variation of this surname is that of John de le Es which appears in the Norfolk "Pipe Rolls" from 1273, often times called the "Great Rolls", they were a series of tax and census records kept by the English Treasury by order of King John, with the oldest dating back to the 12th century. They hold the distinction of being the oldest consecutive set of records detailing English governance in the United Kingdom. These records span a period of over 700 years and have proven invaluable to researches over the years. Sussex rolls dated 1206 show a listing for Ralph de Asche. Joan atte-Eshe appears in the Norfolk rolls dated 1345.
The first recorded immigrant to America bearing the surname Ash or any variation of the spelling was Christopher Ash with his wife and child who arrived in 1622 and settled in Virginia. James Ash landed and settled in South Carolina in 1700. John Ash landed in 1705 and settled in Virginia. Thomas Ash landed and settled in Virginia in 1724. Elizabeth Ash arrived and settled in Georgia in 1733 and Daniel Ash arrived and settled in Pennsylvania in 1741.
There were also many immigrants to the British Commonwealth countries of, Canada, Australia, and New Zealand bearing the surname Ash. Patrick Ash landed in 1813 and settled in Nova Scotia. John and Catherine Ash sailed from Ireland and landed in 1835 and settled in Saint John, NB, Canada. William and Anne Ash along with their children, Eliza and William, landed in Adelaide, Australia in 1835. Henry and Priscilla Ash along with their daughter, Martha landed and settled in Wellington, New Zealand in 1856.
Worldwide, the highest concentration of people with the surname Ash are found in Canada, the
United Kingdom, Australia, the United States, and New Zealand. By state, the largest percentile of those with the surname Ash live in West Virginia.
There are many persons of note who bear the surname Ash. Sir Eric Albert Ash is a highly respected electrical engineer. Ash was born in Germany but immigrated with his family to Britain in 1938 to escape Hitler and the Nazis. He went to Imperial College in London and received a degree in Electrical Engineering. After graduation he continued his studies in pursuit of a PhD. During his doctoral studies, he received a Fulbright Scholarship which he used to study at Stanford University in California. After receiving his PhD, Dr. Ash became part of the faculty at University College in London in 1963 and a full professor in 1967. In 1980, he was made Head of Department and in 1985, he was named Rector of Imperial College. In recognition of his work in education and contributions to science, Dr. Ash was made a member of the Order of the British Empire, a Fellow of the Royal Society, a Fellow of the Royal Academy of Engineering, and a Fellow of the Institution of Engineering and Technology.
Timothy Garton Ash is an English historian and scholar. He received his education at Exeter and St. Antony's Colleges at Oxford. He also attended Free University in West Berlin and Humboldt University in East Berlin at the time when Berlin was still divided. Ash is a Fellow at St. Antony's College, Stanford University's Hoover Institution and in 2000, he became a Professor of English Studies at the University of Oxford. For his contribution to education he was also made a member of the Companion of the Order of St. Micheal and St. George and the Royal Society of Arts.
Blazons & Genealogy Notes
1) (Fun. Ent. of Robert Ash, of Naas, co. Kildare, d. 1608). Gu. three mews ar. legged and beaked or, each holding in his beak an ash leaf slipped vert.
2) (Sheriff of Dublin, 1593, Visit. Dub. 1607). Arms same as preceding, a crescent or, for diff.
3) (Ash, temp. Elizabeth, Fun. Ent. of Sir Richard Bolton Lord Chancellor of Ireland, 1639, whose mother was dau. of Richard Ash, Esq., of Ash). Az. a saltire ar. debruised by a fess erm.
4) Or, three bars az. Crest—An old man's head sidefaced ppr. wreathed on the head and stringed or and az.
5) Or, a fesse az. depressed by a saltire gu. Crest—On a rock a goose, wings endorsed ppr.
6) (co. Warwick, granted by Dethick, Garter, confirmed by St. George, Clarenceux, to Joseph Ash, of Coventry, son of Joseph Ash, and grandson of Hugh Ash, of the same). Ar. two chev. sa. Crest—A cockatrice gu.