Averell Family Crest, Coat of Arms and Name History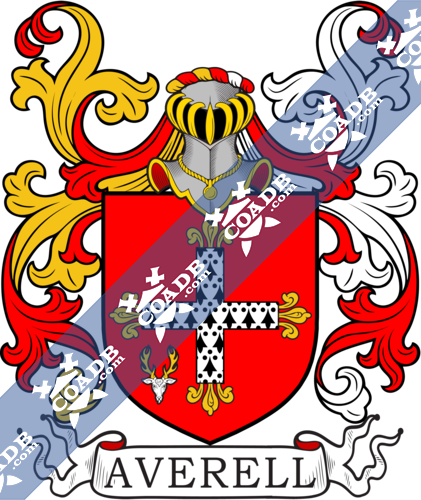 Averell Coat of Arms Gallery
Don't know which Coat of Arms is yours?
We can do a genealogical research. Find out the exact history of your family!
Learn More
The name Averell was brought to England in the great wave of migration following the Norman Invasion of 1066.  The Averell family lived the Old French word Avril which meaning April.  The name would have initially given to a child born in the month of April.  Endless spelling variations are a prevailing characteristic of Norman surnames.  Old and Middle English lacked any definite spelling rules, and the introduction of Norman French added an unfamiliar ingredient to the English linguistic stew.  French and Latin, the languages of the court, also influenced spellings.  Finally, Medieval scribes spelled words according to how they sounded, so one person often related to by different spellings in different documents.  More common variations are: Averella, Averello, Averrell, Averiell, Averll, Averel, Avrell, Aveerella, Averello, Averill.
The surname Averell first found in Gloucestershire where they gave lands to William the Champion for their assistance at the Battle of Hastings in 1066.  They conjecturally descended from a Norman noble, Avril, who landed with William the Champion.
Some of the people with the surname Averell who arrived in the United States in the 19th century included Alexander Averell, who landed in Philadelphia, Pennsylvania in the year 1866.  Arthur Averell, who landed in Philadelphia, Pennsylvania in the year 1878.
Blazons & Genealogy Notes
1) Notes: (co. Gloucester, Smith's Ordinary). Blazon: Azure a cross ermine fleury or, in dexter point a buck's head cabossed argent, attired of the third.
2) Notes: (Broadway, co. Worcester, settled there since 1602). Blazon: Gules a cross fleury ermine charged in chief with a buck's head of the field. Crest—A buck's head, cabossed, as in the Arms.