Avery Family Crest, Coat of Arms and Name History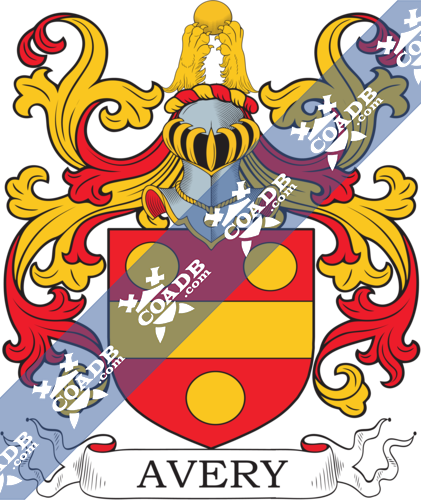 Avery Coat of Arms Gallery
Don't know which Coat of Arms is yours?
We can do a genealogical research. Find out the exact history of your family!
Learn More
Avery Origin:
England, France, Germany
Origins of Name:
The Avery surname is derived from the Middle English, and Old French given name of "Aubri" which derives from the Germanic personal name "Alberic." "Alberic" is composed of two elements, the first being "alb" which translates to the word elf, and the second element being "ric" which means power. Thus the Germanic name "Alberic" means elf-ruler, or ruler of elves.
Another possible origin for the Avery surname is the Germanic female name "Albreda" which is composed of "alb" meaning elf, and "red" which translates to counsel, making this name mean elf-counsel, or counselor of the elves.
Another possible origin for this name is the Old English pre 7th century personal name of "Aelfric" which comes from "oelf" which also means elf, and "ric" which means kingdom, thus making this name translate to elf-kingdom, or kingdom of the elves.
Variations:
More common variations are:
Every, Averay, Aveary, Aavery, Averye, Avaery, Averiy, Averry, Averry, Avory, Averson, Eavery, Averey
History:
England:
The first recorded spelling of the surname Avery is recorded as Geoffrey Aubri, in the Subsidy Rolls of Cambridgeshire in the year 1273, under the reign of King Edward I, who was known as "The Hammer of the Scots" and ruled from the year 1272 to the year 1307.
Soon after King Edward I's reign, the Avery surname was recorded again, in the year 1308, in the Hundred Rolls of Cambridgeshire, as the name John Aubri.
In the year 1573, George Averye was christened on June 9th at Christchurch, Grayfriars, Newgate, and Anne, who was the daughter of Wylliam Avery, was christened on September 22, 1577 at St. Giles, Cripplegate, London.
During The Great Migration, which was when English citizens left their homeland in search of a better life, Christopher Avery, who was born in England, sailed to America aboard the ship named the Arabella in 1630, as a part of the Winthrop Fleet, became the first recorded person, with the surname Avery to cross the pond in search of a better life.
Shortly after Christopher Avery, both Jacob and George Avery sailed to America and settled in the state of Virginia in 1635.
In 1640, Christopher Avery then moved to Gloucester, Massachusetts in 1640, and then moved to Boston, Massachusetts, before setting in New London, Connecticut, where he lived until he died in the year 1670.
In the 18th century, Waightstill Avery, who lived from the year 1741 to the year 1821, settled in the state of North Carolina, and became a lawyer, a Revolutionary War hero, a first attorney general of the state of North Carolina, and then Avery County, North Carolina was named after him for his outstanding service to the United States of America.
William Avery, who was a famine emigrant, sailed aboard the ship named the "Reliance" from Liverpool, England to the state of New York on May 6, 1846. Many settlers moved to Canada, Australia, and New Zealand during the 19th century, spreading the surname even further around the world.
Scotland
In 1526 there is record of Walter Auery, who received a payment from the government after becoming impoverished.
In 1548, Michael Awery in Falkland was a witness to an occurrence. In 1596 John Awerie was a portioner of Newtoun.
Ireland
The Irish variant of the surname Avery is MacAvera. It derives from the Gaelic name Mac Aimhreidh Sept. This family name originated from the Province of Ulster. Specifically, the County Down. The majority of the descendants of this surname can still be found today in the Northern Counties.
Avery Today:
United States 44,956
England 7,760
Canada 3,855
Australia 3,433
New Zealand 921
South Africa 785
Philippines 516
Wales 474
Germany 269
Scotland 249
Notable People:
Brigadier-General Ray Longfellow Avery (1884-1965) who was an American Commanding Officer at Edgewood Arsenal, Maryland in the year 1939 to the year 1946
Oswald Theodore Avery (1877-1955) who was a Canadian-born bacteriologist who moved to America and helped to discover the importance of DNA (Deoxyribonucleic acid)
John Avery (1824-1914) who was a physician and politician from the state of Michigan
Charles Avery (1873-1926) who was an actor, director, and screenwriter from America
James Avery (1825-1898) who was a recipient of the American Medal of Honor for his service as a Union Navy seaman during the American Civil War
Tex Avery (1908-1980) who was an animator and director from America, and created the cartoon characters of Bugs Bunny and Daffy Duck, who were a part of the show Looney Tunes
Milton Avery (1885-1965) who was an American painter who focused on the style of American Modernism and reflected this style in his work
Shondrella Avery (born in 1971) who is an actress from America
Margaret Avery (born in 1944) who is an actress and singer from America
Mt. James Albert Avery (1891-1915) who was just twenty-two years of age when he was serving as an English Trimmer from Southampton, Hampshire, and working aboard the RMS Titanic, and survived the sinking of the RMS Titanic by escaping on life boat number 15
Blazons & Genealogy Notes
1) (Huwish, co. Somerset and Enfield, co. Middlesex). Gu. a fesse (sometimes a chev.) or, betw. three bezants. Crest—Two lions' gambs or, supporting a bezant.
2) (Fun. Ent. Ire., 1682). Sa. a chev. or, betw. three bezants.
3) (Haddon, co. Derby). Ar. six annulets gu. three, two, and one.
4) (Fillongley, co. Warwick, 1579. Confirmed by Cooke, Clarenceux). Erm. on a pale engr. az. three lions' heads couped or. Crest—An ounce couchant ar. bezantee ducally gorged or.
5) (Smith's Ordinary). Sa. a chev. or, betw. three bezants. Crest—A bezant betw. two lion's paws.