Ayala Family Crest, Coat of Arms and Name History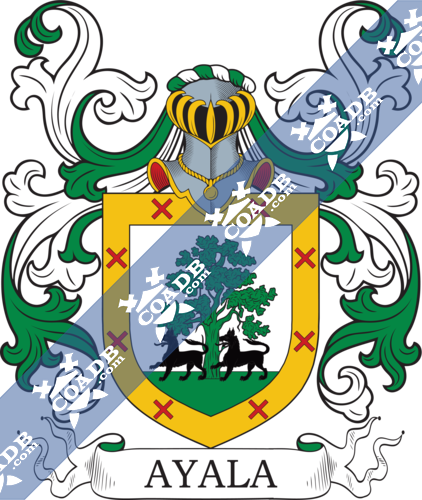 Ayala Coat of Arms Gallery
Don't know which Coat of Arms is yours?
We can do a genealogical research. Find out the exact history of your family!
Learn More
Surname Meaning, Origin, and Etymology
Surnames started to be used in Spain during the middle age as a way to distinguish people that had the same first name. This was important to keep a record of the people for the payment of taxes and delimitations of properties and lands. But, at the moment of taking or receiving the last name, people wasn't completely sure about how to do it. So, they decided to consider several factors, like the name of the father, the profession or the place of origin of the people to assign the proper surname.
One of the kinds of surnames that were created were local surnames, which consisted of taking the name of the place of origin of the person and make it his last name, this could also be done with the name of the land owned by the bearer if he was a landowner. This was the case of the surname Ayala, which was taken for some families from the town called Ayala in the Basque region of Spain. Actually, this surname began with Don Vela Sanchéz who received the lands of Ayala from his father King Sancho Ramírez of Aragón during his reign from 1063 A.C. until 1094 A.C. After that he was recognized as Don Vela Sanchéz de Ayala and the surname started to be passed from father to children as a regular last name and many branches of it initiated.
Spelling Variations
During the middle age a single person could count on many different ways to be called, or at least to write his name. This happened thanks to a series of factors, such as the numerous cultures that were colliding in this period of history on the old continent, and also all the languages were mixing, therefore, giving birth to new words and names. There was also the fact that many words were translated in a wrong way, surnames among them. Another important factor was that the scribes from the medieval era used to write the words according to how they heard them so every scribe could write the words in a different way. Some families used to add suffixes or prefixes to their surnames to make them different than the ones from other lines of the family with the same last name. Despite all of these factors there are not many known spelling variations for Ayala, the most common ones were Ayala, Ayalla, and Aya.
Popularity & Geographic Distribution
Ayala is not a very popular surname, according to the census of 2014, it is the 813th most common surname in the world and it has approximately 645,659 bearers. They country with the biggest amount of Ayala is Mexico, followed by the United States in second place and Colombia at third. They nation with the highest density of Ayala is Paraguay.
Early Bearers of the Surname
As it is said before, Ayala is not a popular surname, so there are few records of old bearers, such as Pedro López de Ayala, who was made Count by Enrique IV in 1470 in Spain. Pedro was famous thanks to his jobs as historian, poet, chronicler, chancellor and courtier, and also for his book "Rimado de Palacio", and there were also Juan Ayala, a nobleman from Navarro, Spain in the 16th century.
History, Genealogy, and Ancestry
Thanks to the little popularity of Ayala, there are just a few records of the genealogy of this surname and they all are very short. One of them belongs to Pedro Ayala who was born in Melipilla, Chile and got married to Josefa Romo Godoy on July 26, 1765. They had a daughter, María de los Santos Ayala Romo who also was born in Melipilla but in 1771 and got married to Francisco Santibáñez Ortiz, son of Gabriel Santibáñez and Josefa Ortiz Caruz. The children of María de los Santos Ayala Romo and Francisco Santibáñez Ortiz were Narciso Santibáñez Ayala, Tránsito Santibáñez Ayala, Juana Santibáñez Ayala and José Miguel Santibáñez Ayala.
Another bearer of Ayala that counts on a good genealogical record is José Antonio Ayala Montero who was born in Penco, Chile in 1833 and got married to Encarnación Carrera on April 21, 1851. Their children were María Angela Ayala Carrera who was born in 1849, Juana Ayala Carrera who was born on December 16, 1852, José Celedonio Ayala Carrera who was born in 1854, María Ramona Ayala Carrera who was born in 1859, María Clorinda del Carmen Ayala Carrera who was born in 1860 and José Pascual Ayala Carrera who was born on February 25, 1864. All of them were born in Penco.
A third good genealogical record of Ayala belongs to Víctor Alberto José Ayala Bravo who got married to María Cristina Hoffmann Weisse, daughter of Federico Segundo Hofmann Jara and Fresia Weisse Villegas. Their children were Pamela Cristina Ayala Hoffman, José Manuel Ayala Hoffmann, Paula Elisa Ayala Hoffmann and María Victoria Ayala Hoffmann. All of them were born in Valdivia, Chile.
Early American and New World Settlers
After the arrival of Christopher Columbus in America, many Europeans decided to test their luck and travel to America looking for a new life. When they did it, they brought their culture, their customs, and their surnames, this was how the Europeans surnames arrived in America. Some of the first bearers of Ayala on doing the voyage were Diego de Ayala, who arrived in America in 1510, Pedro de Ayala who did the travel in 1512, Alonso de Ayala who did it in 1513, another Pedro de Ayala who arrived in Peru in 1534, Isabel de Ayala who also landed in Peru but in 1560 and Captain Juan de Ayala y Escobar who was ruler of Captain-General of Florida during the decade of 1670, after that he moved to Cuba and started a long branch of Ayala in La Habana.
Mottoes
We were unable to locate any documented mottoes for the Ayala family.
Grantees
We were unable to locate any documented grantees for the Ayala family.
Notables
There have been many bearers of the surname Ayala who had played essential roles in different fields such as Daniel Sánchez Ayala (b. 1990) a Spanish football player, Eligio Ayala (1879-1930) who was the President of Paraguay from 1923 until 1924, Francisco Ayala García-Duarte (1906-2009) a novelist from Spain, Roberto Ayala (b. 1973) a football player from Argentina, Violeta Ayala (b. 1978) a filmmaker from Bolivia and Luis Alberto Ayala Salinas (b. 1932) a former world-ranked tennis player from Chile.
Blazons & Genealogy Notes
1) Flandre – D'argent à deux loups de sable passants l'un devant et l'autre derrière un arbre de sinople terrassé du même à la bordure d'or ch de huit flanchis de gueules. Source: Rietstap's
2) Portugal – D'argent à deux loups de sable armés de gueules passant l'un sur l'autre à la bordure du mesme chargée de huit flanchis d'or Cimier un loup passant de sable chargé d'un flanchis d'or sur son épaule. Source: Rietstap's
3) Espagne – D'argent à deux loups au naturel langués de gueules l'un sur l'autre (V Ajala). Source: Rietstap's
4) Espagne – D'argent au chêne arraché de sinople acc de deux loups passants au naturel l'un devant et l'autre derrière le fût (V Lopez de Ayala). Source: Rietstap's
5) Ayala Y Arce – Espagne – Écartelé aux I et IV contre-écartelé a d'argent à deux loups passants de sable l'un sur l'autre b de sable à trois pals d'or c d'or à deux fasces de sable d de sable à cinq besants d'or 2 1 et 2 ces quatre quartiers entourés d'une bordure de gueules ch de huit flanchis d'or aux II et III d'argent à cinq fleurs-de-lis d'azur 2 1 et 2 à la bordure échiquetée de gueules et d'argent. Source: Rietstap's
6) Ayala-Palencia – Espagne – Écartelé au 1 d'argent à deux loups de sable l'un sur l'autre (Ayala) au 2 de sinople à quatre pals d'argent (Palencia) au 3 de sable à cinq besants d'argent 2 1 et 2 (Rodriguez) au 4 de sinople à cinq besants d'argent 2 1 et 2 (Sarmiento) L'écu entouré d'une bordure de gueules ch de huit flanchis d'or. Source: Rietstap's
7) Ayala-Rodriguez – Espagne, Brabant – Écartelé au 1 palé de sable et d'argent de huit pièces au 2 d'argent à deux loups de sable l'un sur l'autre au 3 d'or à deux fasces de sable au 4 de sable à cinq besants d'argent 2 1 et 2 L'écu entouré d'une bordure de gueules ch de huit flanchis d'or Casque couronné Cimier deux proboscides coupées alternativement d'argent et de sable ayant chacune dans son embouchure une plume de paon au naturel et ornée à l'extérieur de trois bannières écartelées de sable et d'argent Lambrequin d'or et de sable. Source: Rietstap's
8) En plata, dos lobos de sable, uno sobre otro. Bordura de gules, con ocho aspas de oro.. Source: Repertorio de Blasones de la Comunidad Hispanica
9) Mantelado: 1) En plata, dos lobos de sable, uno sobre otro, y bordura de gules, con ocho aspas de orol 2) En oro, tres escobas de sinople atadas con una cinta de gules, bien ordenadas, y el mantel jaquelado de quince piezas, ocho de oro y siete de veros, con bordura componada de un castillo de oro en gules y un leon rampante de gules en plata.. Source: Repertorio de Blasones de la Comunidad Hispanica