Babel Family Crest, Coat of Arms and Name History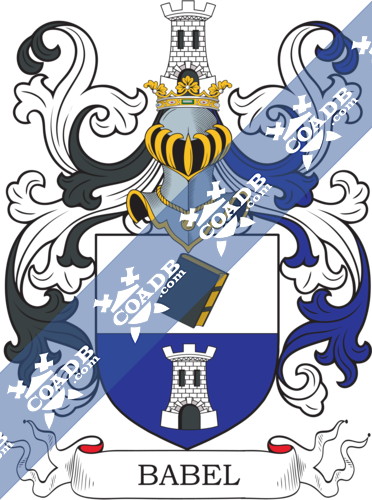 Babel Coat of Arms Gallery
Don't know which Coat of Arms is yours?
We can do a genealogical research. Find out the exact history of your family!
Learn More
Babel Origin:
England
Origins of Babel:
The surname Babel acquired from the nickname "boebel", an Old German word meaning small. The original bearer of the name was a person who was listed for their diminutive size. A broad and miscellaneous class of names, nickname surnames relates to a characteristic of the first person who used the name. They can describe the bearer's favored style of clothing, appearance, habits, or character.
Variations:
More common variations are: Babela, Babeli, Babael, Babiel, Babbel, Babele, Babelo, Baubel, Baebel, Babely.
England:
The surname Babel first appeared in the duchy of Wuerttemberg, where the family came from humble startings but got an important boost of character for its donation to the emerging old society. It later became more important as many sections of the same house derived different estates and sections, some in foreign countries, always elevating their social status by their great presents to society. The name starts from "Boebel," a word which introduced to something small. Records first mention Wernhard dictus Bebele, who was born in Frankfurt around 1307. Ancient records also mention Hans der Bebler (c.1376) of Waldshut, Hans Baebler (c.1358) of Aargau, and Hans Boebel (c.1480) of Wuerttemberg.
Ireland:
Many of the people with surname Babel had moved to Ireland during the 17th century.
United States of America:
Individuals with the surname Babel landed in the United States in three different centuries respectively in the 18th, 19th, and 20th. Some of the people with the name Babel who arrived in the United States in the 18th century included Johan Daniel Babel, who landed in Pennsylvania in 1750.
People with the surname Babel who landed in the United States in the 19th century included Thomas Babel came to New York City in 1823. Annie Babel at the age of 30, who settled in America, in 1892. Anna Babel at the age of 20, who landed in America, in 1895.
The following century saw much more Babel surnames arrive. Some of the people with the surname Babel who arrived in the United States in the 20th century included Albert Babel at the age of 30, who moved to the United States, in 1905.
Here is the population distribution of the last name Babel: Germany 1,916; United States 1,372; France 1,200; India 1,178; Poland 525; Algeria 446; Suriname 373; Brazil 286; Switzerland 261; Netherlands 199.
Notable People:
Günther Babel (September 1952) is a German leader, representative of the Christian Social Union of Bavaria. Between 2003 and 2008 he was a member of the Landtag of Bavaria.
Isaac Emmanuilovich Babel (July [O.S. July] 1894 –January 1940) was a Russian language commentator, playwright, literary translator, and short story author. He is best known as the writer of Red Cavalry, Story of My Dovecote, and Tales of Odessa, all of which thought masterpieces of Russian literature. He has also been praised as "the greatest prose author of Russian Jewry". Loyal to, but not indiscriminate of, the Communist Party of the Soviet Union, he fell victim to Joseph Stalin's Great Purge as a result of his long-term relationship with the wife of NKVD chief Nikolai Yezhov. He was caught by the NKVD at Peredelkino on the night of May 1939. After confessing under investigation to being a Trotskyist terrorist and foreign spy, he was shot in January 1940.
Johann Baptist Babel (June 1716 –February 1799) was the dominant artist of Baroque era Switzerland. Active mainly in Central Switzerland, he enjoyed an uncommonly long productive time that crossed the transitions from Late Baroque to Rococo and then to Neoclassicism.
Louis Babel (June 1826–March 1912) was an Oblate bishop who was thought to be multi-faceted in his job. He was born in Veyrier, Switzerland and got his formal training in Europe before coming to Canada in 1851. He was appointed in Bytown upon his arrival by Priest Joseph-Bruno Guigues.
Matte Babel was a Canadian television personality.
Meike Babel (born November 1974) is an old tennis player from Langen, Germany. She is an assistant women's tennis referee at Vanderbilt University.
Ryan Babel (born December 1986) is a Dutch football player who plays for Deportivo La Coruña. He can play as a striker or a left winger. He started his job at Ajax in 1998, working his way up through the youth team and into the senior squad. He played three seasons for the first team before he transferred to Liverpool in mid-2007, where under three successive managers he failed to secure a regular first team position.
Blazons & Genealogy Notes
First notation: 1793 ennoblement W pas. W polu srebrnym księga zamknięta w oprawie czarnej. W polu błękitnym wieża srebrna. Klejnot: wieża srebrna. Labry z prawej czarne, podbite srebrem, z lewej błękitne, podbite srebrem. Klejnot: Chart srebrny z obrożą złotą, wspięty.