Barefoot Family Crest, Coat of Arms and Name History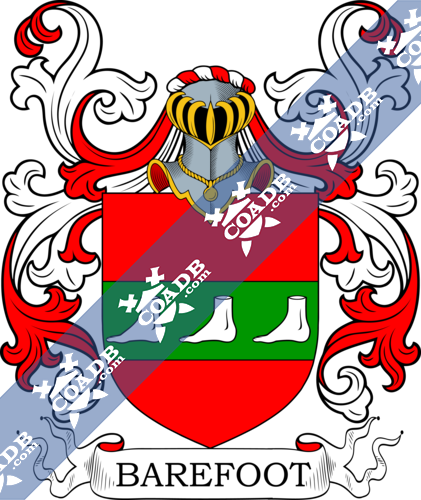 Barefoot Coat of Arms Gallery
Don't know which Coat of Arms is yours?
We can do a genealogical research. Find out the exact history of your family!
Learn More
Barefoot Origin:
England
Origin of Barefoot:
Barefoot is unique surname which derives from Olde English. The surname Barefoot derived from the word "baer" which means bald or nude and "fot," which means foot which used as a nickname for any individual who commonly lived and worked without shoes on. It is particularly used for priests or religious people and for those who went barefoot as a spiritual reparation for wrong. There were some examples in Ancient England like "Barleg" and "Bareshanke." The priest in Shakespeare "Romeo and Juliet" was known as "a barefoote brother." William King and Elizabeth Barfot married in St. George's Church, Mayfair, in the year 1748.
Variations:
More common variations of this surname are: Bairefoot, Bearefoor, Bare-Foot, Barefoote, Baarefoot, Barfoot, Barefot, Bearfoot, Barfoott, Barfoote.
England:
The name Barefoot first originated in different divisions and communities all over the Britain. A few of the name were in the Hundredorum Rolls of 1273, and they consist of Norman Barfot in Lincolnshire, Robert Barefot in Oxfordshire and Alan Barefot in Cambridgeshire. Henry de Bereford recorded in the Pipe Rolls of Gloucestershire in 1204 and Yorkshire. William de Bereford was recorded there in 1325 and after sometime John Berford was recorded there in the year 1419.
The very first recorded spelling of the family was shown to be that of Reginald Berfot, which was dated 1203, in the Pipe Rolls of Cumbria. It was during the time of King John, who was known to be the "Lackland," dated 1199 – 1216. The origin of surnames during this period became a necessity with the introduction of personal taxation. It came to be known as Poll Tax in England. Surnames all over the country began to develop, with unique and very diffferent spelling varieties of the original one.
United States of America:
Individuals with the surname Barefoot settled in the United States in two different centuries respectively in 17th and 18th. Some of the people with the name Barefoot who settled in the United States in the 17th century included James Barefoot settled in Maryland in 1634. John Barefoot landed in Virginia in 1634. Mr. Barefoot, who landed in Maryland in 1634. Tho Barefoot and Thomas Barefoot both landed in Virginia in the same year in 1635.
Some of the people with the name Barefoot who settled in the United States in the 18th century included Sarah Barefoot, who arrived in Virginia in 1715 and Elizabeth Barefoot settled in Maryland in 1743.
Canada:
Some of the people with the name Barefoot who settled in the Canada in the 19th century included William Barefoot was a fisherman in Pool's Isle, Newfoundland in 1871.
Here is the population distribution of the last name Barefoot: United States 4,426; England 285; Italy 3; India 2; Indonesia 1; Australia 45; Scotland 2; Canada 183; South Africa 2; New Zealand 12.
Notable People:
Chad Barefoot (born 1983), is an American political leader from North Carolina. A citizen of Thomasville, he reached success in his first election in 2012. Sen. Barefoot sits during the 2013-14 conference of the North Carolina universal Assembly.
Darren Barefoot is an author and administrator of information technology based in Vancouver, British Columbia, and Canada. He is a creative consultant at Capulet Communications, working with high-tech companies. He currently lives in Vancouver.
Herbert Barefoot (1887–1958), was an English representative of the George Cross, an outstanding and award for bravery and for good deeds. He was also an architect.
Ken Barefoot (born 1945), was an American football player in the National Football League for the Washington Redskins and the Detroit Lions.
Magnus Barefoot (1073–1103), famous as Magnus Barefoot was Lord of Norway (as Magnus III) from 1093 till his death in 1103. His estate was grown by military wars and invasions, especially in the Norse-dominated areas of the British Islands, and he eventually spread his rule to Dublin.
Robert Barefoot (born 1944), is a Canadian medical doctor.
William Barefoot (1872–1941), was a British congressman.
Blazons & Genealogy Notes
1) Gu. on a fesse vert, three men's feet couped ar.
2) Gu. two lion's paws couped under the knees, the claws endorsed or.
3) (Midlington Place, co. Hants). Ar. a chev. gu. betw. three pellets. Crest—A stag statant, ducally gorged.
4) Same Arms. Crest—Out of a ducal coronet or, an arm in armour, holding a sword in bend sinister, all ppr.
5) Gu. a fret of six engr. erm.
6) Same Arms. Crest—Out of a ducal coronet or, an arm in armour, holding a sword in bend sinister, all ppr.