Baudoin Family Crest, Coat of Arms and Name History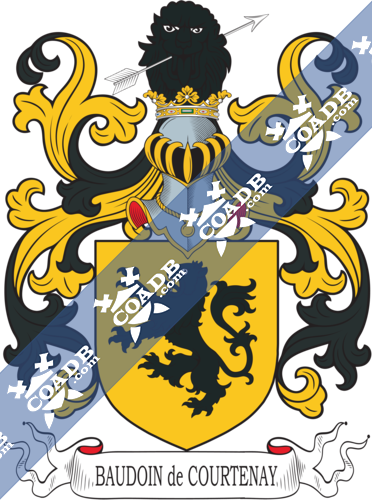 Baudoin Coat of Arms Gallery
Don't know which Coat of Arms is yours?
We can do a genealogical research. Find out the exact history of your family!
Learn More
Baudoin Origin:
France
Origins of Baudoin:
The name Baudoin started during the Dark Ages in France, in that southern region known as Languedoc. This family name was acquired from the Germanic specific name Baldwin, which is a combination of the components bald, which means bold or brave and wine, which means friend. History has changed the spelling of most surnames. During the early advancement of the French language in the Middle Ages, a person gave his version of his name, phonetically to an author, a minister, or a recorder. Some variables picked by different sections of the family name. Hence, there spelling variations of the name Baudoin, some of which include as Beaudoin, Beaudoins, Beaudouin, Beauduin, Beauduoin, Beaudiun, Beauddoin, Beauddoins, Beauddouin, Beaudduin, Beaudduoin, Beauddiun, Bodoin, Bodoins, Bodouin, Boduin, Boduoin, Bodiun, Boddoin, Boddoyn, Boddoins, Boddouin, Bodduin, Bodduoin, Boddiun, Baudoin, Baudoins, Baudouin, Bauduoin, Baudiun, Bauddoin, Bauddoins, Bauddouin, Baudduin. Baudduoin, Bauddiun, Beudoin, Beudoins, Beudouin, Beuduin, Beuduoin, Beudiun, Beuddoin, Beuddoins and much more.
Variations:
More common variations are: Beaudoin, Baudouin, Baudoino, Baeudoin, Boaudoin, Baudoinw, Baudon, Badoin, Beaudouin.
England:
The surname Baudoin first appeared in Brittany where the family held a family seat from early times.
Ireland:
Many of the people with surname Baudoin had moved to Ireland during the 17th century.
United States of America:
Individuals with the surname Baudoin landed in the United States in three different centuries respectively in the 17th, 18th, and 19th. Some of the people with the name Baudoin who arrived in the United States in the 17th century included Pierre Baudoin, who landed in Maine in the year 1686.
The following century saw more Baudoin surnames arrive. Some of the people with the surname Baudoin who arrived in the United States in the 19th century included Edward Baudoin at the age of 17, who settled in New Orleans in the year 1823. Elsia Baudoin at the age of 9, who settled in New Orleans in the same year 1823. M. Baudoin at the age of 45, who settled in New Orleans in the year 1825.
Canada:
People with the surname Baudoin who landed in the Canada in the 18th century included Jacques Baudoin, son of René and Marie Raclos who married Angelique Poisson, daughter of Francois and Marguerite Baudry in the year 1717. Jean Baudoin also called Lariviére who married Angelique Durand, daughter of Louis and Agnes Michel in 1725 and married Marie-Louise Piette, daughter of Jean-Baptiste and Louise Guignard in 1728. Joseph Baudoin, son of Francois and Andree Grenet who married Catherine Bricault, daughter of Joseph and Elisabeth Archambault in the year 1740 at Pointe-aux-Trembles. Jean-Baptiste Baudoin, son of Etienne-Joseph and Marguerite Poisson who married Josette Bigot-Duval, daughter of Jean-Baptiste and Céleste Turcot in the year 1753.
Here is the population distribution of the last name Baudoin: France 6,821; United States 1,962; Belgium 609; Bolivia 584; Netherlands 474; Switzerland 126; Chile 81; Italy 45; England 43; Portugal 37.
Notable People:
François Baudouin (1520–1573), also called Balduinus, was a French jurist, Christian parliamentarian, and biographer. Among the most colorful of the noted French humanists, he was respected by his contemporaries as a statesman and lawyer, even as they frowned upon his perceived inconstancy in matters of faith as he noted as a Calvinist who converted to Catholicism.
Jan Niecisław Ignacy Baudouin de Courtenay (March 1845 – November 1929) was a Polish scholar and Slavist, best known for his theory of the phoneme and phonetic alternations. For most of his life Baudouin de Courtenay worked at Imperial Russian universities like Kazan (1874–1883), Dorpat (as Tartu, Estonia was then known) (1883–1893), Kraków (1893–1899) in Austria-Hungary, and St. Petersburg (1900–1918), where he was known as (Ivan Aleksandrovich Boduen de Kurtene), and in Russia he was recognized as a Russian scientist. In 1919-1929 he was a professor at the re-established University of Warsaw in a once again independent Poland.
Paul Baudouin (December 1894 –February 1964) was a French banker who became a leader and Vichy foreign minister. He was born into a wealthy family in Paris and served as an artillery officer during The Great War in the French Army.
Blazons & Genealogy Notes
First notation: From France c.a. 1717. Indygenat 1790 W polu złotym czarny lew wspięty, klejnot głowa lwa czarna, przeszyta strzałą srebrną w skos.