Beckwith Family Crest, Coat of Arms and Name History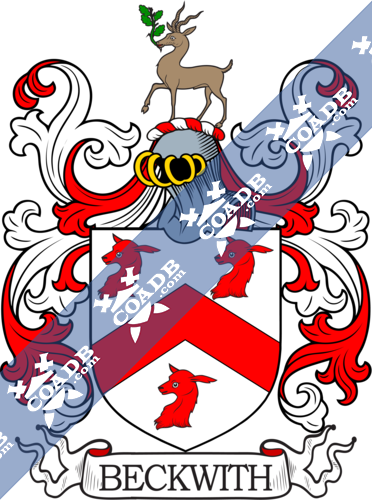 Beckwith Coat of Arms Gallery
Don't know which Coat of Arms is yours?
We can do a genealogical research. Find out the exact history of your family!
Learn More
This is a surname of local origin meaning "of Beckwith", a hamlet in the parish of Pannal in county York. It derives from the Anglo-Saxon word Becc, meaning a brook. One author believes the with is actually a corruption of the suffix worth. Another author believes the etymology of the word is the Old English word bece (beech) and the Old Norse word viðr (wood). Others believe it comes from the old Norse opr Viking word vior (wood). A Beckwith village was recorded in the Anglo Saxon Chronicles existing as early as 972 AD with the spelling bec wudu. This surname is popular in the city of Boston
Early notables bearing this surname include Willelmus Bekwyt, Willelmus de Bekwyth, and Johannes de Beckwyth, who were recorded in the Poll Tax of Yorkshire in 1379 AD. Early marriages include William Beckewithe to Margaret Daye in London in 1562 and Ambrose Beckwith to Martha Smith at St. George's Hanover Square in 1754.
In his book, The Landed Gentry, genealogist Bernard Burke discusses one branch of this family at considerable length: Beckwith of Silksworth and Trimdon. The first person he discusses in this line is John Beckwith, of Silksworth House and Trimdon House in county Durham, who was born in 1803 and succeeded the propery in 1877, under the will of his sister in law, who was the widow of General
Beckwith. He traces the lineage of this ancient family back to the original surname they bore, which was Malbic or Malcbisse. Sir Hercules Malebisse married, in around 1226 AD, the Lady Same Beckwith (the daughter of Sir William Bruce, Lord of Uglebarnby) and according to the arrangement he had to change his surname. He was a
direct ancestor of William Beckwith (1664-1703) of Thurcroft in county York, who  married Mary Chaloner of Guisborough and they children, including William Beckwith of Thurcroft and Sleningford. This William married Elizabeth Woodfield in 1715 and had five children: Woodifield, Malby, John, William, Jane, and Elizabeth. The eldest of the children was Woodifield Beckwith, who was baptized in 1719, and married Dorothy Robinson, and by her had one surviving child: William Beckworth born in 1772. This William married Caroline Nesham in 1794 and had eleven children: William, John, George, Henry, Caroline, Frances, Mary, Julia, Elizabeth, and Julia. His heir was William Beckwith (born 1795). He was a General in the army and the Colonel of the 14th Hussars. He
married Priscilla-Maria in 1831, the daughter of Thomas Hopper. He distinguished himself by helping suppress the Bristol Riots of 1831. The family motto is jouir en bien, which means "to enjoy innocently".  In his book Homes of Family names, H.B. Guppy writes "The Beckwiths were a very numerous race, the main stock being settled at a very early period at Clint in Ripley, where it flourished until the close of the 16th century; the Beckwiths of Aldborough during the 17th and 18th centuries, who belonged to the Clint stock, received a baronetcy."  One of the earliest Beckwith's in the New World was Robert Beckwith, at the age of 21, who settled in Virginia. Another early recorded bearer of this surname in America was Matthew Beckwith, who was from New London, Connecticut, and was made a freeman in Hartford. He moved to Branford in 1649 and helped found a church there. He died in Lynn, Massachusetts and died in 1680 at age 70. He had two daughters (named not recorded) and also three sons: Matthew, John, and Joseph. A one Robert Beckwith was recorded as a passenger aboard the Transport which left the port of London to Virginia in 1635. Other early settlers in America with this last name were William Beckwith (Jamestown 1607), Matthew Beckwith (Connecticut 1635), Georg Beckwith (Maryland 1648), and Sir Marmaduke Beckwith (Virginia 1709).
One famous Beckwith from history was Sir George Beckwith (1753-1823), who was an Officer in the British Army during the American Revolution and Napoleonic Wars. He was also appointed Governor of Bermuda in 1797, Saint Vincent in 1806, and Barbados in 1810. He was the son of Major General John Beckwith, who commanded the 20th Regiment of Foot.
To receive a complete surname meaning report by PDF you can order our SURNAME MEANING PACKAGE for $129.   This report is great to share with family and friends.  It includes everything you see above plus any other information we can find on the specified surname.  It does take approximately 10 to 15 days for us to complete this custom report.
To receive a direct lineage & coat of arms search for your specific line(s) you can order one of our GENEALOGY PACKAGES ranging in price from $249 to $999.   All research is completed by a professional genealogist with over 30 years' experience.  All reports and coat of arms files are sent by email in PDF and JPG format.
Blazons & Genealogy Notes
1) (Aldborough and Thurcroft, Yorkshire, and Tremdon, co. Durham). Ar. a chev. betw. three hinds' heads erased gu. Crest—An antelope ppr. in the mouth a branch vert. Motto—Joir en bien.
2) (Yorkshire). Ar. a chev. gu. fretty or, betw. three hinds' heads erased of the second on a chief gu. a saltire (both engr.) betw. two roses in pale and as many demi fleurs-de-lis joined to the dexter and sinister sides gold. Crest—A stag's head quarterly per fesae indented or and az.
3) Ar. a chev. gu. charged with three roses of the field. Crest—A dove, in the beak three ears of wheat all ppr.
4) (Yorkshire). Sa. on a chev. betw. three griffins' heads erased or, a boar's head couped betw. two pheons gu. Crest—An eagle's head or, depressed with two bends vert, winged one ar. the other sa.beaked gu.