Belew Family Crest, Coat of Arms and Name History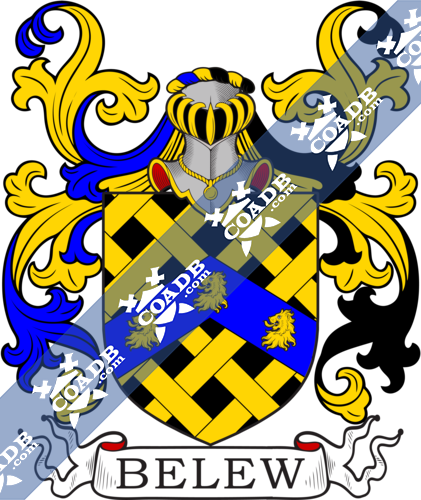 Belew Coat of Arms Gallery
Don't know which Coat of Arms is yours?
We can do a genealogical research. Find out the exact history of your family!
Learn More
Belew Family.
Blazon: Sable. Fretty Or, on a chevron. Azure. three lions' heads erased of the second.
Note: (Lancashire, Ireland, Louth, Galway and Meath)
Source: Burke, Sir Bernard. The General Armory of England, Scotland, Ireland, and Wales. London: Harrison & Sons, 1884.
Belew/Belewe/Bellew is an interesting surname, having long associations with the Irish county of Louth, it is of Norman French origin, and is a locational name from any of the various places in northern France named with the Old French elements, "beu, bel", lovely, and "eau, ewe", water (Latin "aqua"). The name was initially brought to England by followers of William the Conqueror during the Conquest of 1066, and subsequently introduced into Ireland by Norman settlers in County Louth and the adjoining part of County Meath. Eighteen Norman knights settled in Ireland following the invasion of 1066. The first recorded spelling of the family name is shown to be that of Adam de Bella Aqua, which was dated 1210, in "Medieval Records of County Louth", during the reign of King John of England, known as "Lackland", 1199 – 1216.
The name of this great Hiberno-Norman family is perpetuated in Bellewstown (Counties Louth and Meath), and in Mountbellew (County Galway). From the mid 16th Century on, several members of the family took a prominent part in Irish legal and political affairs as sheriffs and members of parliament, among them Sir John Bellew, who was on the Supreme Council of the Confederate Catholics. Captain Thomas Henry Grattan-Bellew, of Mountbellew, was a Knight of Malta. Early recordings of this surname from England are few, and include, Ralph Belewe (Oxfordshire, 1253).
The Belew/Bellew family settled into Anglo-Irish life fairly quickly. They have been knights, and Baronets and Barons. ( A baronetcy is the only British hereditary honour that is not a peerage. A baronet is addressed as "Sir", just as is a knight (or "Dame" in the case of a baronetess), but ranks above all knighthoods and damehoods in the Order of precedence, except for the Order of the Garter and the Order of the Thistle (and the defunct Order of St Patrick.)
There have been two baronetcies created for members of the Bellew family, one in the Baronetage of Ireland and one in the Baronetage of the United Kingdom. Both creations are extant as of 2016.
The Bellew Baronetcy, of Barmeath in the County of Louth, was created in the Baronetage of Ireland on 11 December 1688. It was later converted to a Baronial title in the eighteenth century. Bryan Edward Bellew, 8th Baron Bellew (born 1943) is the current holder. The heir apparent is the present holder's surviving son Hon. Anthony Richard Brooke Bellew (born 1972).
The Bellew, later Grattan-Bellew Baronetcy, of Mount Bellew in County Galway, is a title in the Baronetage of the United Kingdom. It was created on 15 August 1838 for Michael Bellew. He was a descendant of Christopher Bellew, brother of Sir Patrick Bellew, 1st Baronet. Sir Henry Charles Grattan-Bellew, 5th Baronet (born 1933) is the current holder of the title and the heir apparent is the present holder's only son Patrick Charles Grattan-Bellew (born 1971)
Place Names Associated With Belew/Bellew:
Normandy, Hastings, Ireland, County Galway, County Louth, County Meath, Barmeath.
Bellewstown, Bellew Estate, Mountbellew,
Royalty and other famous names associated with Belew:
William, the Conqueror, Henry II, John (Lackland) Henry III, Queen Anne, and William III.
Notable people with the name Belew:
Bellew of Barmeath-
1st Baron, co. Louth (Patrick) b. 29 Jan 1798, d. 10 Dec 1866
2nd Baron, co. Louth (Edward Joseph) b. 3 Jun 1830, d. 28 Jul 1895
3rd Baron, co. Louth (Charles Bertram) b. 19 Apr 1855, d. 15 Jul 1911
4th Baron, co. Louth (George Leopold) b. 22 Jan 1857, d. 15 Jun 1935
5th Baron, co. Louth (Edward Henry) b. 6 Feb 1889, d. 8 Aug 1975
6th Baron, co. Louth (Bryan Bertram) b. 11 Jun 1890, d. 7 Sep 1981
7th Baron, co. Louth (James Bryan) b. 5 Jan 1920, d. 3 Aug 2010
8th Baron, co. Louth (Bryan Edward) b. 19 Mar 1943
Baroness (Anna Fermina) d. 2 Aug 1857
Baroness (Augusta Mary) b. c 1834, d. 11 May 1904
Baroness (Barbara Helen Mary) b. 17 Feb 1888, d. 23 Oct 1967
Baroness (Elaine Carlisle) d. 7 Mar 1973
Baroness (Mildred Mary Josephine) b. 27 Mar 1856, d. 29 Dec 1934
Baroness (Rosemary Sarah) b. 1947
Edward Donald Bellew (1882–1961), Canadian recipient of the Victoria Cross for action in WWI
Francie Bellew (born 1976), Irish Gaelic footballer
Frank Bellew (1828–1888), American artist, illustrator, and cartoonist; created the iconic image of Uncle Sam
George Bellew (1899–1993), British army officer, genealogist, and armorer
Henry Walter Bellew (1834–1892), Indian-born British medical officer and author
Kyrle Bellew (1850–1911), British stage actor
Ray Bellew (1939–2006), Canadian actor
Richard Bellew, or Richard Bellewe, (fl. 1575-1585), legal reporter
Richard Bellew (1803–1880), Irish politician
Thomas Bellew (Galway politician) (1820–1863), Irish landowner and politician from Mountbellew, County Galway
Thomas Bellew (Louth politician) (1943–1995), Irish politician from Louth
Tony Bellew (born 1982), British professional boxer
Blazons & Genealogy Notes
1) Notes: (Lancashire). Blazon: Sa. fretty or, on a chev. az. three lions' heads erased of the second.
2) Notes: (Warwickshire). Blazon: Az. three eagles displ. in bend betw. two cottises ar.