Berns Family Crest, Coat of Arms and Name History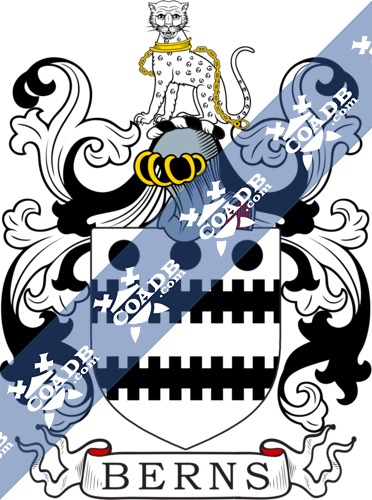 Berns Coat of Arms Gallery
Don't know which Coat of Arms is yours?
We can do a genealogical research. Find out the exact history of your family!
Learn More
Berns Origin:
Germany
Origins of Berns:
This popular surname is of pre 5th-century German sources. Listed in over one hundred various spelling forms ranging from Barnard, Benard, and Bernat, to Bernth, Bernucci, and Bieratowicz. It acquires from the male particular name "Bernhard or Beornheard," consisting of the components "bern," which means the bear, and "hard," which means brave, firm or healthy. Probably not surprisingly showed the meaning of "Hardy bear" the name was always famous. The surname was first listed in England in the 12th century. Here registers were listed much older than was usual in other European countries, and England was the first country to accept inherited surnames as we know them today. The first popularity of the name was also given a boost by the popularity of two old holy saints. These were St. Bernard of Clairvaux (circa 1010 – 1153), the creator of the Cistercian monastery at Clairvaux, and St. Bernard of Menthon (923 – 1108), the owner of Alpine hospices and patron saint of mountaineers. Previous examples of the surname recording contain as Thomas Bernhard of Cambridge, England, in the year 1260, Albertus Berenhardus of Schwenningen, Germany, in 1290, and Gregorius Bernhardt, named at Chemnitz, Saxony, Germany, in January 1549.
Variations:
More common variations are: Berens, Bernes, Bearns, Bernas, Beurns, Beerns, Beirns, Berans, Bierns, Bernis.
England:
The surname Berns first appeared in Cumberland, where the real name was Burness. Even Robert Burns and his brother both agreed to reduce their name to Burns because of the difficulty in spellings by the Gaelic language. After that, the name also pronounces as Bourne, Burn, and even Bernes.
The very first recording spelling of the family was shown to be that of Hugo Bernard, dated about 1130, in the "pipe rolls" of the city of Lincoln, England. It was during the time of King Henry I, who was known to be the "The Lion of Justice," dated 1100-1135. The origin of surnames during this period became a necessity with the introduction of personal taxation.
Ireland:
Many of the people with name Berns had moved to Ireland during the 17th century.
United States of America:
Some of the people with the name Berns who settled in the United States in the 19th century included Anna Maria Kring Berns, who landed in Galveston, Tex in 1845. Christian Berns, who arrived in Galveston, Tex in 1845. Elizabeth Berns, who landed in Galveston, Tex in 1845. Johann H G Berns, who landed in Galveston, Tex in 1845. Johann Heinr Berns, who arrived in Texas in 1845.
Here is the population distribution of the last name Berns: United States 3,978; Germany 2,589; Netherlands 948; Brazil 477; Russia 435; Philippines 387; Argentina 373; England 204; Canada 155; Sweden 116.
Notable People:
Alphonse Berns was born in April 1952. He is an Ambassador for Luxembourg with the most senior position held. He is currently in a position in the Ministry of Finance in Luxembourg.
Bertrand Russell "Bert" Berns (November 1929 – December 1967), also known as Bert Russell and (frequently) Russell Byrd. He was an American composer and record writer. An administrator of sixties rock and soul, Berns made remarkable donations to famous music, such as "Twist and Shout", "Piece of My Heart", "Brown Eyed Girl" (as a producer), "Here Comes the Night", "Hang on Sloopy", "Under the Boardwalk" and "Everybody Needs Somebody to Love".
Richard Rickey Berns was born in February 1956. He is an old American football running back in the National Football League. He played for the Tampa Bay Buccaneers in the third round of the 1979 NFL Draft and also played for the Los Angeles Raiders. He played college football at Nebraska.
Sampson Gordon "Sam" Berns was born in October 1996 and died in January 2014. He was an American teenager who was ill from progeria and helped to boost awareness about the disease.
Walter Berns (May 1919 – January 2015) was an American law and political philosophy scholar. He was a scholar at the American Enterprise Institute and a teacher of emeritus at Georgetown University.
Blazons & Genealogy Notes
Notes: (Soham, co. Cambridge). Blazon: Ar. two bars embattled sa. in chief three pellets. Crest—An ounce ar. collared and chained or.