Berry Family Crest, Coat of Arms and Name History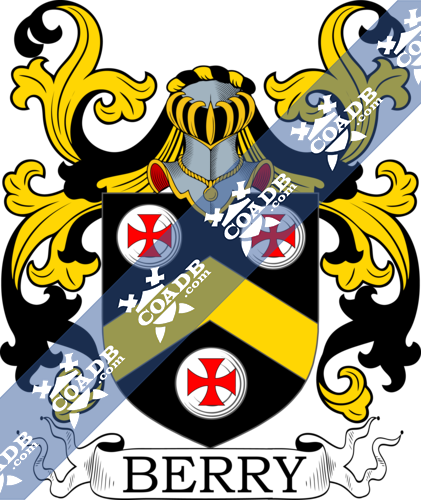 Berry Coat of Arms Gallery
Don't know which Coat of Arms is yours?
We can do a genealogical research. Find out the exact history of your family!
Learn More
Berry Origin:
England, Ireland, Scotland
Origins of Name:
The Berry surname derives from ancient English geographical locations and was also used a descriptive surname. The surname originates from as far back as 7th century words 'byrig' which means a fortified place, or from later words 'beri' or 'buri' meaning a manor house that is fortified. The name was also given to someone who owned a manor house, or perhaps to someone who lived nearby a manor house.
The surname possibly originates from such locations as Bury in Huntingdonshire (recorded as the surname Byrig in 974), Sussex, Bury in Lancashire, Berry(brow) in Yorkshire, or Bury St. Edmunds, Suffolk (recorded in 1038 as Sancte Eadmundes Byrig).
Variations:
More common variations are:
Berrey, Berray, Beerry, Bierry, Berroy, Bearry, Buerry, Berrye, Bberry, Berryo, Bury, Burry
History:
England:
The first known recorded instance of the name is of Gilbert de la Beri in 1202 in the Pipe Rolls of Cornwall. Roger Bury was recorded in the city of Cambridge in the Assize Register in 1260. Hubert Bery was recorded in the county of Suffolk in 1268.
In the 13th Century, a Berry family was known as lords of the manor of Berry Narbor on the north coast of Devon. The family would branch out to Crosscombe and Chittlehampton. Eventually, the Berry family of Berry Narbor would cease to exist in 1708 having no male heir.
William ate Bury was recorded in the Subsidy Rolls of Sussex in 1327.
Richard de Bury was the bishop if Durham in 1333, and would later become the Lord Chancellor of England in 1335.
Sir John Berry was a famous admiral who would fight in the West Indies against the Dutch and the French.
The surname Berry is the 109th most common name in Great Britain. The highest concentrations are in Newport, Monmouthshire, Merthyr Tydfil, Greater Manchester, and Rhondda Cynon Taff.
Ireland:
The Berry surname first appeared in Ireland in Galway and Mayo as an anglicized form of the Gaelic surnames O'Beara or O'Beargha. A prominent Berry family currently owns the Mayo News.
Berrys from England immigrated to Westmeath, Ireland in the 17th century. They would mostly make their homes at Eglish castle in Offaly country throughout the 17th century.
Scotland:
The first known instance of the surname Berry was in Fife. The Berry surname in Angus and Aberdeen is a variant spelling of Barrie or Barbie. In the end of the 17th century, Berrys and Berries were found in Strathdon, in the parish of Coldstone under Farquharson of Invercauld, and under Forbes of Brux.
United States:
One of the first Berrys in the United States were recorded in 1631 in Portsmouth, New Hampshire. Johan and Susanna Berry were Christian missionaries who sailed for the new world, and their son William was one of the first settlers at Sandy Beach in Rye.
Henry Berry obtained land in Occupacia Creek in 1650. One of his descendants, Washington Berry would leave Virginia and buy land for what would eventually become Dayton, Ohio. Washington Berry eventually owned 1,000 acres, 17 slaves and operated a ferry service between Dayton and Columbia.
Berry Today:
151,000 in the United States (mainly in Texas)
30,000 in England (mainly in Newport)
11,000 in Australia
10,000 in South Africa
8,000 in Canada
Notable People:
Sir John Berry (1689) English naval officer
Martha Berry (1865) founder of the Berry Schools
Wendell Berry (1934) novelist, poet
Chuck Berry (1926) singer and songwriter.
Clarence Berry (1867), U.S. miner and oilman
Blazons & Genealogy Notes
1) (Catton, co. Norfolk, extinct bart., created 14 Nov. 1806). Motto—Per ardua. Erm. on a fesse engr. az. three fleurs-de-lis or, in chief two branches of palm in saltire vert, in base a sphinx couchant ppr. Crest—Betw. two wings elevated erm. an eagle's head couped at the neck ppr. gorged with an eastern crown or, in the beak a palm branch vert.
2) (Berrinkerber). Barry of ten or and gu.
3) (Burly, co. Devon). Erm. on a bend engr. sa. three fleurs-de-lis or.
4) (Berry Narbor, East Leigh, Lobb, &c., co. Devon, Ralph de Bury, possessed Bury Narbor, temp. Henry III.; the heiress of the elder branch, which continued at Berry Narbor till the death of Thomas Berrie, in 1708, in. Francis Kirkham, Esq.). (Molland, co. Devon, a younger branch of Berry, of Berry Narbor, of which was Sir John Berry the eminent naval officer of the reign of William III. Thomas Berry, Esq., of Credition, descended from this line). Gu. three bars or. Crest—A griffin's head erased per pale indented ar. and gu.
5) (Teddington, co. Bedford). Sa. a chev. engr. or, betw. three plates, each charged with a cross pattee gu.
6) (exemplified to James Wm. Middleton Berry, Esq., of Ballynegall, co. Westmeath, 1848). Motto—Nihil sine labore. Quarterly, 1st and 4th, gu. three bars or, a trefoil vert for diff., for Berry; 2nd and 3rd, ar. a lion ramp. gu. debruised by a bend az. charged with three escallops or. for Girbons. Crests—1st: A griffin's head and neck per pale indented gu. and ar. charged with a trefoil counterchanged for diff, for Berry; 2nd: A demi lion ramp. az. holding in his paws an escallop or.
7) (Penzance, co. Cornwall). Erm. on a bend engr. az. three fleurs-de-lis or.
8) (Tayfield, formerly Wester Bogie, co. Fife). Motto—L'esperance me comforte. Quarterly, 1st and 4th, vert a cross crosslet ar.; 2nd and 3rd, per pale ar. and sa. on a chaplct four mullets counterchanged, for Nairne., of Sandford. Crest—A demi lion ramp. gu. holding in his dexter paw a cross crosslet fitchee az.
9) Ar. a chev. betw. three horses' heads gu.
10) (Bury, co. Lancaster). Sa. a chev. or, betw. three plates, each charged with a cross pattee gu.
11) (Oxfordshire). Vert a cross crosslet or.
12) Ar. a barberry branch fructed ppr.
13) Quarterly, erm. and az. in the second and third quarter an eagle volant or.
14) (Teddington, co. Bedford). Sa. a chev. engr. or, betw. three plates, each charged with a cross pattee gu.