Bing Family Crest, Coat of Arms and Name History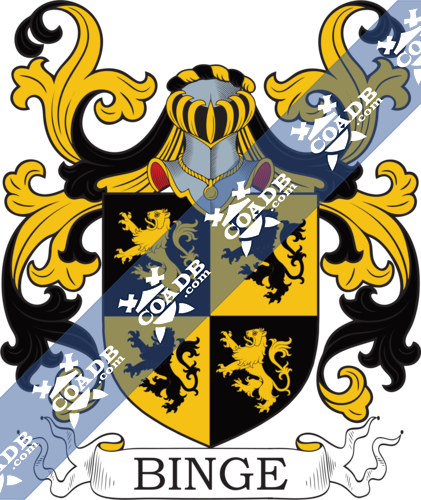 Bing Coat of Arms Gallery
Don't know which Coat of Arms is yours?
We can do a genealogical research. Find out the exact history of your family!
Learn More
Bing Meaning, Origin and Etymology
The name Bing likely derives from the Danish word 'binge', meaning pen, bin or corn-bin. It was used to describe anything that closes for the purpose of storage. The earliest known recording of any version of the name dates back to the English county of Sussex's Subsidy Rolls of 1327 (during the reign of King Edward III, the 'father of the navy') and belongs to one Robert Byn.
There are 3 known possibilities for the origin of the name. It could come from Bingen, a German town near Frankfurt, as the name has been recorded here. Indeed, the town's original name as Bingium, an old Celtic word thought to mean 'hole in the rock' (presumably used to store things). The Olde Norse word for a stall, 'bingr', could also point to the name, having been used to describe someone who lives at or works in horse stables. It is widely considered, though, that the name comes from 'Binningas' a pre-Christian clan from the English Midlands. It is also thought to be linked to Bingham, a name derived from the town of the same name near Nottingham. Indeed, its occurrence as part of other place names like Bingley and Bingfield suggests that Bing, or Byng, was an Olde English personal name.
Variations
Since there were no particular rules of spelling in Olde English, names deriving from the region tend to be linked to many others. Common variations of the name Bing include, but are not limited to, Byn, Byng, Binge, Bincks, Binckes and Binley. Similar surnames from across the globe include Bieng, Baing, Biang, Binga, Bingo, Bingu, Biong, Binag, Buing and Boing.
Distribution
As of 2014, Bing is the 4,233rd most common surname in the world, with over 129,000 people bearing it worldwide; however over 117,000 of these incidences occur in China, where the name likely originated from a different source.
In modern day Britain over 6,000 Bings can be found mostly in the English counties of Hampshire, Essex and Norfolk; although they have managed to spread further north, as the highest concentration per capita can be found in Fife, Scotland, where it is the 71st most popular name, shared by around 1,800 residents. In the United States today there are over 4,500 incidences of the name, with the highest populations found in Georgia (643), Florida (366) and Ohio (352).
History and Genealogy
The name in its current form could first be found in Middlesex, where the Bings held a family seat dating back to Olde English times, long before the Norman Conquest (1066). In comparatively more recent history, the Bings were known to hold property in Wrotham, Kent in the Elizabethan era (1558 – 1603), during which time one of the members of the family was the sheriff of Kent. This sleepy English village lies just southeast of London, near Tunbridge Wells. It is not known whether or not the Bings chose their stronghold because of its proximity to future motorways, but they would surely be pleased to know that Wrotham now provides convenient access to both the M20 and M26.
Later, during the reign of James I (1603 – 1625), the Bings acquired property in Tunbridge while George Bing was mayor of Dover as well as the city's Parliament representative. Towards the end of the 18th century the family had moved further east.  A Mr H. Bing owned Yokes Court in Frinsted, and several Bing memorials could be found in St John's Church in the seaside town of Margate.
Motto
The Bing family motto is 'tuebor' which translates as 'I will defend'.
Early Settlers
Recorded American migrators include John Bing, who came to Virginia in 1636, and Carl Friedrich Bing, who came to Long Island in 1781.
Coat of Arms
The first bearer of the Bing coat of arms was Robert Byng of Wrotham on the 11th of June 1574. It is a quarterly, black and gold counter-changed symbol of four lions rampant.
Notables
Notable people with this surname include, but are not limited to, the following: Abraham Bing (1752 – 1841), a German rabbi who managed to overturn a 250 year old decree banning Jews from settling in Würzburg; Andrew Bing (1574 – 1652), and English scholar responsible for the translation of parts of the Old Testament for the King James Version of the Bible; Herman Bing (1889 – 1947), a German-American actor who voiced the Ringmaster in Walt Disney's 'Dumbo'; Richard Bing (1909 – 2010), an American cardiologist who's work granted him lifetime presidency of the International Society for Heart Research; Dave Bing (1943 – present), a former American Hall of Fame basketball player and mayor of Detroit; Brandon Bing (1989 – present), an American who formerly played as cornerback for the Denver Broncos; and of course Chandler Bing, a fictional character in popular American sitcom 'Friends'.
Blazons & Genealogy Notes
1) (Kent). Quarterly, sa. and or, in the dexter chief quarter a lion ramp. guard. of the last. Crest—A demi pegasus reguard. winged or, holding in pale a flag gu.
2) Quarterly, sa. and or, four lions ramp. counterchanged.