Bird Family Crest, Coat of Arms and Name History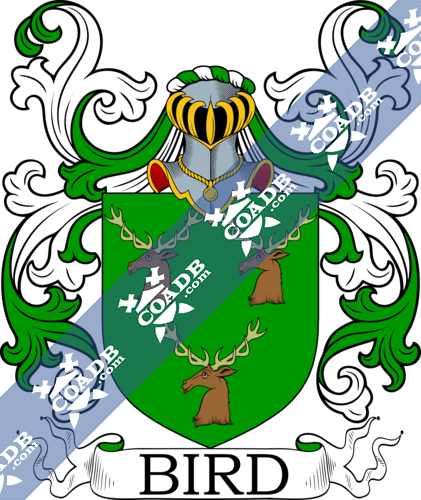 Bird Coat of Arms Gallery
Don't know which Coat of Arms is yours?
We can do a genealogical research. Find out the exact history of your family!
Learn More
Bird Origin:
England, Scotland
Origins of Name:
The Bird surname was a descriptive name for someone who resembled a bird, either from how they dressed, their activity, their occupation (bird catcher) or their singing voice. The surname derives from the Old English word 'bridde' which means bird. The Middle English word bird, brid means nestling or young bird. The surname is most common in central and southern England, although it was first found in Northumbria. Hugo le Bird is guessed to have arrived with William the Conqueror in 1066 during the Norman Invasion.
Variations:
More common variations are:
Baird, Biard, Birde, Birdy, Buird, Beird, Bierd, Byird, Birdi, Birda, Birds
History:
England:
Although first found in Northumbria, early instances of the Bird surname also came from Cheshire and Staffordshire. The name eventually spread to Lancashire, the Midlands, London, and East Anglia.
The first known recorded instance of the surname Bird is of Earnald Brid in 1193 in the Pipe Rolls of Yorkshire. Ralph le Brid was recorded as a witness in the Fines Court of Essex in 1231, and in 1260 Richard Bird was recorded as a witness in the Assize Court of Cambridgehsire.
John Bride, was the first known instance of a variant of the surname and was recorded in 1332in the Subsidy Rolls of Cumberland. A more similar spelling to the Old English "bridde" was recorded in 1379. Johannes Bridde was recorded in the 1379 Poll Tax Returns of Yorkshire.
The 15th century saw the first appearance of the variation Byrd. William Byrd from London was Queen Elizabeth's favorite composer. The family Byrd owned large amounts of land at Badsey of the Vale of Evesham in Worcestershire in the late 18th century.
Henry Bird, an early New World settler, would sail on the ship Amity back to London from Barbados in 1679.
Alfred Bird started a now infamous custard powder in Birmingham in 1840.
The surname Bird is the 240th most common name in Great Britain. The highest concentrations are in Hartlepool, Wiltshire, Carmarthenshire, Bristol Avon, and Bedfordshire.
Ireland:
The bird surname can be traced to the Ulster Province by immigrants from England and Scotland, mainly during the 17th century. In Ireland, Byrd and Bird can be variants of the surnames Heaney, Heneghan, and MacEneany.
America:
One of the first families of Virginia was the Byrd family. William Byrd would arrive in Virginia from London in the 1670's and was given land on the James river. The city Richmond would later be founded by his son William II. Descendants of these original settlers were Richard Evelyn Byrd, aviator and explorer, Harry F. Byrd, Virginia Governor and US Senator, and Harry F. Byrd Jr., US Senator.
Bird Today:
40,000 in the United States (mainly in North Carolina)
27,000 in England (mainly in Wiltshire)
10,000 in Australia
9,000 in Bangladesh
Notable People:
Albert Bird (1867), British cricketer
Alfred Bird (1811), British food manufacturer and chemist
Alfred Frederick Bird (1849), British, chemist, food manufacturer, and politician
Bill Bird (1888), American journalist
Bud Bird (1932), Canadian politician
Edward Bird (1772), English painter
George Bird (1850), American baseball outfielder
Edward Bird (1830), English chess player
Isabella Bird (1831), English writer and historian
John Bird (1709), British astronomer and instrument designer
John Bird (died 1558), British Bishop of Chester
John Bird (1768), American politician
Robert Bird (1839), Welsh politician
Sir Robert Bird (1876), British politician
Montgomery Bird (1806), American playwright, novelist, photographer, and physician
Walter James Bird (1863), organ builder based in Birmingham, England
Will R. Bird (1891), Canadian writer
Blazons & Genealogy Notes
1) (anciently Byrde). (Broxton, co. Chester, anciently of Charlton in Malpas). Ar. a cross flory betw. four martlets gu. a canton az. Crest—A martlet gu.
2) (anciently Byrde).(Ancient, 44 Edward III., ) Az. a bend ar. cottised erm. betw. six martlets or. Crest—A martlet gu.
3) (Drybridge, co. Hereford, descended from the Byrdes of Broxton, co. Chester). Same Arms, on the canton a mullet of five points or, a crescent for diff. Same Crest. Motto—Cruce spes mea.
4) (David Burn, son of David Bird, "Ye Old," ap Evan, ap Llewellyn, ap Kenerick, ap Rhiallon, "A Noble man, of whom divers gentlemen in Maelors are descended.") Erm. a lion ramp. sa.
5) (William Bird, Hackney, co. Middlesex, and London, merchant, son of Richard Bird, Alderman and Mayor of Chester, and grandson of Thomas Bird. Alderman and J.P. of the same city. Visit. Middlesex, 1663). Ar. a cross flory betw. four martlets gu. on a canton az. a crescent. Crest—A martlet rising gu.
6) (Denston, co. Suffolk). Ar. a cross formee flory betw. four martlets gu. a canton vert. Crest—in a crown ar. a greyhound's head couped or.
7) (Bread-street, London, and Coventry, co. Warwick). Ar. across moline vert betw. four martlets gu. a chief dove­tailed az. Crest—A greyhound's head vert erased gu. gorged with a dovetailed collar or.
8) (Derbyshire). Gu. a chev. embattled ar. Crest—On a mount vert a stump of a tree couped and erased, thereon a falcon volant all ppr.
9) (Westminster, descended from Shropshire; granted 16 September, 1723). Az. a lion pass. guard. and ducally crowned or, betw. three turtle doves rousant ar. each holding in the beak a trefoil slipped gold. Crest—A ringdove ppr. resting the right foot on a rose or.
10) Vert, three bucks' heads ppr.
11) (1606). Quarterly, ar. and sa. in the first quarter an eagle displ. of the second. Crest—On a dolphin ppr. an eagle or, wings expanded.
12) (Penrith, whose ancestry is traceable to the year 1295, Visit. Cumberland, 1615. The family possessed for a time Brougham Hall, since regained by the Broughams). Ar. on a chev. engr. gu. betw. three lions ramp sa. as many fleurs-de-lis or.
13) (Cotterelston, co. Dublin, Visit. Dublin, 1607). Ar. on a cross flory betw. four martlets gu. a mullet or, on a canton az. a cinquefoil of the third.
14) (Yowley, co. Chester and London, customer outward to the Queen, Visit. London, 1568). Per pale or and ar. an eagle displ. sa. Crest—A griffin's head erased, bendy of six sa. and ar.
15) (Broxton, co. Chester, anciently of Charlton in Malpas). Ar. a cross flory betw. four martlets gu. a canton az. Crest—A martlet gu.
16) (Ancient, 44 Edward III., ) Az. a bend ar. cottised erm. betw. six martlets or. Crest—A martlet gu.