Birmingham Family Crest, Coat of Arms and Name History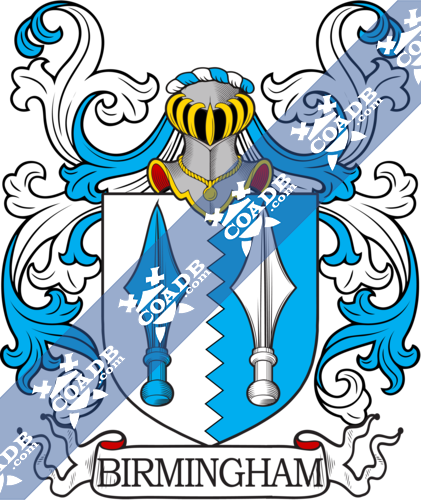 Birmingham Coat of Arms Gallery
Don't know which Coat of Arms is yours?
We can do a genealogical research. Find out the exact history of your family!
Learn More
Birmingham Origin:
England
Origins of Birmingham:
This interesting and highly popular surname rests its root as Anglo-Saxon in origin. The Birmingham surname was originally a locational name from a city now known as Birmingham in Warwickshire, England. Originally the name was recorded as "Bermingeham" in the Domesday Book in the year 1086 while also recorded to be "Brimineham" in the Pipe Rolls of that county in 1169. However, it is believed that the name of the city originates from the Olde English pre 7th century word "Beornmundingaham", which is defined as meaning 'homestead of the people of Beornmund'. The name is believed to be a male given name compromising of the that include 'beorn', meaning young man or warrior and also 'mund' meaning protection. The city Birmingham was an important and pivotal city that holds the seat of a university and the seat of a bishop. In the year 1911, the boundaries of the city were extended largely, making it the second largest city in all of Great Britain. The entry of the Great Anglo-Norman families of de Bermingham first moved to Ireland after the Anglo-Norman Invasion of 1169-1170.
Variations:
Most common variation are: Birmingam, Birimingham, Birmngham, Biirmingham, Brmingham, Birrmmingham, Bermingham, Burmingham, Barmingham, Brimingham, Birmangham, Birmungham, Birmingahm, Birminghma, Bromingham, Birmengham.
England:
As mentioned, this surname evolves from the city of Warwickshire, in England. The first record of this surname was made in Staffordshire, by one Peter de Bremingeham, the initial person to get enlisted in the Pipe Rolls in 1170. This was recorded in 'Records of Strongbow's Invasion of Ireland', that happened during the time of Rory O' Connor, who is known to be the final native High King of Ireland (1166-1175). Also, Gilbert de Birmingeham was recorded in Feet of Fines in Lincolnshire in the year 1271 while John de Burmyngham was to be listed from Warwickshire in 1333. In the year 1235, Piers de Bermingham was noticed to have taken part with de Brugo helping him in the Conquest of Connacht that lead him to take hold of huge territorial space in the barony of Dunmore, the County Galway that later came to be known as Bermingham's country. On 7th September 1579 the marriage ceremony of Alice Birmingham with William Smitt was observed and took place in Bubbenhall, in Warwickshire. Surnames became mandatory for the imposition of Government taxation that on personal daily issues known to be as Toll Tax in England. However, the differentiation in spelling of the surname rests under the same cause that involves the mingled version of various languages with Middle Ages English.
United States
Some of the people of the Birmingham community who settled in United States in the 19th century include John Birmingham in 1812, Andrew Birmingham in 1837, Timothy Birmingham in 1846, Margaret Birmingham in 1851, while people who arrived in the 18th century would involve, Mr. James Birmingham in 1783.
Australia:
Some of the Birmingham community settled in Australia in the 19th century and includes, Edward Birmingham, John Birmingham in 1840, Ann Birmingham in 1847, William Birmingham in 1849.
New Zealand:
19th century people who settled in New Zealand include, John Birmingham in 1841, George Birmingham in 1852.
Here is the population distribution of the last name Birmingham: United States 1,815; England 1,689; Canada 647; Australia 483; Ireland 207; France 171; Panama 163; Wales 102; South Africa 73; Jamaica 71.
Notable People:
Billy Birmingham, (born in 1953) was a successful and extremely popular Australia humorist.
Christian Birmingham was a famous British illustrator.
Dan Birmingham, was a renowned American boxing trainer,
Edward de Birmingham, (1538), renowned because of maintaining the legacy of Birmingham; last member of the Birmingham family, maintaining the lordship of Birmingham.
George Birmingham, (born in 1954) was an Irish politician.
Tom Birmingham (born in 1949), stands to be a famous American politician.
Stephen Birmingham (born in 1932) is a famous American author.
Blazons & Genealogy Notes
Notes: None. Blazon: Per pale indented argent and azure two spear heads counterchanged.