Blackburn Family Crest, Coat of Arms and Name History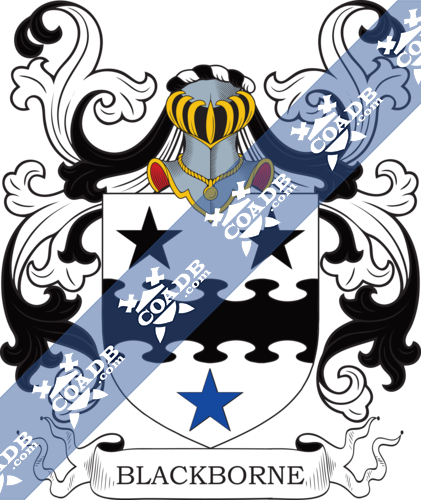 Blackburn Coat of Arms Gallery
Don't know which Coat of Arms is yours?
We can do a genealogical research. Find out the exact history of your family!
Learn More
Meaning, Origin, Etymology 
The surname Blackburn is of Anglo Saxon origin and is a locational name from the town of Blackburn in the county of Lancashire, England.  The English and Scottish deviations of this surname are Black Brook, Blackden, Black Valley, Blacklock, Black Hair, Black Lake, Blackmore (hill).  The Olde English forms are: a Black Brook [Old English blæc + burne]; also a Bright or Clear Brook [Old English blác + burne], or one who belongs or is from a town in Lancashire or from Blackburn, or several places in Scotland of the same name.  This surname is mainly found in Northern England. The town of Blackburn takes its name from a small river near the town, where the water looked black or burned so it was called in ancient times Blakeburn or the "the yellow bourne." It is said that a castle was built in this location by the Romans and after their departure from the island, the castle was then occupied by Britons and Saxons but the actual location of where the castle was can not be found.  The town of Blackburn was formerly the capital of a district within Lancashire called Blackburnshire. The earliest record found of this surname is that of Henry de Blackeburn who was listed on the Curia Regis Rolls of 1206.
Spelling Variations 
Blackburn, Blackbyrn, Blackbirn, Blackburne, Blackborn, Blagburn, Blackbyrne, Blagborn, Blakeburn, and Blackborne
Early Marriage Records for Blackburn
Henry Blackburn married Cisley Syddall on May 15th 1575, at Manchester Cathedral
Willm Blackborn married Elyzabeth on October 23, 1569 in Chesham, Buckinghamshire, England
Johannah Blackbun married John Palmer on May 4, 1719 in Ramsey, Huntingdonshire, England
Eliz Blackburn married Peter Walkden on May 29, 1742 in Manchester, St. Mary, St. Denys and St. George, England
Thos. Blackburn married Ann Ircam on January 1, 1746 in Manchester, St. Mary, St. Denys and St. George, England
Katheryne Blackburne married Thomas Pue on June 15, 1583 in Shropshire, England
James Blackburn married Elizabeth Pavel on October 5, 1713 in Croydon, St. John, Surrey, England
Elizabeth Blackborn married Thomas Brooke on October 2, 1662 in Kingston Upon Thames, All Saints, Surrey, England
Thomas Blackburn married Elizabeth Harwood on December 31, 1685 in Croydon, St. John, Surrey, England
Thomas Blackbourne married Marie Person on August 11, 1594 in Croydon, St. John, Surrey, England
Thomas Blackbourne married Mary Doming on June 23, 1687 in Croydon, St. John, Surrey, England
Mary Blackborn married George Harper on May 31, 1715 in Birmingham, St. Philip, Warwickshire, England
Uriah Blackburn married Sarah Mitchel on June 19, 1736 in Kent, England
Mary Blackburn married John Abbot on January 1, 1774 in St. Peters, Kent, England
Elizh Blackburn married Elijah Nethersell on November 16, 1796 in Kent, England
Richard Blackburne married Florence Fagge on May 12, 1547 in Waltham, Kent, England
Edward Blackburne married Anne Heyward on November 2, 1641 in Waltham, Kent, England
John Blackburne married Elizabeth Sandburne on April 21, 1663 in Bonnington, Kent, England
George Blackborne married Rebacca Wynter on January 21, 1593 in Waltham, Kent, England
Rychard Blackborne married Elizabeth Phillips on October 27, 1605 in Waltham, Kent, England
George Blackburn married Mary Hunke on November 20, 1636 in Banbury, St. Mary, Oxfordshire, England
George Blackburne married Mary Hunte on November 20, 1636 in Banbury, St. Mary, Oxfordshire, England
Thomas Blackburn married Mary on February 26, 1583 in Easton on the Hill, Northamptonshire, England
Ann Blackburn married Leonard Thorogood on July 1, 1658 in Nassigton, Northamptonshire, England
William Blackburn married Frances Bexfield on May 27, 1678 in Peterborough, St. Joh, Northamptonshire, England
Richard Blackburn married Rosamond Blackburn on June 10, 1600 in Nottinghamshire, England
Elizabetha Blackburn married Richus Cookwell on May 13, 1599 in Costessey, Norfolk, England
Alyson Blackburn married Thomas Hall on October 29, 1559 in Yorkshire, England
Isabell Blackburn married Rich Owbre on October 11, 1579 in Yorkshire, England
Kateran Blacburn married Will'm Proctor on February 26, 1586 in Yorkshire, England
Jane Blackburn married Samuel Swale on November 24, 1604 in Yorkshire, England
Nancy Blackburn married William Whitfield on December 10, 1793 in Anglican Church, Oostende, West Vlaanderen, Belgium
Sarah Blackburn married Newman Holly on February 19, 1772 in Stamford, Fairfield, Connecticut
Dinah Blackburn married Thomas Smith on May 31, 1773 in Baltimore, Maryland
Roger Blackburn married Elizabeth Owen on December 14, 1770 in All Christ Church Parish, Virginia
Roger Blackburn married Jane Hackney on December 30, 1779 in All Christ Church Parish, Virginia
Paulin Anderson Blackburn married Sally Hodges on January 10, 1797 in All Christ Church Parish, Virginia
Mary Blackburn married Jeremiah Spencer on July 15, 1769 in All Christ Church Parish, Virginia
Elizabeth Blackburn married John Hodges on December 3, 1785 in All Christ Church Parish, Virginia
Anne Blackburne married Joshua Allford on July 21, 1728 in All Christ Church Parish, Virginia
Elizabeth Blackburn married Walter Blackburn in 1639 in New England
Mary Blackburn married Samuel Blackburn in 1690 in New England
Mary Blackburn married Ralph Houghton in 1692 in New England
Abigail Blackburn married Thomas Short in 1694 in Richmond and Essex, Virginia
John Blackburn married Sarah Cunningham on September 2, 1756 in Christ Church Parish, Barbados
Witherdon Blackburn married Sarah Stewart on April 2, 1774 in St. Michael Parish, Barbados
Thomas Clunn Blackburn married Matilda Luff Stewart on January 16, 1780 in St. Michael Parish, Barbados
Popularity & Geographic Distribution
The last name  ranks 6,801st  in popularity worldwide as of the 2014 Census and approximately 83,900 people carry the  surname worldwide. The name ranks particularly high in the following six states: Texas, California, North Carolina, Kentucky, Ohio and Florida.  It ranks highest in the following countries: United States (50,882), England (17,380), Canada (6,860), Australia (3,992), New Zealand (1,012), South Africa (821).
Early Bearers of Surname
Willelmus de Blakeburne, a charter witness in Lindores in 1243
William de Blakburne was abbot of Cambuskenneth in 1394
Willelmus de Blakburn, 1379: Poll Tax of Yorkshire.
Cristoforus de Blakeburn, 1379: Poll Tax of Yorkshire
Johannes de Blakrburn, 1379:  Poll Tax of Yorkshire
John de Blakeburne, 1397: Preston Guild Roll
Edward Blackburne, of Leyland, Lancashire: Wills at Chester 1593
William Blackburne, of Billington, Lancashire: Wills at Chester 1594
Henry Blackburn married Cisley Syddall on May 15th 1575, at Manchester Cathedral
Henry de Blakeburn 1206, in the "Curia Regis" rolls of Lancashire"
Robert de Blackburn held Garston for nearly forty years, dying about the year 1354
History, Genealogy & Ancestry
BLACKBURN, SIR ARTHUR DICKINSON, K.C.M.G. (1938), C.B.E. (1935); educ. Bedford; Barrister-at-law, Middle Temple 1917; entd. Consular Service 1908; apptd Vice-Consul in China 1926 and Consul 1929.  Chinese Counsellor of Embassy, 1936-42; Acting Counsellor. Foreign Office 1943-44; born October 21, 1887 the son of late Captain Charles Henry Blackburn, of Ealing, W.5 married October 21, 1913 to Isabelle the daughter of late Theophile Piry, P.M.G. of China.  Address – 82 North Road, Hythe, Kent.
BLACKBURN, LT.-COL. SIR CHARLES BICKERTON, Kt. Bach. (1936), O.B.E. (1919); B.A., M.D., CH.M., F.R.C.P., F.R.C.P.E. (hon.),  F.R.S.M., F.R.A.C.P.; Chancellor from 1941; Aust. Army Med. Corps (Res.); mem. of Senate of Sydney Univ. from 1920; mem of Council of N.S. Wales Branch, B.M.A.; Dean of Faculty of Med. Sydney Univ. 1931-34; served in World War II 1939-45; born April 22, 19874, son of the late Rev. Canon Thomas Blackburn married August 3, 1910 to Vera Louise (died July 5, 1936) the daughter of Captain Henry le Patourel of Sydney and has issue; one son and one daughter.  Address – 227 Macquarie Street, Sydney, N.S. Wales. Clubs – Union; University (Sydney).
BLACKBURN OF HAINE.
Blackburn, Edward, Esq. of Haine, Lew Down, Devon born June 9, 1815 married June 1843, Charlotte the daughter of Nicholas Brooking, Esq. of Dartmouth, Devon and has issue, 1) Edward-Brooking born 1844 2) Arthur born 1849  3) Ernest-Murray born 1856 4) Harold-Bellas born 1859. 5) Robert born 1860 6) Emma-Brooking 7) Mary-Charlotte 8) Laura 9) Alice-Maud. Mr. Blackburn purchased Haine property in the parish of Stowford, Devon in 1867.
Lineage ~ This family of Blackburn was long settled at Sneaton, near Whitby, Yorkshire.  John Blackburn born 1733 the eldest son to survive of William Blackburn of Sneaton by Alice Hetherington, his wife), married October 6, 1763, Bethiah Turnour, and dying February 1798, left a son, Robert Blackburn, Esq. of Palmeira, in the Island of Madeira born June 11, 1779; married 1810, Mary the daughter and heiress of Rev. Thomas Bellas (or more correctly Belasyse) of Long Marton, Westmoreland, by whom (who died May 1827) he left at his decease, January 21, 1841 and had issue, 1) Robert (Rev.). M.A. born October 17, 1812, late Fellow of Brasenose College., Oxon, Rector of Selham, Sussex, who inherits from his maternal grandfather the old Manor House of Brampton Hall, near Appleby married April 11, 1844, Eliza-Frances, younger daughter of Charles-Caspar Clutterbuck, Esq. of North Cadbury, Somerset and by her (who died May 1827) had issue, i) Herbert-Belasyse born June 28, 1846.  ii) Adela-Eliza-Wentworth married August 30, 1876, Richard-John the younger son of Rev. Edward Davies, Rector of Himley. iii) Constance-Irene. 2) Edward, now of Haine. 3) Herbert-Cautley born December 15, 1816 married 1st Miss Catherine Allen; and 2nd 1860, Alice H., the daughter of Robert Nasinyth, Esq., Edinburgh and died July 25, 1876 leaving by his 2nd wife Reginald; Cautley; Catherine and Louisa. 4) Henry-Leith 5) Mary-Eleanora maried 1838, Robert Chapman, Esq. 6)Emma married Edward Murray, Esq. an officer in the army, and died leaving issue. 7) Frances-Elizabeth died unmarried. Seat ~ Haine, Lew Down, Devon.
BLACKBURNE OF HALE AND ORFORD.
Blackburne, John Ireland, Esq. of Orford Hall, and Hale Hall, Co. Lancaster, J.P. and D.L., late Capt. 5th Dragoon Guards and now Lieut.-Col. Commanding 4th Royal Lancashire Militia, M.P. for South West Lancashire, born May 28, 1817; married 1st November 12, 1846, Mary the eldest daughter of Sir Henry Bold Hoghton, Bart. of Hoghton Tower, Co. Lancaster and by her (who died April 30, 1855) has issue, 1) Robert Ireland born October 13, 1850  2) Dorothea-Anne 3) Emily who married 1st William Hope Edwardes, Esq., the eldest son of J.H. Hope Edwardes, Esq. of Netley, Shropshire. He died September 1867. She married 2nd 1873 Robert Crawford Antrobus, Esq., the 3rd son of Sir Edmund Antrobus, Bart. of Amesbury Abbey, Wilts. 4) Margaret-Everilda married 1873 John Edwards the eldest son of Sir J. Edwards Moss, Bart. of Otterspool. He married 2nd February 23, 1857 Emma-Jemima, Viscountess Hereford the daughter of George Ravescroft, Esq., which lady died October 26, 1870.
Lineage ~ This branch of the Blackburn family came from Yorkshire, temp. Elizabeth, and settled at Garstang, in Lancashire.  William Blackburn, an extensive Russian Merchant, originally from Yorkshire, was of Thistleton, in Lancashire; he was the father of two other sons, William and Thomas.  Richard Blackburne, Esq. first of Scorton Hall, near Garstang, then of Thistleton, and lastly of Newton, all in Lancashire. He married Jane the daughter of John Aynesworth, of Newton and their 3rd son, Thomas Blackburne, Esq. of Orford and Newton, bapt. June 9, 1604 married Margaret the daughter of Robert Norris, Esq. of Bolton, Co. Lancaster and had nine daughters and seven sons; of the latter the 4th, Jonathan Blackburne, Esq. of Orford and Newton born 1646; married twice, 1st Anne the daughter of Thomas Leyer, Esq., and relict of C. Lockwood, Esq. of Leeds, by whom he had three sons, Thomas; John, of whom presently; and Jonathan.  He married 2nd Bridget the daughter of Thomas Bloomfield of Little Leigh, Co. Chester and had by her four daughters, Margaret married July 20, 1686 to Thomas Patten, Esq. of Warrington; Bridget married April 13, 1697, Henry Richmond Esq. , grandfather of Bishop Richmond; Martha married Samuel Brinston, Esq.; and Catherine who died without issue. The 2nd son of the 1st marriage, John Blackburne, Esq. of Orford Hall, became, by purchase Lord of the Manor of Warrington. He married Catherine the daughter and co-heiress of the Rev. William Ashton, B.D., Rector of Prestwich, Lancashire, and by her (who died in 1740 had issue, 1) Thomas his heir.  2) John of Liverpool, Merchant Mayor 1760 married Dorothy the daughter of Borret, Esq. of Appleby, Westmorland, and had with other issue, i) John of Hawford House, Co. Worcester and Wavertree Hall, Lancashire, Lord of the Manor of Garston, Lancashire and Mayor of Liverpool 1788. He married 1st Mary the daughter of Jonathan Blundell, Esq. of Liverpool and had an only daughter and heiress, Alice-Hannah who married 1814 Thomas Hawkes of Himley House, Co. Worcester, M.P., for Dudley. Mr. Blackburne married 2nd Ellinor the daughter of Matthew Stronge, Esq., Mayor of Liverpool 1768, and sister of SIr James Stronge, 1st Bart. of Tynan Abbey, Co. Armagh.  ii) Thomas who settled at Lynn Regis, Norfolk married 1st Sarah the daughter and heiress of Thomas Steward, Esq. of Lynn, by whom he had one son who died young. He married 2nd Lucy the daughter of the Rev. Brooke Hurlock, of Lemarsh, Essex, and by her had two sons, Jonathan and Thomas. iii) Ashton of Liverpool 3) Jonathan an eminent antiquary. 4) William of Leeds married Miss Preston of the Park and had two sons in the East Indies. 4) Ashton 5) James 6) Anne of Fairfield near Warrington, the great naturalist and correspondent of Linnaeus died unmarried. The eldest son Thomas Blackburne, Esq. of Orford Hall born May 19, 1720; High Sheriff of Lancashire in 1763 married Ireland the daughter and co-heiress of Isaac Green, Esq. of Childwall and Hale, by Mary his wife the daughter and eventual heir of Edward Aspinwall, Esq. of Aspinwall, and Eleanor his wife, eldest sister and co-heir of Sir Gilbert Ireland, of The Hutt and Hale, lineally descended from Sir John de Ireland, temp. Conquestoris.  Mr. Blackburne died January 16, 1768 having had issue, 1) John, of whom presently 2) Thomas, LL.D., J.P., and Warden of the Collegiate Church of Manchester, resided at Thelwall Hall, Cheshire. He married Margaret the eldest daughter of Sir Richard Brook, Bart., and died 1823 leaving two daughters. Mary married Rev. Peter Leigh, Rector of Lymm; and Anne married Ralph Peters, Esq. 3) Isaac of Warrington, High Sheriff 1803 born November 26, 1750 married June 13, 1793 Alice the sole daughter and heiress of Walter Kerfoot and died 1830 leaving (with five daughters) five sons i) Walter, E.I.C.S. , born December 19, 1795 ii) John, E.I.C.C. born May 19, 1797 died unmarried June 17, 1850. iii) Isaac, Capt. 41st regt. foot, born August 15, 1803 died unmarried December 17, 1847. iv) Thomas (Rev.), A.M., Rector of Bygrave, Co. Herts born July 24, 1803. v) William, Lieut. Col. 69th regt. born February 20, 1810. 4) Anne married William Bamford, Esq. of Bamford. Mrs. Blackburne survived her husband until 1795 when the Hale estate devolved upon her eldest son, John Blackburne, Esq. of Orford Hall and Hale, F.R.S., D.L, born August 5, 1754 High Sheriff and Lancashire in 1781 which country he represented in Parliament for 46 years.  He married April 19, 1781 Anne the daughter of Samuel Rodbard, Esq. of Evercreech, Somerset and by her (who died 1823 had issue, 1) John-Ireland his heir 2) Thomas (Rev.) M.A. Rector of Prestwich, previously Vicar of Eccles, County Lancaster born 1790 married Emma the daughter of Henry Hesketh, Esq. of Newton, Co. Chester, and died leaving issue; his eldest son and heir, William-Ireland Blackburne, married Charlotte-Emma the only child of Peter Maze, Esq. of Portland Place, London, and assumed in consequence by royal license, December 1, 1855 the additional surname and arms of Maze. 3) Gilbert Rodbard (Rev.), M.A., Rector of Long Ashton, Bristol born May 15, 1800 married August 9, 1832, Charlotte-Catherine-Frances, the eldest daughter of the late Gen. Sir Montagu Burgoyne, Bart. of Sutton Park, Bedfordshire, and has had issue i) Gilbert-Ireland-Montagu, born October 13, 1834 married October 1867 Laura-Ellen daughter of T. Drayton, Esq. and has issue. ii) Montagu-John born May 1836 died 1838. iii) Avena-Catherine. 4) Mary married George-John Legh, Esq. of High Legh, Cheshire. 5) Anna married Edwin Corbertt, Esq. of Darnhall, Cheshire. 6) Elizabeth died unmarried. 7) Harriet died unmarried. Mr. Blackburne died April 11, 1833 and was succeeded by his son, John-Ireland Blackburne, Esq. of Orford Hall and Hale. J.P. and D.L., M.P. for Warrington and Newton 1835 to 1847, born May 26, 1783 married April 13, 1811 Anne the daughter of William Bamford, Esq. of Bamford, Lancashire and by her (who died 1861) had issue,  1) John-Ireland, now of Orford and Hale. 2) Emily born February 7, 1863. 3) Harriett-Elizabeth 4) Ellinor-Avena married December 14, 1854, Russell-Charles Stanhope, Esq. (nephew of the late Earl of Harrington) who died September 16, 1866. Mr. Ireland Blackburne died 1874.
BLACKBURNE OF RATHFARNHAM CASTLE 
Blackburne, The Late Right Hon. Francis of Rathfranham Castle, Co. Dublin born November 11, 1782; married 1809 Jane the daughter of James Martley, Esq., M.D., son of John Martley, Esq. of Ballyfallan, Co. Meath and had issue, 1) William-Martley of Taskardstown, Co. Meath born 1821; married Mary the daughter of the Rev. William Thorpes, D.D. and died May 8, 1868 leaving by her (who married 2nd December 10, 1869, George Lefroy, Esq. son of the late Lord Chief Justice Lefroy) two sons and one daughter.  i) Francis-William of Tankardstown, J.P. ii) Augustus-Edward-William iii)Eva-Amabel. 2) Francis born 1822 died unmarried 1863. 3) Edward of Rathfarnham Castle, Co. Dublin born 1823; married 1857 Georgiana daughter of the late Robert Graves, Esq. of Merrion Square, Dublin and has issue, Francis born 1859 and Georgiana-Beatrice. 4) Frederick-John, J.P. of Rennie House, Co. Cork, and Keymer, Sussex born 1827 married 1856 Annette, the daughter of Eardley Hall, Esq. of Wilmington, Essex, and died October 1863, leaving a son, Frederick-John-Eardley.  5) John-Henry born 1828 married 1857, Elizabeth the daughter of Anthony Crofton, Esq. of Lincoln's Inn, Barrister-at-Law. 6) Arthur died unmarried 1867. 7) Alicia-Catharine married Capt. George Daniel, R.N., who died 1856. 8) Jane-Isabella married Thomas-Rice Henn, Esq., Q.C., of Paradise Hill, County, Clare. 9) Elizabeth married Thomas-Percival Wesby, Esq. of Roebuck Castle, Co. Dublin and died 1863. This distinguished lawyer, who held in Ireland the great legal appointments of Attorney-General, Master of the Rolls, Lord Chief Justice, Lord Justice of Appeal, and Lord High Chancellor, was educated at Trinity College (where he gained the gold medal), and was called to the Irish Bar 1805.  In 1822 he became King's Counsel and in 1826 Serjeant-at-Law. He died September 17, 1867 and was buried at Mount Jerome, Co. Dublin.
Lineage ~ George Blackburne, of Co. Meath (grandfather of the late Right Hon. Francis Blackburne), died in March 1769 leaving by Mary his wife, a daughter Mary and three sons, Richard; Edward, J.P., for Meath; and Anthony, Barrister-at-Law, whose will proved June 1, 1804; he left issue, Anthony, J.P., of Parsontwon, Co. Meath, High Sheriff 1829, and three daughters of whom the eldest married Anthony Crofton, Esq. The eldest son, Richard Blackburne, Esq. of Great Foot'stown, Co. Meath, married Elizabeth the daughter of Francis Hopkins, Esq., by Jane Foster his wife, and by her (who died 1826) had issue,  1) Francis (Right Hon.), late of Rathfranham Castle. 2) Jane married William Webb, Esq., Deputy Commissary-General and died 1860. 3) Eliza 4) Anna-Maria. Mr. Blackburne died 1798. Seat ~ Rathfarnham Castle, near Dublin.
Negroes in Michigan during the Civil War
On April 13, 1827, a law was passed which required all "black people to register at the county clerk's office after May 1, 1827."  Those Negroes who did not have their "free papers" would not be permitted to reside in the territory. In addition, those Negroes who met all other requirement for residence had to post a five hundred dollar bond to insure their continuous "good behavior".  All Negroes who could not meet the requirement were forced to leave the territory. Many merely crossed the river and entered Canada. Thus the Negro population of Detroit was reduced to sixty-six free Negroes. This restrictive law of 1827 did not hinder Negroes from coming to Detroit on their way to Canada.  Since the law of 1827 was never strictly enforced, many stayed here. Whenever their qualifications for residence were too closely checked, they merely crossed the river. One couple who stopped in Detroit rather than go into Canada was Mr. and Mrs. Thornton Blackburn. Their plight had a tremendous impact upon the future of Negroes in Michigan.  In 1831, Thornton Blackburn and his wife escaped from Louisville, Kentucky. They became members of the Negro community and were apparently well liked. In 1833, they were apprehended by their owner who invoked the Fugitive Slave Law of 1793, and had Sheriff Wilson place them in the city jail until they could leave on the steamer, Ohio for Louisville.  For this service the sheriff and his deputy received fifty dollars each. Meanwhile the Negro community was angered by the affair which in their point of view was a miscarriage of justice. The steamer, Ohio, was to leave on Monday. On Sunday, Mrs. Madison Lightfoot and Mrs. George French, two of Detroit's most prominent colored matrons were allowed to visit Mrs. Blackburn in the city jail.  Mrs. Blackburn exchanged clothing with Mrs. French and in this disguise left the jail and was quickly taken across the Detroit River to Amherstburg, Ontario. When Sheriff Wilson discovered the hoax, Mrs. French was threatened with the fate of permanently taking Mrs. Blackburn's place and this entailed being taken back to Kentucky where she would be sold into slavery to compensate the owner for the loss of one female slave.  Later that day, however, Mrs. French was allowed to leave the jail. The following day when Mr. Blackburn was to leave the jail to be returned to slavery a crowd of Negroes gathered outside the jail. They were angry, and the situation was rife with danger. As the sheriff, his deputy, the slave owner, and his slave approached the prison coach, the crowd drew closer. Blackburn asked the sheriff if he might speak to the crowd in order to allay their fears and to appease their anger.  As the people crowded in to hear Blackburn, someone slipped him a pistol which he brandished and ran into the coach where he locked himself in, and promised to kill whoever attempted to recapture him. The remaining members of the original quartet ran back into the jail for safety. The group of white people who had been looking on immediately came to the rescue of Sheriff Wilson. In the melee which followed, Blackburn was slipped from the coach by Sleepy Polly, and Daddy Walker whisked him away to Canada.  Sheriff Wilson was fatally wounded by an unknown assailant. The prison coach was disabled so that the pursuit of Blackburn was impossible. Daddy Walker threw any possible pursuers off of the trail by going out Gratiot and then doubling back to River Rouge where he and Blackburn escaped by boat to Sandwich, Ontario. We have seen this particular scene played out in countless motion pictures. The only missing element is the man who said, "They went thata way". Meanwhile back in Detroit a full scale race riot was in progress.  In the subsequent examination, those persons involved were fined and sentenced to work on the street repair gang. Mr. Lightfoot was jailed for allegedly slipping the gun to Blackburn. Mr. and Mrs. French fled to Canada. Many Negroes who had not been involved in the Blackburn Affair planned a march in order to protest mob brutality and various injustices. Mayor Chapin issued a proclamation which silenced the planners of this demonstration. The proclamation stated that all Negroes who could not prove that they were free would be expelled from Michigan.  And once more there was an exodus to Canada. Thus ended what the white citizenry of Detroit termed "The First Negro Insurrection." Authorities in Michigan tried to convince the Canadian government that Thornton Blackburn was indeed the man who had mortally wounded Sheriff Wilson. The Canadian government, apparently not convinced, did not extradite him. Blackburn joined his wife in Amherstburg and moved on to Toronto where he became a highly respected member of the community. In 1843, Thornton Blackburn in a disguise slipped back to Kentucky and helped his mother escape into Canada.  The Blackburn Affair was not only a cause celebre but for some, an outlet for apparent guilt and shame at man's perpetual inhumanity to his fellow man. One writer has explained it this way: During the 1840's and 1850's a great wave of reforming zeal swept across America. Scholars have traced its beginning to a series of religious revivals in western New York state led by Charles S. Finney in the 1820's…. This spirit expressed itself in many different ways: the movement for the abolition of slavery, the temperance crusade, the campaign for women's rights, anti-Catholicism, dietary reform, new religions, Utopian socialism, prison reform, new schemes for education, and others.
LUKE P. BLACKBURN, M.D.
Physician and Surgeon, was born June 16, 1816, in Woodford county, Kentucky.  His father, Edward M. Blackburn, was educated as a lawyer, but soon abandoned the law, and became one of the most considerable farmers and stock-raisers in the State.  His thorough-bred horses, and their descendants, have long been celebrated in America. The subject of this sketch graduated in medicine in Transylvania University, and commenced the practice of his profession in Lexington, Kentucky; and there married Miss Ella Guest Boswell, daughter of Dr. Joseph Boswell, of that place.  When the cholera broke out, in 1835, at Versailles, Kentucky and some of the resident physicians were dead, and others had fled from the town, he alone, for days, answered the call to Lexington for medical aid. His efforts were so successful, and his work so self-sacrificing, that, when the scourge had passed away, he was warmly pressed by the people of Versailles to locate among them.  This dangerous service rendered the citizens of Versailles was without pecuniary compensation, and brought him deserved distinction at the very beginning of his professional career. He removed to Versailles, and soon established an extensive and lucrative practice. His circumstances became so favorable, that he also went into the manufacture of bagging and rope; but the financial depression of 1839 stopped his operations, and greatly involved him.  In 1843, he was elected to the Legislature, defeating his opponent by a large majority. In 1846, he removed to Natchez, Mississippi; and, although without means, soon acquired a very large and valuable practice, and gained considerable distinction over a great part of the South. In 1848, when yellow fever appeared in New Orleans, he was Health Officer at Natchez, and the city authorities directed him to establish quarantine, which he did effectually, and became so interested in the sufferings of the marines, for whom the General Government did not provide, as well as hundreds of others, that he built a hospital, at his own expense, in which he again established a reputation for personal daring, professional skill, and genuine philanthropy.  Gov. Albert Y. Brown, member of Congress from Mississippi, presented the card of Dr. Blackburn in Congress, and stated that the necessities of a marine hospital at Natchez were so great, that one of his constituents, at his own expense and risk, had taken charge of large numbers of the suffers. A bill was at once passed, providing for the erection of the Natchez Hospital, and, finally, resulting in the establishment of ten other similar institutions over the country. This result, of course, was largely due to his individual risks, and the value the Government attached to them. He was appointed surgeon to the new hospital, and, for many years, held that position, both in the state and Marine Hospital. He early advanced the theory of exemption from Asiatic Cholera, by the use of pure soft water; and has long been a believer in the transmissibility and infection of yellow fever; and, in 1854, protected Natchez from that disease, by a rigid quarantine, when it prevailed in the surrounding country.  The Legislature of Mississippi commissioned him to visit the Legislature of Louisiana, and urge the body to establish a quarantine below New Orleans. He presented his cause ably before both branches of the Louisiana Legislature, and was authorized to establish, below New Orleans, the present quarantine system. In 1855, his wife died; and in 1857, he visited the principal hospitals of England, Scotland, France and Germany. In Paris, he met Miss Julia M. Churchill, of Kentucky, to whom he was married, in November of that year, on their return to America. He then located in New Orleans, and resumed practice, with his usual exceptional success and popularity. When the war broke out, he had, far in advance, espoused the cause of the South, and was the political friend and physician of Gen. J.A. Quitman, and, in fact, one of the original secessionists. He was at once attached, as surgeon, to the personal staff of Sterline Price, and the Legislature of Mississippi put fifty thousand dollars in his hands, to be applied to the benefit of the suffering soldiers of that State, wherever he might find them.  Gov. Pettis now commissioned him to go to the borders, to superintend the furnishing of supplies by the blockade runners. He joined his family in Canada, for the purpose of carrying out his commission. In 1864, by request of the Governor-General of Canada, he repaired to the Bermuda Islands, to look after the suffering citizens and soldiers; and on his way was very flatteringly received by the Governor-General of New Brunswick and Nova Scotia, also, by Sir Admiral Hope, of the British squadron; and his services afterwards favorably recognized by the Queen's Court of Admiralty. In 1856, the yellow fever spread among many families in the vicinity of Fort Washington, on Long Island, from an infected ship; and Dr. Blackburn, then being on a visit to New York, was invited, by the Mayor, to give his aid to the afflicted district, which he did, refusing all proffered compensation for his services. In 1867, he returned to the United States, and engaged in planting, in Arkansas, where his wife has a plantation. In 1873, he returned to Kentucky, and now resides at Louisville, in the active practice of his profession.  When the yellow fever last visited Memphis, he volunteered his aid, and rendered great service to the suffering of that city. This has been one of the great pleasures of his life, to aid those in extremest dangers; never having failed to respond to the call of the sick and distressed; and has actually combatted more epidemics of cholera and yellow fever than any other living physician; and probably no better authority on those fatal diseases is now known in the medical profession. Although somewhat beyond the prime of life, his active and vigorous, and of splendid personal appearance, warm and quick in his impulses, but is never separated from his native dignity and courtesy. His brother, Hon. J.C.S. Blackburn, is a member of Congress from Kentucky; his brother, Maj. James Blackburn, is a member of the Kentucky Senate; and his only child is Dr. Cary Blackburn, a successful physician of Louisville.
THE BENJAMIN BLACKBURN FAMILY
The name of Blackburn is of very ancient origin.  As early in English History as the time of Ethelbert, King of England, A.D. 596, reference is made to Blagborneshire in the following quotation: "In those times while the said churches had thus been built, there was not, in Blagbornshire, at Cliderhowe, or elsewhere, a castle built, nor any chapel, whatever beside the above named churches, nor any lord who had ever claimed the patronage of the said churches, etc."  The name appears under many spellings Blagborn, Blakeburn, Blackborne, Blackburn. It would seem to be of English or Scottish origin and mean "black brook", or "black river". However, the first person of whom we can find authentic record was a knight who doubtless came over with William the Conqueror in 1066 and helped conquer Saxon England and received for his services "The Blackburn Manor" in Lancaster Shire in northwestern England together with some 1800 acres of fertile land thereto adjacent.  He bore the name of Gamaliel de Blackburn, if he was Norman, as the "de" seems to indicate, the writer is inclined to think that he adopted the name of Blackburn from the rich estate he so unceremoniously inherited. Be that as it may, it is certain that the name of Blagborne was given to the site of the present City of Blackburn long before the Norman Conquest, and that the Blackburns moved out from this center eastward into Yorkshire and northward into Scotland and southward toward London. When James Stuart came to the throne of England, he found North Ireland depleted of inhabitants by civil wars.  He offered to his Scotch lowland subjects the opportunity to secure tracts of 1000 to 2000 acres, on the condition that they would build a castle or substantial manor within four years and keep on each one thousand acres at least twenty-four men who were capable of bearing arms. These Scotch emigrants to Ireland ( Blackburns among them) were the ancestors of the Scotch-Irish emigrants, some 34,000 of whom came to America between 1730 and 1760. They came bringing with them he Solemn League and Covenant, the Westminister Confession of Faith and the Presbyterian Church Organization. Rebuffed by the unfortunate Stuarts, harshly treated by their English rulers, they came with their hearts filled with hatred against their English kinsmen.  When the war of the Revolution broke out, the American cause found no more ardent supporters than it found among these Scotch Irish Presbyterians. The historian Bancroft says that the Revolution was fought by the Presbyterians. George Washington is reported to have said that if were deserted by all others "he would retreat to the backcountry and rally the Scotch Irish Presbyterians around him and fight to the bitter end." Among these Scotch Irish emigrants who came to America in the early part of the 18th century, were many families of the Blackburns. Many references may be found to the Blackburns. We read that in 1397 Christopherus de Blackurn was "an extensive Russian merchant:; in the time of Queen Elizabeth a branch of the family emigrated from Lancaster to County Meath, Northern Ireland; a Rt. Hon. Francis Blackburn appears as Lord High Chancellor of Ireland; in 1406 a Nicholas Blackburn was Lord High Admiral in the British Navy, and tradition says that he was shipwrecked on the coast of Scotland, where he met and later returned to wed a princess of the Stuarts.  Peter Blackburn was rector of St. Nicholas Church, Aberdeen in 1603. Six generations of "Francis Blackburns" all men of note, appear in York from 1650 to 1850. Lancelot Blackburn was Archbishop of York in 1724. Thomas Blackburn was warden of Christ's College, Manchester, 1798. John Blackburn was King's Counsel in 1833 and William Blackburn was made a General in 1854, and others of lesser note are to be found in the records. Therefore it is not surprising that any effort to link up the various families of Blackburns in America would end in failure.
GIDEON BLACKBURN OF BLACKBURN COLLEGE 
The write of this sketch has been to some effort to trace the ancestry of the Reverend Gideon Blackburn, founder of Blackburn College at Carlinville, Illinois.  He has written to many who bear the name of Blackburn in hopes that the lost links of descent might be found. He would be quite content if he could learn the birthplace of Benjamin Blackburn, the grandfather of said Dr. Gideon Blackburn, and whether this grandfather of his father first came to America and from what land they emigrated.  This information is doubtless available if one knew where to look. It seems wise to the writer, even at the risk of becoming tedious, to record in some logical order the facts and traditions of which he has become informed in order that the path may be easier for someone else to follow and that some of these traditions regarding Dr. Blackburn and his ancestry that have come down to him by word of mouth may find a permanent place on the written page ere they become forgotten.  Before entering upon a detailed genealogy of the Benjamin Blackburn line (grandfather of Dr. Gideon Blackburn) we will first speak of several Blackburn lines who are now living in America and who may or may not be closely related to Dr. Blackburn's family.
BLACKBURNS OF RIPPON LODGE   
Colonel Richard Blackburn was born in 1706 at Rippon Hall, Yorkshire, England; educated at Balliol College, Scotland, and emigrated to America as a youth to inherit – so it is said – a fortune left to him by an aunt in the Virginia Colony.  He settled at Dumfries, virginia, and gave to his home seat the name, Rippon Lodge. He married Mrs. Ashton, widow of Col. Henry Ashton. Her maiden name was Mary Watts, daughter of Richard Watts, of the celebrated Isaac Watts family of England.  Col. Richard Blackburn was a prominent figure in Colonial days and was highly esteemed for his ability, and integrity. He was Colonel of virginia forces in the Indian Wars and was for many years a member of the Virginia House of Burgesses. As architect he built Mt. Vernon in 1733 for Lawrence Washington, an elder half-brother of Gen. George Washington.  On June 9, 1733 Richard Blackburn agreed with the Vestry to build a church at the cross-roads near Michael Reagen's – – – – done after the same manner as the work upon the Pohick Church was done for the sum of 33,500 lbs of tobacco. Edward Blackburn, on January 9, 1734, gave his brother, Richard, his Power of Atty and left his son Edward in his care and departed for the Bermudas.  Richard in his will mentions: "to my eldest son John Blackburn; Jane, wife of Maj. John Bayliss; Ann, wife of John Carey; Alice, wife of Wm Elliott; to male issue of Mary, wife of John Ballendine." Different sources vary in the list of the children of Richard and Mary Blackburn; we submit the following: Richard Blackburn, drowned no issue; Jane Blackburn (1733-1765) who married Maj. John Bayliss; William Bayliss married Elizabeth; Henry Bayliss; Lucy Bayliss married Equella Dyson; Jane Bayliss married George Reno; Ann Blackburn born 1735 married John Carey; Mary Blackburn born 1737 married John Ballendine; Alice Blackburn (1738-1795) married Col. Thomas Elzy of Loudon County; John Blackburn (1740-1760); Thomas Blackburn (1742-1807) married Christian Scott, daughter of Rev. James Scott; Richard Scott Blackburn (1760-1804) married Judith Ball; Ann Maria Thomasina Blackburn (1790-1833) married Bushrod Corbin Washington; Jane Charlotte Blackburn died 1855 married John Augustine Washington; Thomas Blackburn born 1765; Anna Blackburn (1768-1829) married Judge Bushrod Washington in 1785. No issue; Sarah Blackburn married Nathaniel O. Crawford of Kingston Park, Maryland; Catherine Blackburn married Henry Smith Turner of Wheatland, Jefferson Co., Va.; and Mary Elizabeth Blackburn.   The Washingtons who married Blackburns are as follows: John Augustine Washington (1736-1787) younger brother of Gen. George Washington married Hannah Bushrod. Their children were: Jane Washington who married William Augustine Washington her 1st cousin; Mildred Washington who married Thomas Lee son of Richard Henry Lee; Bushrod Washington married Anna Blackburn; Corbin Washington married Hannah Lee the daughter of Richard Henry Lee.
COL. THOMAS BLACKBURN was a worthy successor of his eminent father.  In 1774 and 1776, he was elected to the House of Burgesses; he was appointed a member of the Committee of Safety, December 9, 1774, from his county; he was a member of the Virginia Convention in July and December 1775; was a member of the Virginia Association for the support of the Constitutional Liberties of America; sat in councils of State with Washington, Jefferson, Madison, Mason, Patrick Henry, Tazewell, Pendleton Lee, Randolph and others and was their intimate associate.  On December 20, 1776 he was selected Lt. Col. of the Second Regiment of Virginia Infantry by the House of Burgesses in joint ballot with the Senate. During the ensuing winter he kept his regiment on his estate feeding and clothing the men and returning them to Washington's army in the Spring without charge to the Government. At the Battle of Brandywine, while serving as voluntary aide-de-camp on the staff of General Washington, he received a ball in his thigh, which lamed him for life and which was not removed until 1783.  Col. Blackburn was an unselfish patriot and like Gen. Washington declined the salary to which his rank entitled him. At Washington's funeral he occupied a place of honor. His home, Rippon Lodge, was 12 miles south of Mt. Vernon, and General Washington frequently stopped overnight with the Blackburns on his way to visit his aged mother at Fredericksburg. In politics he was a Federalist. A letter written by him on the Jefferson-Burr crisis was published in the William and Mary Quarterly "Proves his zeal to have been tampered with judgement and true love of country."  The wedding breakfast held at Mt. Vernon in 1785 for Judge Bushrod Washington and Anna Blackburn, his wife, was the subject of the famous painting, said to have been by Stewart, and the artist gave full justice to the charms of the future mistress of Mt. Vernon and her beautiful sister, Mrs. Henry Smith Turner. Upon the death of Mrs. Martha Washington, Judge Bushrod Washington inherited Mt. Vernon, where Ann Blackburn Washington reigned as mistress until the death of her husband on November 26, 1829, whom she followed to the grave two days later. Mt. Vernon then passed to John Augustine Washington, who had married Jane Charlotte Blackburn, a niece of Anna Blackburn.  Monuments to Anna Blackburn, Jane Blackburn and their husbands stand in front of the tomb of Gen. George Washington at Mt. Vernon. When Jane Blackburn Washington died in 1855 and her body was laid in the family vault at Mt. Vernon, it is related that the key thereto was thrown into the Potomac River. Rippon Lodge was built by 1720 and passed from Richard Blackburn to his son, Col. Thomas Blackburn, who in turn bequeathed it to his son, Richard Scott Blackburn. The present owner (1941) is the Hon. Wade H. Ellis of Washington, D.C., who has done much to restore this historic home to its former elegance.
THE KENTUCKY BLACKBURNS
An extended history of this family may be found in the Register of the Kentucky Historical Society, May 1920, page 73, and January 1921, page 20 under the caption "Woodford County Notes", contributed by William E. Railey.  However, the writer of the above mentioned article is in error where he states that Dr. Gideon Blackburn came to Kentucky in 1794 and was a younger brother of George Blackburn, the founder of the line we will now undertake to give.  George Blackburn was born in Virginia January 16, 1746/47. He was the son of Edward and Ann Blackburn of Middlesex County, Va., and the grandson of William and Elizabeth Blackburn of the same county and state. George Blackburn married Prudence Berry in 1771, the daughter of Major William Berry and Molly Pryor.  Molly Pryor had several brothers: Joseph the younger and the least of them, weighted 220 pounds. George and Prudence Blackburn moved to Kentucky in 1797. They settled in Woodford County and there he built a stockade against the Indians, which was known as "Blackburn's Fort." The children of George Blackburn and Prudence Berry were 1) William Blackburn who married Martha Watkins, half sister of Henry Clay 2) Jonathan Blackburn who married Prudence Buford  3) Mary Blackburn who married Capt. George Holloway 4) George Blackburn Jr. who married 1st Julia Flourney 2nd Anna Branham 5) Luke Blackburn who probably never married. 6) Edward M. Blackburn who married Lavinia Berry 7) Elizabeth Blackburn who married Samuel Lewis. 8) Mildred Blackburn who married William White. 9) Margaret Blackburn who married John Kinkead. 10) Ann (Nancy) Blackburn who married Anthony Bartlett 11) Dr. Churchill Blackburn who married 1st Eleanor Arnold 2nd Lydia Paxton.  William Blackburn and Martha Watkins had issue as follows: 1) Henrietta Blackburn who married three times, each of her husbands being her first cousin, and each a cousin of the other. First, Dr. David Flourney Blackburn, by this marriage one son, David Flourney Blackburn Jr.; by her second marriage to Thomas Barlett, William and Prudence Bartlett, both blind from birth; third marriage to Francis Holloway, no issue. 2) Henry C. Blackburn, who married Susan Chiles; they had one son at least, named William.  Henry C. Blackburn moved to Rock Island, Ill. before the Civil War. 3) Prudence Blackburn 4) Jonathan Blackburn. William B. Blackburn was a prominent and able statesman. He was in the Kentucky House of Representatives during the years 1804-07, 1811-16, 1825-28; was Lieutenant Governor in 1818-20; was in the state Senate in 1822-24 and 1834-38. Jonathan Blackburn and Prudence Buford had a son, Major William Blackburn, who married Mary Bohannan. Major William Blackburn moved to St. Louis, Mo., where numerous descendants are to be found.  Jonathan Blackburn is said to have been a Baptist preacher, but never had a regular appointment, preaching where and when he pleased. Mary Blackburn and Captain George Holloway had issue: 1) Mary Ann Holloway who married Dr. Leonard Young Hodges. 2) George Holloway Jr. who married Mary Hodges 3) Mildred Holloway who married Judge John M. Hewitt 5) Frank P. Holloway who married 1st Mary Branton; 2nd Henrietta Blackburn Bartlett, his own cousin and the widow of his cousin Thomas Barlett. 5) Georgia Ann Holloway who married 1st Wm. T. Willis 2nd a Mr. Johnson  6) Martha Holloway who married a Mr. Monroe. George Blackburn Jr. a Baptist minister and his wife Elizabeth Julia fourney had the following children 1) David F. 2) Elizabeth 3) Prudence 4) Natley 5) Ann 6) Cassandra and 7) George Blackburn III. Edward W. Blackburn commonly known as "Uncle Ned" and Lavinia Berry lived on the old farm of George Blackburn, the pioneer, near Spring Station on the L&N Railway. They were the parents of a large family; three of whom became well and favorably known for their public services. Dr. Luke Blackburn was Governor of Kentucky in 1879-1883 was also a member of the committee of doctors who successfully combated yellow fever in the south.  Captain Jo. C.S. Blackburn another son was representative in the Kentucky Legislature a member of the United States Congress in 1875-1885; elected to the U.S. Senate three times; was governor of the Panama Canal Zone in 1907. Captain James Blackburn another son, was a State Senator and also Secretary of State. Concerning the other children of the pioneer, George Blackburn and his wife Prudence Berry there is no data.
STAUTON VIRGINIA BLACKBURNS   
William Blackburn the founder of this line, was born March 27, 1748 in Rollington, East Riding, Yorkshire, England.  When an elder brother returned from America to England on a visit, he took the twelve year old boy, William, back with him.  The name of his elder brother is unknown. William Blackburn married Mary Adham, April 10, 1773. To them were born: 1) Joseph Blackburn 1775  2) Catherine Blackburn 1778 3) Ruth Right Blackburn 1780 4) John Blackburn 1785 5) Ann Blackburn 1791 6) Ann Blackburn 1791 7) Thomas Rolander Blackburn 1794  8) Anna Greatrich Blackburn 1797 9) Elizabeth Blackburn 1799 10) Lydia Blackburn 1802 11) Mary Ann blackburn 1806. Thomas Rolander Blackburn born in Jefferson County, Virginia December 23, 1794 married Mary Ann H. Wright April 6, 1816.  They had the following issue 1) Emily Blackburn 1817 2) William Blackburn 1821 3) Lucy Ann Blackburn 1823 4) Charles James Blackburn 1825 5) Henrietta Marian Blackburn 1828 6) Caroline Matilda Blackburn 1833 7) Mary Catherine Blackburn 1836.  William Blackburn born 1821 married Mary Ann Ast, born November 2, 1828, They had the following issue: 1) Mary Elizabeth Blackburn 2) John Henry Blackburn 3) Alice Virginia Blackburn 4) Thomas Rolander Blackburn 5) Albert Baylor Blackburn 6) Joseph William Blackburn  7) Harriet Ann Blackburn 8) Katherine Lucy Blackburn 9) Ella Guy Blackburn. Joseph William Blackburn married Annie L. Shearer, December 29, 1896. They had the following issue: 1) Marie Hamen Blackburn 2) Joseph Leslie Blackburn 3) Margaret May Blackburn 4) Helen Elizabeth Blackburn 5) Philip D. Blackburn.
Early American Immigration and New World Settlers
Blackburn Settlers in United States in the 17th, 18th & 19th Century
James Blackburn, who settled in Virginia in 1624
Daniel Blackburn who settled in Virginia in the year 1640
Samuel Blackburn, who arrived in Maryland in 1660
Robert Blackburn, who landed in New Jersey in 1685
John BLACKBURN from Glasgow, Merchant and Shipowner – arrived in Norfolk, Virginia. Died 1750.
Andrew Blackburn, who arrived in Georgia in 1751
Richard Blackburn, who arrived in Virginia in 1757
Benjamin Blackburn, who arrived in Bermuda in 1774
Eleanor Wardrobe Blackburn, who landed in Virginia in 1785
Robert Blackburn, aged 36, who arrived in New York in 1816
Thomas Blackburn, who landed in New York in 1846
W Blackburn, who landed in San Francisco, California in 1851
D Blackburn, who arrived in San Francisco, California in 1851
Mr. Blackburn, who arrived in San Francisco, California in 1851
Blackburn Settlers in Canada in the 18th & 19th Century
Ann Blackburn, who landed in Nova Scotia in 1774
Christ Blackburn, who landed in Nova Scotia in 1774
Jacob Blackburn, aged 27, who arrived in Fort Cumberland, Nova Scotia in 1774
Thomas Blackburn, who arrived in Nova Scotia in 1774
Robert Blackburn, who landed in Nova Scotia in 1774
Alexander Blackburn, aged 19, who arrived in Saint John, New Brunswick aboard the ship "Robert Burns" in 1834
Catherine Blackburn, aged 17, who arrived in Saint John, New Brunswick aboard the ship "Robert Burns" in 1834
Blackburn Settlers in Australia in the 19th Century
Thomas Blackburn, English convict from Surrey, who was transported aboard the "Albion" on May 17, 1823, settling in Van Diemen's Land, Australia
Susan Blackburn, who arrived in Adelaide, Australia aboard the ship "Trafalgar" in 1847 [9]
Charles Blackburn, aged 22, who arrived in South Australia in 1849 aboard the ship "Ascendant"
William Blackburn, aged 40, a labourer, who arrived in South Australia in 1855 aboard the ship "Sea Park"
Catherine Blackburn, aged 16, a servant, who arrived in South Australia in 1855 aboard the ship "Sea Park"
Blackburn Settlers in New Zealand in the 19th Century
George Blackburn, who arrived in Auckland, New Zealand aboard the ship "Mermaid" in 1859
Anthony W. Blackburn, aged 24, a farm labourer, who arrived in Wellington, New Zealand aboard the ship "Halcione" in 1870
W. Blackburn, aged 25, a farm labourer, who arrived in Wellington, New Zealand aboard the ship "Halcione" in 1875ane Blackburn, aged 21, who arrived in Wellington, New Zealand aboard the ship "Halcione" in 1875
Mottoes
Praemium, virtus, honor. Reward, virtue, honour.
Pure de fonte. From a clear spring.
Grantees
BLACKBURN, John, F.R.S., read Blackburne ; for Greeve read Green [Green and Aspinwall quarterings granted]; for 18 . . read [11 May 1803]; and add [Genealogist, XXXIV, p. 87].
BLACKBURN (Henry), of Wymondham, cliff., 4 April 1597, 39 Eliz., by R. Lee, Clar. Jlarl. MSS. 1540, fo. 158, and 1085, fo. 37.
BLACKBURN, . . . ., of the Bishoprick of Durham, 4 Apr. 1597, by Camden, Clar. Stowe MS. 697, fo. 121.
BLACKBURN, John, M.A., 1803 is Vol. XXII ; Vol. XXXVI, fol. 129, is 1826.
BLACKBURN, John, of London, Merchantt., only surviving s. of John, late of Wigton, CO. Cumberland, deed., 178 . ., Vol. XV, fol. 361 [dat. 27 Ang. 1784].
BLACKBURN,, John, F.R.S., of Orford and Hale, co. Lane. Quartering, Greeve and Aspinwall, 180.., Vol. XXII, fol. 187.
BLACKBURN" John, M.A., of John's Coll., Camb, Incumbt of Attercliffe-cum-Darnall, co. York,  1803, Vol, XXXVI, fol. 129, GRANTEES OF ARMS, 1087—1898. 35
BLACKBURNE before Maze, William Ireland, of Spring Hill, Boughton, Co. Chester; Prestwich and Eccles, co. Lane.; 18o . ., Vol. LI, lol. 401, 186.., Vol. LVII, fol. 20-1.
Notables 
Alan Blackburn (1935–2014), English footballer
Arthur Blackburn (footballer) (born 1877), English footballer with Blackburn Rovers and Southampton
Arthur Seaforth Blackburn (1892–1960) Australian soldier, Victoria Cross recipient
Barbara Blackburn (d. 2008), American World's fastest typist
Brigadier-General Thomas Welch Blackburn (1892-1964), American Commanding Officer 3rd Fighter Command (1944-1946)
Clarice Blackburn (1921-1995), American actress
Colin Blackburn, Baron Blackburn, a Scottish judge who sat in the English courts
Earl Blackburn, Major League Baseball player
Edmond Spencer Blackburn
Edwin Huitson "Eddie" Blackburn (1957-2018), English footballer who played as a goalkeeper from 1974 to 1987
Elizabeth Blackburn, molecular biologist and Nobel prize winner
Frank Blackburn (born 1944), Louisiana politician
Fred Blackburn (1902–1990), British Member of Parliament
Fred Blackburn (footballer) (1878–1951), English international footballer
Frédéric Blackburn, Canadian short track speed skater
George Blackburn (American football), American football coach
George Blackburn (baseball), Major League Baseball player
George Blackburn (footballer, born 1888), English footballer
Jack Blackburn (rugby league), rugby league footballer of the 1930s, 1940s and 1950s
Jack Blackburn, American boxer and trainer, most notable for training heavyweight champion Joe Louis
John T. "Tommy" Blackburn, U.S. aviator
John T. Blackburn, American fighter pilot and flying ace in the U.S. Navy, during World War II, credited with 11 aerial victories
Lou Blackburn (b. 1922), American jazz trombonist
Michael Blackburn (athlete) (born 1970), Australian Olympic medallist and sailor
Michael Blackburn (poet) (born 1954), British poet
Nick Blackburn, Major League Baseball player
Olly Blackburn, filmmaker and screenwriter
Paul Blackburn (1926-1971), American Poet and translator
Robert Blackburn (artist)
Robert Blackburn (aviation pioneer)
Robert Blackburn (b. 1920), American artist, printmaker and teacher
Thornton Blackburn, escaped fugitive slave from Kentucky
Tom Blackburn (basketball)
Tom W. Blackburn (1913-1992), American writer and lyricist
Tommy Blackburn (1913-1994), American naval aviator and World War II flying ace
Tony Blackburn (born 1943), English disc jockey with Radio Caroline, Radio London and the BBC
Tyler Blackburn (born 1986), American actor, singer and model
William Blackburn, British architect
American Revolution Veterans
Alexander Blackburn, Virginia, Rank of Private
George Blackburn, Connecticut, Rank of Private
James Blackburn, Virginia, Rank of Private
John Blackburn, Pennsylvania, Rank of Private
Joseph Blackburn, Virginia, Rank of Private
Josh Blackburn, Virginia, Rank of Private
Julias Blackburn, Virginia, Rank of Sergeant
Samuel Blackburn, Pennsylvania, Rank of Private
William Blackburn, Pennsylvania, Rank of Corporal
Civil War Veterans
Abraham Blackburn, 145th Regiment, United States Colored Infantry, Union, U.S. Colored Troops
Bryant Blackburn, 2nd Regiment, North Carolina Artillery, Confederate, North Carolina
Charles Blackburn, 98th Regiment, Ohio Infantry, Union, Ohio
Daniel Blackburn, 5th Regiment, United States Colored Infantry, Union, U.S. Colored Troops
Elijah Blackburn, 38th Regiment, Georgia Infantry, Confederate, Georgia
Frederick Blackburn, 2nd Regiment, Pennsylvania Reserve Infantry, Union, Pennsylvania
Gabriel Blackburn, 14th Regiment, United States Colored Infantry, Union, U.S. Colored Troops
Harvey Blackburn, Coleman's Regiment, Missouri Cavalry, Confederate, Missouri
Isaac Blackburn, 1st Regiment, Michigan Light Artillery, Union, Michigan
Jacob Blackburn, 5th Regiment, United States Colored Heavy Artillery, Union, U.S. Colored Troops
Kinion Blackburn, 2nd Regiment, North Carolina Artillery,  Confederate, North Carolina
Lewis Blackburn, 76th Regiment, New York Infantry, Union, New York
Mark Blackburn, 51st Regiment, United States Colored Infantry, Union, U.S. Colored Troops
Nathaniel Blackburn, 20th Regiment, Indiana Infantry, Union, Indiana
Oliver Blackburn, 47th Regiment, Arkansas Cavalry, Confederate, Arkansas
Pleasant Blackburn, 124th Regiment, United States Colored Infantry, Union, U.S. Colored Troops
Richard Blackburn, 12th Regiment, Texas Infantry, Confederate, Texas
Samuel Blackburn, 5th Regiment, Delaware Infantry, Union, Delaware
Thomas Blackburn, 28th Regiment, United States Colored Infantry, Union, U.S. Colored Troops
Wade Blackburn, 1st Regiment, Mississippi Cavalry Reserves, Confederate, Mississippi
Blazons & Genealogy Notes
1) (Baron Raymond, of Abbot's Langley, co. Hertford, extinct 1753; Robert Raymond, Lord Chief Justice of the King's Bench, was so created 1731, the second baron d. s. p.). Sa. a chev. betw. three eagles ar. on a chief or, a rose betw. two fleurs-de-lis gu.
2) (co. Cornwall). Sa. a chev. betw. three eagles displ. ar. on a chief or, a rose betw. two fleurs-de-lis gu. Crest—Out of an earl's coronet ppr. a demi dragon vert.
3) (Exmouth, co. Devon). Sa. a bend vair betw. two ducks or, beaked and legged gu. on a chief of the third three cinquefoils of the last. Crest—On a mount vert a leopard sejant per fess or and sa. spotted counterchanged.
4) (Marpole, co. Devon, and Langley Park, co. Kent). (Valentine House, co. Essex; Charles Raymond, Esq., was created a bart. 3 May, 1774, with special remainder to William Burrell, who had m. his eldest dau. and co heir, Sophia Burrell, and d. 24 Aug. 1789, when the title passed to his son-in-law. See Burrell, Bart., of Valentine House). (Saling Hall, co. Essex). Ar. three bars sa. Crest—A dexter arm embowed in armour, grasping a battle axe all ppr.
5) (London; granted 20 Sept. 1581). Sa. a chev. betw. three eagles displ. ar. on a chief or, a rose betw. two fleurs-de-lis gu.
6) (London; granted 11 April, 1687). Az.an eagle displ. erm. on a chief embattled ar. three pellets. Crest—Out of a mural coronet or, a demi eagle displ. erm. beaked sа. on the breast three pellets, two and one.
7) Sa. a chev. betw. three eagles displ. ar. on a chief of the last a bend engr. betw. two martlets of the first. Crest—A dragon's head erased or, ducally gorged gu.
8) (Belchamp Hall, co. Essex). Sa. a chev. betw. three eagles displ. ar. on a chief of the second three martlets of the first. Crest—A griffin's head or, langued and ducally gorged gu.
9) Sa. on a chev. or, betw. three boars pass. ar. as many eagles' heads erased of the first.
10) Az. an eagle displ. ar. charged on the body with three torteaux in pale, on a chief embattled of the second as many torteaux. Crest—Out of a mural coronet a demi eagle displ. or, charged on the body with three torteaux in pale.
11) (Baron Raymond, extinct 1753). Quarterly, 1st and 4th, sa. a chev. betw. three eagles displ. ar. on ,a chief or. a rose betw. two fleurs-de-lis gu., for Raymond; 2nd and 3rd, or, a fesse gu. over all on a bend sa. five mullets ol the field, for Fisher. Crest—Out of a ducal coronet or, a demi dragon erm. Supporters—Two eagles reguard. ppr. collared or. Motto: Aequam servare mentem.