Blois Family Crest, Coat of Arms and Name History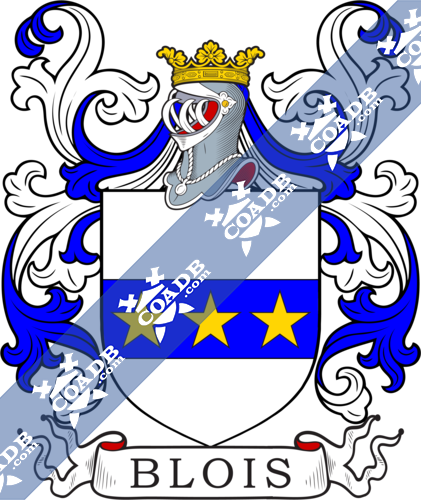 Blois Coat of Arms Gallery
Don't know which Coat of Arms is yours?
We can do a genealogical research. Find out the exact history of your family!
Learn More
This section has not yet been completed. If you are interested in having your genealogy done, we offer an affordable research servicethat traces your lineage so you can learn more about your ancestors, where they came from, and who you are.
Blazons & Genealogy Notes
1) (Cockfield Hall, co. Suffolk, bart.). Gu. a bend vair betw. two fleurs-de-lis ar. Crest—A gauntlet ppr. holding a fleur-de-lis ar. Motto—Je me fie en Dieu.
2) (William de Blois, Earl of Montaigne, son of King Stephen). Gu. three pallets vair., on a chief an eagle displ. of the first.
3) (Comtes de) Écartelé aux 1 et 4 d'azur à deux coquilles posées en chef et une croix ancrée posée en pointe d'argent (de Blois) aux 2 et 3 d'argent au chevron acc de trois bateaux de sable Cimier un dauphin d'argent posé en pal engoulant le sommet du heaume. English: Quarterly 1st and 4th azure two escallops placed in chief and a cross cercelee placed in base argent ( for Blois ) 2nd and 3rd argent a chevron accompanied by three ships sable Crest: a dolphin argent placed palewise swallowing the tip of the helmet.
4) de Blois – Flandre – (Histoire du conseil de Flandre, manuscrit de la Bibliothèque de Gand) JeanBaptiste de Blois, chevalier, conseiller au conseil de Flandre 1601. De gueules à trois pals de vair au chef d'or ch de trois roses du champ Cimier une rose de gueules tigée et feuillée de sinople. English: Gules three palets vair a chief or charged with three roses of the field Crest: a rose gules stemmed and leaved vert.
5) (de) (anciennement de La Croix de Blois de Quartes)Hainaut – (An., 27 août 1698. M. ét. le 15 mars 1841). D'azur à deux coquilles d'argent en chef et une croix pattée du même en pointe. English: Azure two escallops argent in chief and a cross pattee of the same in base.
6) do Blois – Bruges – De gueules à deux fasces bretessées et contre-bretessées d'argent (Dalem) au franc-quartier de gueules à trois pals de vair et au chef d'or (Châtillon) Supports deux léopards lionnés au naturel. English: Gules two bars embattled and counter embattled [i.e. on both sides offset] argent ( for Dalem ) a canton gules threes palets vair and a chief or ( for Chatillon) Supporters two lion passant guardant proper.
7) d'Arondeau – Hainaut – (Vicomtes, oct. 1675; rec. dudit titre, 21 janv. 1823). Parti-émanché de cinq pièces de sable sur or (Botland) au franc-quartier de gueules à trois pals de vair et au chef d'or (Châtillon) Cimier un lion issant de gueules. English: Per pale dancetty [big] of five pieces sable over or ( for Botland ) a canton gules three palets vair and a chief or ( for Chatillon) Crest: a lion issuant from gules.
8) de Botland – Zélande – De gueules à la bande de vair acc de deux fleurs-de-lis d'argent Cimier une main gantelée tenant une fleur-de-lis d'argent Devise JE ME FIE EN DIEU. English: Gules a bend vair accompanied by two fleur de lys argent Crest: a hand with gauntlet holding a fleur de lys argent Motto: JE ME FIE EN DIEU.
9) de Cockfield – Suffolk – (Baronet, 15 avril (1686) – Les armes de Blois d'Arondeau Supports deux lions regardants d'or armés et lampassés de gueules. English: The coat of arms of Blois of Arondeau Supporters two lions reguardant or armed and langued gules.
10) de Feignies – Hainaut – (Rec. de nob., 9 août 1823) – D'argent à deux fasces de gueules ch chacune de trois annelets d'or Cimier un dragon de gueules les ailes levées Supports deux lions au naturel Devise AGERE ET PATI FORTIA. English: Argent two bars gules charged with each by three annulet or Crest: a wyvern gules the wing upright Supporters two lions proper Motto: AGERE ET PATI FORTIA.
11) de La Calande – Picardie, Soissonnais, Bretagne – D'argent à la fasce d'azur ch de trois étoiles d'or. English: Argent a fess azure charged with threes etoile or.
12) de Roussillon – Saintonge – D'azur au chevron d'argent acc de trois poulies du même. English: Azure a chevron argent accompanied by three pulleys [i.e. from a block & tackle] of the same.