Bower Family Crest, Coat of Arms and Name History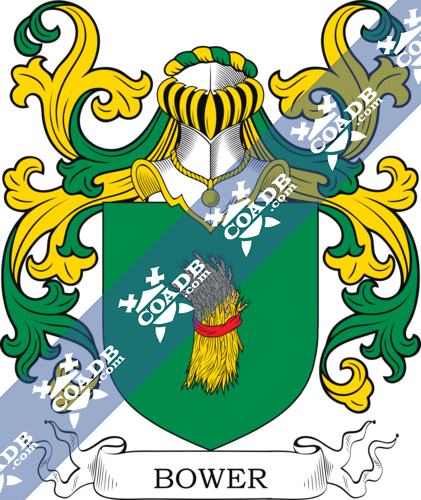 Bower Coat of Arms Gallery
Don't know which Coat of Arms is yours?
We can do a genealogical research. Find out the exact history of your family!
Learn More
This section has not yet been completed. If you are interested in having your genealogy done, we offer an affordable research servicethat traces your lineage so you can learn more about your ancestors, where they came from, and who you are.
Blazons & Genealogy Notes
1) or Booer – (London). Barry of six or and sa. as many escutcheons erm. three, two, and one. Crest—A wolf's head erased erm.
2) (Dorsetshire and Wiltshire). Az. on a saltire or, five trefoils slipped vert.
3) (Kinnettles, Scotland). Vert two bows in full bend paleways ppr. stringed ar. betw. three sheaves of arrows, two in chief and one in base of the second. Crest—A dexter and sinister arm shooting an arrow from a bow ppr. Motto—Ad metam.
4) Or, a bend vair betw. two cottises sa. Crest—A demi Moor ppr. holding a drawn bow and arrow or.
5) Sa. a cinquefoil erm. in chief three talbots' heads erased or.
6) (Welham and Scorton, co. York, resident at an early period at Bridlington, in the East Riding of that shire). Sa. a human leg couped at the thigh, transpierced above the knee by a broken spear, in bend ppr. on a canton ar. a tower gu. Crest—A human leg transpierced as in the arms. Motto—Esse quam videri.
7) (Iwern House, co. Dorset). Sa. three talbots' heads couped in chief ar. langued gu. in the middle point a cinquefoil erm. Crest—A talbot's head ar. Motto—Hope well and have well.
8) (Broxholme, co. York). Quarterly, 1st and 4th, az. a human leg couped at the thigh, and pierced bendwise by a broken tilting-spear or, a chief ar. thereon betw. two castles sa. a pale of the first, charged with a rose of the second, for Bower; 2nd and 3rd, ar. a chev engr. gu., for Chivers. Crest: On a mount vert a quiver az. garnished or, and filled with arrows ppr. in saltire with a bow unstrung, also ppr.
9) (Oxenfield, co. Durham, Visit. 1615). Gu. a human leg couped at the thigh or, vulned and transfixed by a spear broken chevronwise the point downwards to the sinister ppr. on a canton az. surmounted by the dexter half of the spear the arch of a bridge embattled of the third thereon a castle triple-towered of the second. Crest—A human leg couped at the thigh ppr., charged above the knee with a plate.
10) Vert a garb handed and bowed in the head ppr.
11) or Boure – Sa. a cross pattee ar.
12) (Wells, Alverton, co. Somerset, and Donhead, co. Wilts; Edmund Bower, of Wells, and Adrian Bower, of Alverton, sons of Edmond Bower, of Donhead. Visit. Somerset, 1623). Sa. in chief three talbots' heads erased ar. in base a cinquefoil erm.
13) (The Larches, co. Surrey; exemplified to James Marsh Dunn, Esq., eldest son of Richard Marsh Marsh Dunn, Esq., of Carleton Lodge, Teignmouth, co. Devon, by Eliza Helen, his wife, dau. of James Bower, Esq., of Melcombe Regis, co. Dorset, upon his assuming by royal licence, 1881, the surname of Bower in lieu of Dunn, in compliance with the will of his maternal uncle, Rev. James Henry Bower. of the Larches). Sa. two tilting spears saltirewise or, in chief three talbots' heads couped ar. Crest—In front of a talbot's head couped sa. gorged with a collar gemel or, a tilting spear fessewise head to the dexter also or. Motto—Hope well, love well.