Bowman Family Crest, Coat of Arms and Name History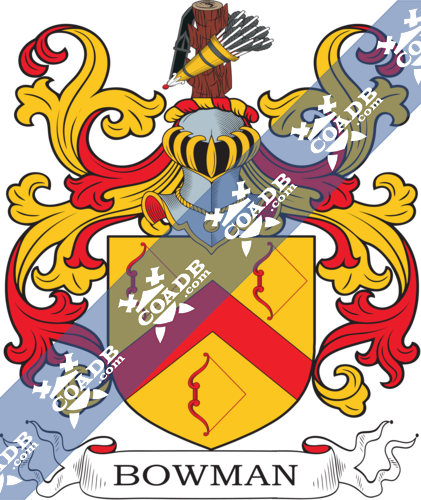 Bowman Coat of Arms Gallery
Don't know which Coat of Arms is yours?
We can do a genealogical research. Find out the exact history of your family!
Learn More
Surname Name Meaning & Origin
This English and Scottish surname is an occupational one with one of two meanings:  1) "the bowman", meaning an archer, or military cognomen, or 2) "a maker of bows", also called a bowyer. Mark Antony Lower, in his book, Patronymica Britannica states this was a "common name of the English border, under the Percys, and derived from their weapon: the long bow". However, another author also theorizes the name may actually have referred to a person who untangled wool with a bow, a process started in Italy and present in England during the 1200s AD, and hence was not related to the weapon or military.
In the book "The Surnames of Scotland", citing sources James MacDonald and Innes, George Fraser Black says the name means a man who is charge of the now or cattle, and defines the bowman as some farms for the tenant's cow milk. The surname is common in the coastal areas in the west of Scotland, and is documented in Glasgow as early as 1550 AD. The family of Bowmans were under the Clan MacHardy. The Old Gaelic words "fear" and "char" were combined to create the surname Farquhar. Combined these words together meant "dear one". This was a very popular Celtic first name and could be found all over Scotland during the middle ages. Today, the surname Farquharson – meaning son of Farquhar – is much more common. The Bowman surname lived under the Farquhar line in Scotland.
Surname Etymology & Spelling
The surname comes from the Middle English words boweman or bouman, which in turn derives from the Old English or Saxon words boga (bow) and mann (man). The foreign equivalents are Baumann (German) and Bouman (Dutch). Other spelling variants of this last name include Boeman, Boyman, and Boman.
Another author states "The name Bowman or Bauer is a status name for a peasant or nickname meaning 'neighbor', 'fellow citizen', from Middle High German (ge)bur, Middle Low German bur, denoting an occupant of a bur, a small dwelling or building"
Early Bearers of the Surname
Early people documented with this last name include: Adam Bogheman recorded in the Curia Regis Rolls of Westmoreland in 1223 AD, Thomas Bouman of Northumberland in the Assize Court Rolls of 1279 AD, and Nicholas Boueman in the Assize Court Rolls of Chesire in 1286 AD. Others include Gregory Bovman in 1328 AD who renedered Exchequer the accounts of the sheriff of Aberdeen. In 1328, Gregory Bovman gave to the government the accounts of the sheriff of Aberdeen. In 1402, Robert Bowman was sentenced for murder. He was a follower of the earl of Cassilis.
Later people recorded with this name include: 1) John Yonger, bowman, was recorded in Newcastle-on-Tyne in 1539 AD in a list of men able to bear arms, 2) Judith Bowman baptized in 1570 AD at St. Thomas the Apostle, and 3) Gabriel Bowman of county Surrey in 1581 in the Register of the University of Oxford. A James Bowman was recorded at Gate side under Farquharson of Tullochcoy in 1772 AD.
Early American Settlers
The earliest Bowman in the New World was Nathaniel Bowman, of Watertown, Massachusetts, who likely came in the fleet with John Winthrop, the English Puritan and lawyer who founded the Massachusetts Bay Colony, in 1630. Others include Anna Bowman (Salem, MA 1630), Richard Bowman (Maryland 1640), Elizabeth Bowman (Virginia 1703), and Hans Dieterick Bowman (Pennsylvania 1727).
Genealogy and Ancestry
In his book, Homes of Family Names, H.B. Guppy makes two statements regarding his surname: 1) "The Spearmans, the Bowmans, the Truewiekes or Trewickes, and the Bewickes were clans adherent to the interests of the Percys, and they are all, or were recently, still represented" and 2)"Bowman was the name of a border clan of Northumberland now scantily represented in the county".  One author also notes that the name was first found in Westmorland and Northumberland where they held a seat (the principal residence of the landed gentry and aristoracy), likely before the Norman Conquest.

The famous genealogist Bernard Burke discusses this surname in his book Peerage, Baronetage, and Knightage authored in 1826. He begins by mentioned Sir Paget Mervyn Bowman, the third Baronet, of Joldwynds, Holbury St. Mary, and Surrey, who was the Rector of Shere and the Vicar in Newington from 1907-1911. He was born in 1873 and succeeded his father in 1917 and married Rachel Katherine in 1901, the daughter of James Hanning, of Kilcrone, in county Cork. They had the following issue: John Paget, the 2nd Lietenant of the 98th Field Bridage, David Anthony Paget (1935), Rachel Elinor (1938), and Franches Rachel (b. 1902). He later married Evelyn Florence in 1946.
Burke traces the lineage back of this branch back to John Eddwoes Bowman, of Welshpool in county Montgomery who was born in 1809. He married Elizabeth Eddowes and had two issue with her: Sir William (the first Baronet), and John Eddowes (born 1819).  John married Ellen, the daughter of Thomas Paget of Leicester, and died in 1856, leaving two children: John Herbert (1846) and George Cyril of Clews.  The elder son, Sit William, the first Baronet, became so in 1884. He was born in 1816 and in 1842 he married Harriet, the fifth daughter of Thomas Paget. They had two children together: William Paget (the second Baronet) and John Frederick (1850). William married Emily Frances in 1870, the daughter of William Swabey of Wavendon House, and had the following children with her: Sir Paget Meryvn (mentioned above) and Guy Eddowes Paget.
George Fraser Black writes "In 1723 several persons of this name residing in Glenmuick and Glenesk, approached the earl of Strathmore, setting forth that their forbears were truly and really of the surname of Lyon, who had come out of the shire of Angus on account of some troubles, and assumed the name of Bowman, but being by blood Lyons they now desired to resume their true surname"
Mottoes
There are two family mottoes for Bowman: 1) quondam his vicimus armis, which means "We conquered with these arms", and 2) numine et arcu, meaning "the bow by God's providence".
Notables
Famous people who bore the last name include: 1) Abraham Bowman (1749-1837) who was a frontiers men, primary in Kentucky, and an officer in the American Revolution, 2) Charles Calvin Bowman (1852-1941) who was a congressmen in the U.S. House of Representative from Kentucky, 3) Isaac Bowman (1757-1826) who was a soldier in the American revolution and a Kentucky pioneer, 4) and Nathaniel Bowman (1608-1682) who was the first person of this surname settling in the Massachusetts Bay colony.
To receive a complete surname meaning report by PDF you can order our SURNAME MEANING PACKAGE for $129.   This report is great to share with family and friends.  It includes everything you see above plus any other information we can find on the specified surname.  It does take approximately 10 to 15 days for us to complete this custom report.
To receive a direct lineage & coat of arms search for your specific line(s) you can order one of our GENEALOGY PACKAGES ranging in price from $249 to $999.   All research is completed by a professional genealogist with over 30 years' experience.  All reports and coat of arms files are sent by email in PDF and JPG format.
Blazons & Genealogy Notes
1) (Hethleton, co. Dorset). Or, a chev. betw. three bows bent in pale gu. Crest—On a staff raguled, couped, and erect ar. a quiver (or case) of arrows gu. the heads of the first buckled on the staff with a belt sa.
2) (Wissingset, co. Norfolk). Ar. three bird bolts gu. headed or, and feathered of the first. Crest—A sword erect ar. hilt and pommel or, on each side of the blade a demi annulet indented on the outside gold, the half on the dexter near the point, the other near the hilt.
3) (Ashenyards, Scotland, 1767). Or. a chev. betw. two bows braced in chief gu. and a shakefork in base sa. Crest—A quiver of arrows in pale ppr.
4) (Scotland, 1805). Motto—Numine et arcu. Or, a chev. gu. betw. three bent bows with arrows drawn to the head ppr. Crest—A quiver full of arrows suspended from the trunk of an oak tree couped at the top, all ppr.
5) Ar. two bows gu. strung or, one within the other in saltire.
6) Ar. a pale champaine vert.
7) (alias Boyman) Ar. a boy's head ppr. crined or, couped below the shoulders clothed gu. garnished gold.