Bowring Family Crest, Coat of Arms and Name History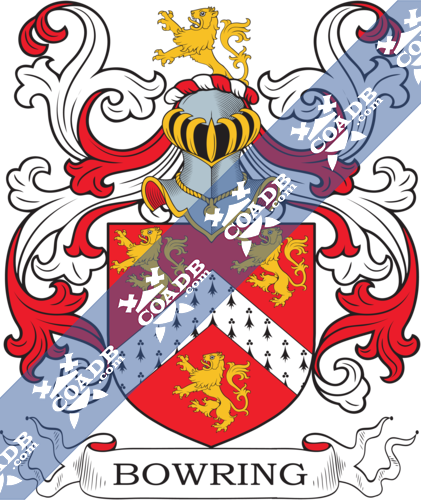 Bowring Coat of Arms Gallery
Don't know which Coat of Arms is yours?
We can do a genealogical research. Find out the exact history of your family!
Learn More
This interesting surname is of Anglo-Saxon origin, and is an professional name, acquiring from the Olde English pre 7th Century "bur" meaning "a chamber", and "ing", in this context, "a friend" or "servant", one who looked after the "bower-chamber" in a Lord or chiefs house. Professional surnames originally showed the actual profession of the name bearer, and later became hereditary. More common variations are: Bowering, Boowring, Bow-Ring, Boring, Bowerinng, Browing, Bouring, Bewring, Borring, Boering.
The surname Bowring first appeared in Somerset where they held a family seat from early times. The very first recording spelling of the family was shown to be that of Henry Bouryng, dated 1302, in the "Pipe Rolls of Derbyshire."  It was during the reign of King Edward 1, who was known as "The Hammer of the Scots," dated 1272-1307.  Surname all over the country became a necessity with the introduction of personal taxation.  It came to be known as Poll Tax in England.  Surnames all over the country began to develop with unique and shocking spelling varieties of the original one.
Some of the people with the surname Bowring who arrived in the United States in the 18th century included Mary Bowring, who settled in Maryland in 1719. Some of the people with the surname Bowring who arrived in the Canada in the 19th century included Benjamin Bowring from Devon, England, settled in St. John's, Newfoundland in 1811.
Some of the individuals with the surname Bowring who landed in Australia in the 19th century included Thomas Bowring, British convict from Jersey, who was transported aboard the "Agincourt" on July 6, 1844, settling in Van Diemen's Land, Australia.
Blazons & Genealogy Notes
1) Per pale az. and sa. three chev. or. Crest—parrot vert feeding on a bunch of berries ppr.
2) (Claremont, Exeter). Motto—Onward. Gu. a chev. erm. betw. three lions ramp. or. Crest—A demi lion ramp. or.