Bradman Family Crest, Coat of Arms and Name History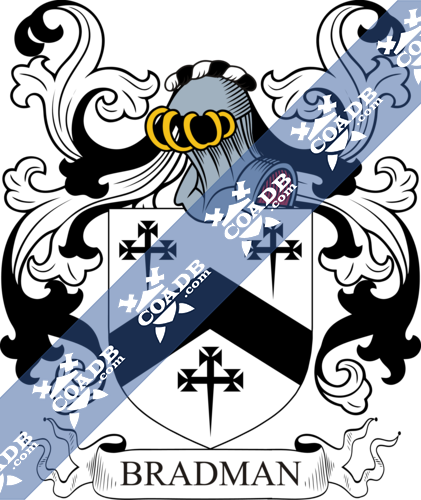 Bradman Coat of Arms Gallery
Don't know which Coat of Arms is yours?
We can do a genealogical research. Find out the exact history of your family!
Learn More
Surname, meaning, origin and etymology
The surname Bradman is deemed to have originated during the reign of Anglo-Saxon tribes over Britain. The name Bradman was associated to a family if one of the members of the family specialized in making ropes or cords.  It is a toponymic surname which owes its derivation to the village of Bradenham in the county of Norfolk. The name of the village literally translates to "broad homestead or enclosure" and is the product of amalgamation of two Old English words "brad" and "ham".  The village predates the Domesday book. The name has also earned a mention in the Domesday book as "Bradeham". Furthermore, the word Bradenham also refers to a grandiose manor house characterized by its red brick construction that belonged to Earl of Warwick and dates as far back as the 13th century. Two of the most common spelling variants of the surname include Bradnam and Bradnum. Before the invention of printing press, there were no standardized set of rules as far as spelling names was concerned. Amalgamation of French, Latin and numerous other languages with English led to names being spelled on the basis of how they sounded or how they were pronounced consequently leading to astonishing and myriad number of spelling variants of a single surname. Some of the other spelling variants of the surname include Bradnam, Bradenham, Bradinham, Bradinam, Bradinem among others.
Early Bearers of the surname
Early notables sharing the surname Bradman include Suift de Bradenham who was a renowned landholder in the county of Norfolk in the 12th century and a certain Matthew Brettingham who was one of the most renowned architects of his generations owing his fame to his impeccable attention to detail and his supervision in the construction of  Holkham hall. Sir Donald Bradman, also known as, "The Don" Bradman is perhaps the most renowned personality associated with the surname. He was an Australian cricket player and is widely regarded by all and sundry as perhaps the greatest cricketer to have ever played the game of cricket, a claim backed by a stellar and unparalleled record. It is believed that the family of Sir Donald Bradman hailed from the county of Norfolk.
Early American and New World Settlers
Jane and John Bradman were one of the earliest settlers in America in the 17th Century who reached Virginia in 1658.
Blazons & Genealogy Notes
Ar. a chev. betw. three crosses crosslet pattee fitchee sa.