Bradshaw Family Crest, Coat of Arms and Name History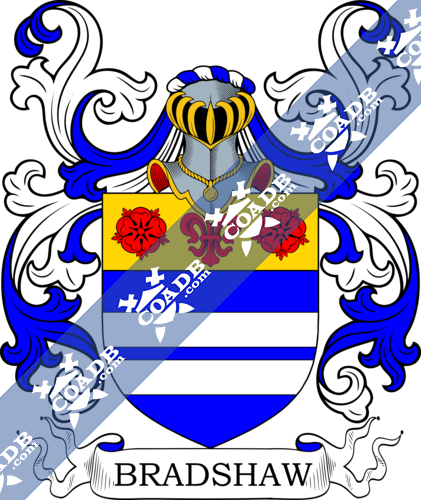 Bradshaw Coat of Arms Gallery
Don't know which Coat of Arms is yours?
We can do a genealogical research. Find out the exact history of your family!
Learn More
Bradshaw Origin:
England
Origins of Name:
The surname of Bradshaw is said to have origins from the Anglo-Saxon community, and is considered to be a locational surname. This means that there are locations throughout England where Bradshaw or something very near to this surname may actually be the place of a residence. The places in England where this occurs are in the counties of Lancashire, Derbyshire, and West Yorkshire. The place where Bradshaw is a common name for a town, city, or dwelling is in the county of Lancashire. This surname derives from the Old English words of "brad" which can be translated to mean "broad" or "wide" and "sceaga" which can be translated to mean a "thicket" or a "grove." In modern times, this surname is spelled with many variations and pronunciations. It is important to note that those who were given locational surnames were often the owner of the property or location, and that these people were more likely to bear the surname of the location, over people who left the location to search for work. The people who did leave this location and still were given the surname were most likely searching for work and identified by their place of birth. It is said that the easiest way to identify a stranger is by calling them by the name of the place where they came from.
Variations:
More common variations are:
Broadshaw, Braadshaw, Bradschaw, Bradashaw, Bradshaaw, Bradeshaw, Bradhshaw, Bradwshaw
History:
England:
The surname of Bradshaw was first recorded in England in the year of 1246. The person who bore this surname was one William de Bradesaghe, who was recorded and mentioned in the Lancashire Assize Rolls in the year of 1246. This document, the Lancashire Assize Rolls was decreed and ordered by one King Henry III of England, who did not have a name that he was commonly referred to by throughout history, but ruled from the year 1216 to the year 1272. Other mentions of the surname of Bradshaw throughout England was one John Bradshaw, who lived from the year 1602 to the year 1659, and was a High Court Judge and Lord President of the Parliamentary Commission at the trial of King Charles I in the year 1649. Those who bear the surname of Bradshaw are often found in the counties of Lancashire, Yorkshire, and Derbyshire.
Ireland
Bradshaws from England had crossed the Irish Sea and some had settled in Cullen. The name still lives on today, with Bradshaw's living on Goat's Lane in Tipperary.
United States of America:
During the European Migration, which is when English settlers were fed up with their homeland and it's poor living conditions, and emigrated out of their home country, many settlers sought out the United States of America, which at that time was referred to as the Colonies, or the New World. The United States promised freedom from religion, a promise of better and more sanitary living conditions, and no overall ruler. The first of these settlers who was recorded to bear the surname o Bradshaw was one Giles Bradshaw, who settled in the state of Virginia with his wife and child in the year 1622. Those who bear the surname of Bradshaw are found throughout the United States of America, and are found in the states of Virginia, North Carolina, New York, Tennessee, Texas, Illinois, Kentucky, and the state of California. These specific states have a large concentration of those with the surname of Bradshaw.
Bradshaw Today:
United States 48,363
England 16,676
Australia 5,641
Canada 4,020
South Africa 2,849
Wales 1,185
Ireland 939
New Zealand 925
Scotland 774
Barbados 520
Notable People:
John Elliot Bradshaw (1933-2016) who was a counselor, educator, and motivational speaker from America, who hosted a large amount of PBS TV programs surrounding the topic of self-help
Benjamin Joseph Bradshaw (1879-1960) who was an Olympic gold medalist from America for wrestling at the 1904 Olympic games
Major-General Joseph Bradshaw (1894-1976) who was a Commanding General in the Anti-Aircraft Artillery in the 5th District Army from the year 1944 to the year 1945, and was from America
Clarence Bradshaw, who was a Member of the New York Republican State Committee in the year 1961, and was a Republican politician from America
B.M. Bradshaw, who was the Chair of the Lewis County Democratic Party in the year 1921, and was an American Democratic politician
Arlyn R. Bradshaw, who was a Delegate to the Democratic National Convention from Utah in the year 2008, and is an American Democratic politician
Albert M. Bradshaw, who was a Member of the New Jersey State House of Assembly from Ocean County from the year 1870 to the year 1871, and was a politician from America
Blazons & Genealogy Notes
1) (or Bradshaigh). (Haigh, co. Lancaster, descended from Sir John Bradshaw, of Bradshaw, a Saxon living at the Conquest; the chief of this ancient and distinguished race at the period of the civil wars was Sir Roger Bradsdaigh, of Haigh, a gallant and devoted cavalier, created a baronet in 1679, extinct, circa 1786). (co. Limerick and co. Tipperary). (Windley, co. Derby, derived from Bradshaw of Bradshaw). Motto—Qui vit content tient assez. Ar. two bendlets betw. three martlets sa. Crest—On a mount vert a stag at gaze ppr. under a vine vert, fructed gu.
2) (Milecross, co. Down, formerly of Lancaster). Motto—Deus mihi spes et tutamen. Ar. three trefoils slipped ppr. within two bendlets sa. all betw. as many martlets gu. Crest—On a mount vert a buck statant beneath an oak tree ppr.
3) (Belper, afterwards Holbrook, and Barton Hall, co. Derby). (Barton Blount, co. Derby). Motto—Qui vit content tient assez. (Knowle, Guildford, co. Surrey). (Moorham, co. Leicester, Visit. 1619). Motto—Avec ce que je tiens, je suis content. Ar. two bends betw. as many martlets sa. Crest—A hart gu. under a vine branch vert.
4) (Marple, co. Chester, and Bradshaw Hall, co. Lancaster: of this family was the celebrated President Bradshaw; its representation now vests in the Isherwoods). Same Arms, an annulet gu., for diff. Crest—A stag at gaze under a vine tree fructed, all ppr.
5) (Buckinghamshire, 1506). Ar. two bars gu. betw. nine lions pass. guard. or.
6) (Kent and Lancashire). Ar. two bends sa. (another, with a crescent in the dexter chief betw. the bends gu.).
7) (Darcy-Lever, co. Lancaster). Motto—Non nobis solum nati fuimus. Ar. two bendlets sa. Crest—On a mount a stag ducally gorged, standing under a vine all ppr.
8) (Shropshire). Sa. two bendlets raguly betw. as many hawks ar. belled of the second, on a chief of the last a pale az. betw. two fleurs-de-lis of the first, on the pale a cross patonce or. Crest—A wolf's head erased ar. collared and lined.
9) Sa. two bends betw. three hawks' bells ar.
10) Az. two bars ar. on a chief or, a fleur-de-lis lietw. two roses gu.
11) (Thomas Bradshaw, Esq., J.P., Judge of the County Courts, Northumberland, aa they appear to a deed of the reign of James I.). Ar. two bends sa. Crest—A stag trippant under an oak tree, all ppr. Motto—Dicu et mon devoir.
12) (Risby, co. York, 1671). Quarterly, 1st and 4th, ar. three mullets betw. two benda sa.; 2nd and 3rd, vert a chev. or.
13) (Arms of Thomas Bradshaw, In Allhallowes Church, Visit. Oxford). Gu. two bends ar.
14) Erm. on a chief az. three caps of maintenance.
15) Ar. three mullets of six points pierced sa. betw. two bendlets of the last.